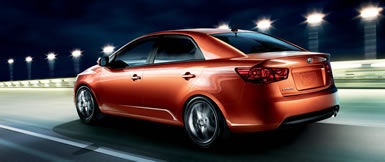 Kia Forte SX Review: Normally when you're shopping for a low-priced car you have two choices. Option one is getting a car that has plenty of standard features, but drives like a clunker. It may have power windows and a gazillion-watt stereo, but what does that matter when it has a suspension from a skateboard and an engine from a blender? Option two is getting a car that feels nice, but comes with zero features. It might have a refined drivetrain and silent cabin, but you'll have to pay extra for the carpeting, and pretty much everything else.
The new Kia Forte tries to do both jobs, offering the refinement of a real sedan with a long list of nice features, all for a low price, and for the most part, it succeeds.
The Forte starts at just $13,695, a low price indeed. But it doesn't feel like a cheap car. You step into the cabin and quickly discover that it's a perfectly pleasant place to spend time in. It's not that spacious, and you don't expect much headroom in a compact car like this, but it's built with the kind of precision and materials you'd normally find in a more expensive vehicle.
It's also packed with standard equipment. For that base price, which you'd normally see on a stripped-down car, you get standard satellite radio, a USB connection for your music, and even Bluetooth connectivity that lets the car communicate with your cell phone. An automatic transmission and air conditioning cost extra, $2,500 to get both, but it's still not a bad deal, especially considering how some luxury cars didn't even offer Bluetooth a couple of years ago.
Even better, the Forte drives like it costs a lot more. This isn't a car that feels like a tin can. Yes, the doors sound light and cheap when you shut them, but once you're actually on the road the Forte takes on a much more refined, poised personality. It's quiet and smooth like a nice mid-size sedan.
It accelerates with confidence and itís fun to drive with a manual transmission. The base engine is a 2.0-liter four-cylinder that makes 156 horsepower is among the best in its class. Then if you step up to the 173-horsepower, 2.4-liter version for $17,195, it's downright quick.
It's also a handsome car, with smartly designed lines that look fantastic. Unlike the Kia Rio, with its plastic body cladding, the Forte has a clean simplicity that would be fitting on an expensive European car.
There is a downside though, because you're still driving a Kia economy car at the end of the day. And because it's a Kia economy car, even a refined and well-equipped one, its resale value isn't likely to be that great when it comes time to sell it.
Still, a bargain is a bargain. And the new Forte is one of the best deals on wheels.
What was tested? The new 2010 Kia Forte SX model with a base price of $17,195. Options on the test car: a Moon roof for $600 and the leather package for an even $1,000. The total MSRP price as tested including the $695 destination charge is $19,490.
Why avoid it? It's still a Kia, so brand perception may hurt resale value over time.
Why buy it? It's a real car bargain, offering a nice driving feel, plenty of power and a well-equipped cabin. Standard features include satellite radio and Bluetooth.
The Bottom Line: Kia's new economy car, the Forte, looks clean and handsome, certainly better than its sub-$14,000 base price would suggest.
The Forte also shines in the cabin, where solid construction and nice feeling materials are an improvement over the cheap plastics Kia uses in some of its other cars.
By Derek Price © AutoWire.Net - San Francisco
Bottom Line Review provided by Tony Leopardo © AutoWire.Net

Column Name: New Kia pumps up the volume
Topic: The 2010 Kia Forte SX
Word Count: 694
Photo Caption: The 2010 Kia Forte SX
Photo Credits: Kia Forte Internet Media
Series #: 2009 - 61
Download the Microsoft Word version here: 2010 Kia Forte SX
Download the Original Image File here: 2010 Kia Forte SX