This Week's Minivan Article: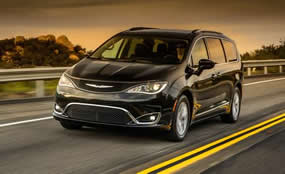 The 2017 Chrysler Pacifica Hybrid Platinum Edition Minivan Review: There are a lot of reasons I think the Chrysler Pacifica is the best minivan on the market right now. It offers more amenities than the aging Toyota Sienna and a quieter, smoother ride than even the newly redesigned Honda Odyssey. This year, though, the Pacifica is pole-vaulting straight over the Japanese competition by rolling out something new and innovative: a plug-in electric hybrid power train. As I see it, the fact that a vehicle like this even exists at all is a modern miracle.
Click below for Full Article
This Week's SUV Articles: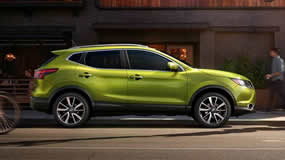 The 2017 Nissan Rogue Sport SL AWD Review: Crossover vehicles are so popular right now that car companies are apparently dumping them into a food processor to slice and dice them into tiny segments. The latest sliver? Nissan has chopped its fast-selling Rogue into a new variant, the Rogue Sport. Just looking at the two in pictures, I struggle to tell the difference. They both have Nissan's familiar crossover face and the slightly rakish roofline that's so in vogue right now. Pull out your measuring tape and the differences become clear. The Sport's wheelbase is about 2 inches shorter, and its overall length is over a foot shorter than the ordinary Rogue, Nissan's top-selling vehicle.
Click below for Full Article

The 2017 Dodge Durango R/T RWD Review: If you want to find another vehicle like the Dodge Durango, good luck. Yes, it's a three-row SUV, but it's nothing like, say, the Ford Explorer or Honda Pilot. That's like assuming, because they both have two legs, that an ostrich is the same as Jennifer Lawrence. Drive one. You'll see. The Durango has carved out a niche that no other vehicle occupies, perhaps for a good reason: it's a weird mixture of half truck, half muscle car. Nobody else builds a vehicle quite like this one.
Click below for Full Article
This Week's Station Wagon Article: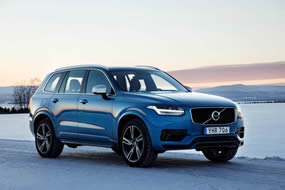 The 2017 Volvo S90 T6 AWD Review: Volvo has long been known, first and foremost, for safety. Forget about that for a minute, though, because this Chinese-owned Swedish brand has just built one of the world's best luxury cars in the new S90. With one exception, this is among the top luxury sedans I've ever driven. It has sophisticated features to pamper you, materials that make you feel like royalty and stunning design to match, putting it squarely in the same caliber as, and in some cases surpassing, the best that Mercedes, BMW and Lexus have to offer in this class. That one exception? The engine.
Click below for Full Article
This Week's Sport Sedan Article: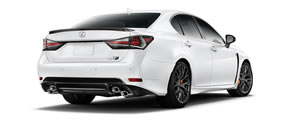 The 2017 Lexus GS200t Review: Call me old-fashioned, but when I turn the key of a $50,000 luxury car, I still anticipate hearing the velvety baritone rumble of a V8 engine. When I fired up the new Lexus GS tester in my driveway, though, I didn't hear a baritone. I heard a mezzo-soprano, a wispy, airy, higher pitched voice emanating from its turbocharged four-cylinder engine. Yes, a four cylinder. It's a far cry from the days when you could tell a luxury car apart from its mundane cousins based on just the cylinder count.
Click below for Full Article
This Week's Pickup Article: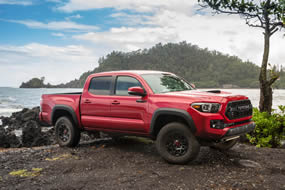 The 2017 Toyota Tacoma TRD Pro Review: After a complete redesign last year, Toyota did the one thing that could make its new midsize pickup even cooler: release a sweet looking, highly capable TRD Pro version for off-road enthusiasts. Much more than an appearance package, the TRD Pro is built for people who take off-roading seriously. Its starting price of nearly $41,000 emphasizes the point, charging a serious premium over the base Tacoma's $24,120 sticker. What you get for that price is virtually two trucks in one.
Click below for Full Article