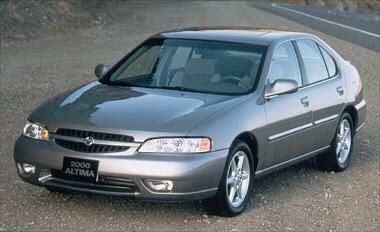 SAN FRANCISCO: The Nissan Altima epitomizes what we have come to expect in family-friendly sedans from Japan - solid reliability and durability, excellent fit and finish, more than adequate though not spectacular performance, nice but not dazzling styling, and generally good value for the dollar. In reality, the Altima is not really a Japanese car since it is built in America in Smyra, TN.
While the Altima received a major revision in 1998, Nissan made some significant, though somewhat subtle changes, both to styling and mechanics for the 2000 model. The 2000 Altima is about 2 inches longer with front styling that is wider, more aggressive and more expensive looking. While styling is attractive, still like so many of today's cars you have to look at the nameplate to tell the make and model
The Altima comes in four flavors – base SE, mid-level GXE, sporty SE and GLE flagship. However, even the XE comes decently equipped with standard items like power windows, tilt steering column, power steering, intermittent wipers, rear window defroster, and dual power adjustable outside mirrors. However, air conditioning, AM/FM/CD and cruise control are options on the SE and GXE. The performance-oriented SE has a rear spoiler, is the only Altima with rear disc brakes and features improved handling with stiffer spring rates and larger front and rear stabilizer bars. Incidentally, all Altimas handle exceptionally well. The top-line model GLE has leather upholstery, automatic transmission and 6-way power driver's seat. Anti-lock brakes are a $499 option for all but the XE. Side-impact airbags for front seat occupants are standard on the GLE and a $249 option on GXE and SE models.
Unlike competitive models from other manufacturers that offer V6s, all Altimas are powered by the same 16-valve, dual-overhead-camshaft (DOHC), four-cylinder engine. The 2.4 liter engine was revised for 2000 with a new camshaft profile for a bit more low- to mid-range torque, modified exhaust manifold and exhaust system for reduced back pressure and thus more power, and lighter weight aluminum valve lifters and reduced valve spring rates. The engine is now rated at 155-horsepower at 5600 rpm and 156 lb-ft of torque at 4400 rpm. Except for the top-of-the-line GLE model, Altimas can be ordered with either a standard five-speed manual transmission or and a four-speed automatic overdrive transmission.
The best word that describes my week long test drive of a refrigerator white Altima SE is "unmemorable." This is a compliment rather than a compliant. The Altima does everything well, but not spectacularly. Nissan products are noted for their superb reliability and the Altima is no exception. Both the excellent four-wheel independent suspension system and power-assisted rack-and-pinion steering, which was further improved for 2000, means precise handling, good road manners and descent ride quality. Nissan increased the body stiffness for a tighter feel and firmer handling. Altima GXEs, SEs or GLEs fitted with standard or optional 16 inch, lower profile tires feature an industry-first, acceleration-sensitive, suspension strut design that automatically adjusts damping firmness to provide a steady stance in aggressive maneuvers while not compromising ride quality.
Road noise is low for a car in this class, a tribute to new features like outside mirrors redesigned for reduced wind noise, foam insulation in windshield pillars and roof rails and thicker front door glass. Power for merging into traffic, lane changing, hill climbing and passing is very good, but not neck snapping. The manual transmission on the car I tested shifted very smoothly as did the clutch.
Interiors are pleasing and comfortable, but not plush, though high quality materials are used. Classified as a compact, the Altima has descent leg and headroom up front, though rear legroom is on the skimpy side. I found the seats especially comfortable, instrumentation easy to view and the controls, even those on the radio, quite user friendly.
Prices range from $15,660 for an XE with a 5-speed manual transmission to $20,910 for the GLE. For so many people for whom "unmemorable" means miles and miles of trouble-free, safe, fun-to-drive and comfortable motoring, this Nissan is a car worth looking at. By Bill Siuru © AutoWire.Net - San Francisco

Byline: By Bill Siuru © AutoWire.Net - San Francisco
Column Name: "Japanese Characteristics, But Made in America"
Topic: 2000 Nissan Altima
Word Count: 675
Photo Caption: 2000 Nissan Altima
Photo Credits: Nissan PR
Series #: 2000 - 7
Download the Microsoft Word version here: 2000 Nissan Altima
Download the original image file here: 2000 Nissan Altima 43k