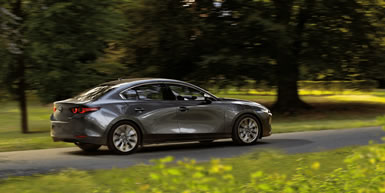 The 2019 Mazda3 Sedan
New Mazda3 Impresses
By Derek Price © AutoWire.Net
The 2019 Mazda3 Sedan Review: If I made a checklist of what every car company should do to boost their sedan sales at a time of crossover-vehicle mania, it would look something like this: "Give it a gorgeous cabin covered in soft-touch materials. Install a smartphone interface that's incredibly easy to use. Pen it a sexy body. And to woo those crossover buyers, make it get noticeably better gas mileage than a similar sized CUV, plus offer it with all-wheel drive."

The completely redesigned Mazda3 checks off all those boxes and more. It's exactly what I think car manufacturers should be doing if they want to win a bigger piece of the shrinking four-door-sedan pie.

It starts with attacking competitors at their weakest points: styling and handling.
To my eyes, most of today's sedans either look bland or ugly, with cookie-cutter shapes and "bold" grilles that seem more ridiculous than attractive. It's no surprise when buyers pass them up for an equally dull CUV.

Mazda went a different direction with the new 3. The grille opening is sleek and low, a nice departure from the gaping maw that's more common on new cars these days.

While the sedan looks tastefully understated, like it could easily pass muster in a luxury showroom, it's the hatchback that tugs at my heartstrings. Its low-slung, classically proportioned body reminds me of the Alfa Romeo GTV from the 1970s and the Volkswagen Scirocco from the 1980s, both hatchbacks that have aged well for the same reasons as this new Mazda3 hatch. Good style is timeless.

Its handling also stands out from the crowd. Communicative brake, suspension and steering tuning work in concert to make this car fun and rewarding in corners, a hallmark of the Mazda brand.

Inside, the new cabin is striking for its sophistication. Maybe it was the unusual choice of an impractical but beautiful color for the interior trim — white — but I thought the minimalist look of my tester's cabin was the most original and beautiful design since I drove the BMW i3 electric car a few years ago.

On the downside, its climate control vents are noisy at high blower settings, probably due to their small size to fit the design aesthetic.

Technology in the new cabin is thoughtfully designed for ease of use. The 3 makes use of Mazda's first 8.8-inch infotainment screen, which will soon be rolled out in other models. It's mounted high on the dash for easy visibility for the driver, but more importantly, it's controlled through a simple rotary dial on the center console. It's comfortable, reliable, fast and intuitive, a lesson many other brands, and most luxury cars, haven't quite mastered yet.

Also standard is a 7-inch reconfigurable display behind the steering wheel, LED headlights and taillights, two USB audio inputs, push-button ignition, knee airbags and Bluetooth phone pairing.

All 2019 Mazdas are powered by the four-cylinder, 2.5-liter SKYACTIV-G engine that makes 186 horsepower. Most buyers will opt for a six-speed automatic transmission, but Mazda heroically offers a manual shifter on this car, too.

Fuel economy is rated at 27 mpg in the city and 36 on the highway. Interestingly, Mazda's revolutionary SKYACTIV-X engine is not available in the United States yet.

Pricing starts at $21,000 for the sedan and $23,600 for the hatchback. It tops out at $28,900 for a Premium hatchback with all-wheel drive and an automatic transmission, or $1,000 less for the sedan.
What was tested? The 2019 Mazda3 Sedan with the Premium Package for $26,500. Options on the test car: Snowflake white paint for $200. The total MSRP price as tested including the $895 destination charge came to: $27,595

Wheelbase: 107.3 in.
Length: 183.5 in.
Width: 70.7 in.
Height: 56.9 in.
Engine: 2.5-liter four-cylinder (186 hp, 186 lbs.-ft.)
Transmission: Six-speed automatic
Fuel economy: 27 city, 36 highway

By Derek Price © AutoWire.Net - San Francisco
The 2019 Mazda3 Sedan Bottom Line Review provided by: Tony Leopardo © AutoWire.Net
The Bottom Line: The Mazda3 gets an all-new design for 2019 that looks sleek and modern. It's available with all-wheel drive for the first time this year and the new cabin design matches its contemporary body. White soft-touch trim seems especially modern and forward-looking. A suite of active safety features, including blind spot monitoring, radar cruise control and lane-keep assist, comes standard as well.
Why buy it? It's gorgeous to look at, engaging to drive, and fuel efficient, plus the all -wheel-drive boosts driver confidence on slick roads. New looks with engaging performance make this fresh sedan stand apart from the crowd. And maybe, just for those reasons alone, you should "Drive one, Buy one, Today ©".
And remember: "You Are What You Drive ©"
This Bottom Line Review is provided by: Tony Leopardo © AutoWire.Net
"Tony the Car Guy" is an automotive writer, editor and publisher in the San Francisco Bay Area. If you have a question or comment for Tony send it to TonyLeo@pacbell.net or visit AutoWire.Net at www.autowire.net - And remember: "You Are What You Drive ©"

Column Name: New Mazda3 Impresses
Topic: The 2019 Mazda3 Sedan
Word Count: xxx
Photo Caption: The 2019 Mazda3 Sedan
Photo Credits: Mazda Internet Media
Series #: 2019 - 15
Download the Microsoft Word version here: 2019 Mazda3
Download the Original Image File here: 2019 Mazda3