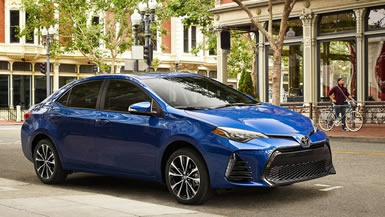 The 2019 Toyota Corolla Hatchback XSE Review: Toyota hasn't offered a hatchback version of the Corolla since the 1990s, but that's changing this year. With the oh-so-creative name of Corolla Hatchback, this new 2019 model is smaller, sportier, different and much more interesting than the Corolla sedan that sells in mind-blowing numbers every year. People who buy the Corolla sedan, and there are whole lot of you out there, do so for straightforward reasons: practicality, low ownership costs and an almost supernatural reputation for reliability. If you want cheap, dependable transportation, buying a Corolla sedan and driving it until the wheels rust off is your default choice.

The hatchback model seems to be built for someone slightly different, though. It's based on a completely separate platform, for starters. Being built around Toyota's New Global Architecture, again, perhaps not the most original name, means the Corolla Hatchback is extremely rigid and lightweight, giving it a better road feel and more impressive fuel economy than most cars riding around on the older platforms.

While I wouldn't call it a driver's car, it definitely sprinkles a bit more spice into the driving experience, particularly from the way it handles. With McPherson struts up front and a multi-link suspension in back, it feels responsive and balanced in corners without being too harsh or loud in a straight line. It feels nicely tuned and noticeably sportier than most Toyota products.

To drive home the point, Toyota made the increasingly unusual decision to make a manual transmission available.

While my tester came with the boring, but sensible, CVT automatic, I love knowing a six-speed manual is available for drivers who like to feel more connected to the road. Making a shift-it-yourself transmission available for a small number of enthusiasts like me proves there's more to its driving appeal than marketing jargon.

The Corolla Hatchback's 2.0-liter engine makes 168 horsepower, enough for some fun but certainly not overkill. It's more impressive for its highway fuel consumption of 42 mpg than its raw power output.

Styling is where things get really interesting. The look is arguably its best selling point.
The Corolla Hatchback has just the right dimensions to make Toyota's current corporate face seem very fitting. An oversized mouth up front emphasizes its wide stance, while its crisscrossed tail lights, Xacto-knife styling cutouts and optional spoiler seem inspired by wild, heart-rate-raising custom compacts.

Interestingly, Toyota somehow resisted the industry wide urge to lift this car's ride height, give it some ugly plastic fender covers and call it a "subcompact crossover." To do so would have ruined its fun handling and contemporary, sleek but busy appearance.

The standard feature list on every Corolla Hatchback is long and impressive. Even the base model comes with an 8-inch touchscreen, Apple CarPlay and Amazon Alexa compatibility, seven airbags, and Toyota SafetySense 2.0, including radar cruise control and lane departure warning with steering assist.

It seems to be offering ample content value, not just value around the Corolla name that's synonymous with dependability.

Pricing starts at $19,990, or roughly $1,000 more than the Corolla iM it replaces in the lineup. The more luxurious XSE trim starts at $24,090.
What was tested? The 2019 Toyota Corolla Hatchback XSE with a base price of $24,090. Options on the test car: None. The total MSRP price as tested including the $955 destination charge came to: $25,045.

Wheelbase: 103.9 in.
Length: 169.9 in.
Width: 69.9 in.
Height: 57.1 in.
Engine: 2.0-liter four cylinder (168 hp, 151 ft. lbs.)
Transmission: Continuously variable
Fuel economy: 32 city, 42 highway

By Derek Price © AutoWire.Net - San Francisco
The 2019 Toyota Corolla Hatchback Bottom Line Review provided by: Tony Leopardo © AutoWire.Net
The Bottom Line: New for 2019, the Toyota Corolla Hatchback is built using a fresh architecture that makes it rigid and lightweight, ideal to improve both handling and gas mileage. This new version of the popular Toyota is smaller, prettier, and sportier

The Corolla Hatchback now has a clean, modern cabin that matches its contemporary body. It makes technology easy to access, including Apple CarPlay and Amazon Alexa.
Why buy it? It offers impressive gas mileage, a refined driving feel, the Corolla's reputation for dependability along with a slightly sportier demeanor.

And maybe, just for those reasons alone, you should "Drive one, Buy one, Today ©".
This Bottom Line Review is provided by: Tony Leopardo © AutoWire.Net
"Tony the Car Guy" is an automotive writer, editor and publisher in the San Francisco Bay Area. If you have a question or comment for Tony send it to TonyLeo@pacbell.net or visit AutoWire.Net at www.autowire.net - And remember: "You Are What You Drive ©"

Column Name: Corolla Hatch is Back
Topic: 2019 Toyota Corolla Hatchback XSE
Word Count: 821
Photo Caption: 2019 Toyota Corolla Hatchback XSE
Photo Credits: Toyota Internet Media
Series #: 2019 - 09
Download the Microsoft Word version here: 2019 Toyota Corolla Hatchback XSE
Download the Original Image File here: 2019 Toyota Corolla Hatchback XSE