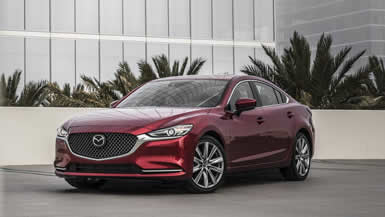 The 2018 Mazda6 Review: At a time when most manufacturers are pouring their development money into electric cars and endless iterations of crossover vehicles, Mazda still sees room to push the limits of what a four-door sedan can be. Need proof? Take a drive in the heavily updated 2018 Mazda6. This mid-size car was already one of my favorites thanks to the many things it does well: fuel efficiency, styling, cabin design and, above all else, driving dynamics that make it feel more like a pricey European sports sedan than an affordable family runabout. Now it's moving into two territories where family cars, especially ones at this price, rarely tread.
One is luxury, seen most clearly on the new Signature trim level I tested. With soft Nappa leather, supple UltraSuede inserts and gorgeous sen wood, a material used in Japanese drums, guitars and furniture because of its toughness and subtly beautiful grain, the top-end Mazda6 feels like it belongs in a luxury-brand showroom.
Of course, looking like a luxury product doesn't matter if it doesn't drive like one, too. The new Mazda6 has a long list of subtle changes that help to keep unwanted sounds and vibrations out of the cabin.
Thicker floor panels, smaller gaps in body panels, quieter tires and suspension tuning, laminated front glass and more carpeting and insulation all add up to a noticeably quieter highway ride. That fixes one of this car's few weaknesses from last year.
The other new territory improves a strength: sporty handling.
Last year's model already offered sparkling steering, brake and suspension feel, but this year there is a new engine choice that makes everything feel a notch better. The 2.5-liter turbocharged four-cylinder, very similar to the engine that powers Mazda's big, three-row CX-9 crossover, is now available in the much smaller, lighter Mazda6.
This new engine generates 250 horsepower and, more critically, 310 pound-feet of torque to make it move with sports-car quickness.
Refreshed technology keeps things interesting in the cabin. While I'm personally most excited about the availability of Apple CarPlay and Android Auto for connecting smart phones, other available changes include:
A new Mazda Connect infotainment system with an eight-inch touchscreen display.
Ventilated front seats to keep the surfaces cool in hot weather.
A reconfigurable seven-inch display behind the steering wheel
A 360-degree monitor that shows a bird's eye view when parking.
A full color Active Driving Display projected on the windshield instead of the awkward pop-up reflector in previous models.
Redesigned seats and a number of exterior changes make this a surprisingly thorough update for a vehicle that has already gotten two previous overhauls in the last five years.
Pricing starts at $21,950 for the Mazda6 Sport trim with a manual transmission or $23,000 with an automatic. It tops out with the luxurious Signature line at $34,750.
What was tested? The 2018 Mazda6 Signature with a base price of $34,750. Options on the test car are: Cargo mat for $75, Soul Red paint for $595, and scuff plates for $125. The total MSRP price as tested including the $890 destination charge came to: $36,435
Wheelbase: 111.4 in.
Length: 191.5 in.
Width: 72.4 in.
Height: 57.1 in.
Engine: 2.5-liter turbocharged four cylinder (250 hp, 310 ft. lbs.)
Transmission: Six-speed automatic
Fuel economy: 23 city, 31 highway
By Derek Price © AutoWire.Net - San Francisco
The 2018 Mazda6 Bottom Line Review provided by: Tony Leopardo © AutoWire.Net
The Bottom Line: The Mazda6 gets a thorough update for 2018 with fresh technology, styling and trim levels, plus a potent turbocharged engine. This refreshed mid-size sedan now emphasizes sportiness and luxury with Nappa leather seats with UltraSuede inserts and Japanese sen wood to give the Mazda6's new Signature trim an upscale atmosphere.
Mazda, more than any other mainstream brand, aims to offer the same exciting, refined sensations you get from BMW, Mercedes-Benz and Audi cars, only at a much more attainable price.
Why buy it? Updates for 2018 make an already strong sedan even better. Its new turbocharged engine and luxurious Signature trim level take it into new performance and luxury territories. And maybe, just for those reasons alone, you should "Drive one, Buy one, Today ©".
This Bottom Line Review is provided by: Tony Leopardo © AutoWire.Net
"Tony the Car Guy" is an automotive writer, editor and publisher in the San Francisco Bay Area. If you have a question or comment for Tony send it to TonyLeo@pacbell.net or visit AutoWire.Net at www.autowire.net - And remember: "You Are What You Drive ©"

Column Name: Mazda6 Moves Up
Topic: The 2018 Mazda6
Word Count: 789
Photo Caption: The 2018 Mazda6
Photo Credits: Mazda Internet Media
Series #: 2018 - 28
Download the Microsoft Word version here: 2018 Mazda6
Download the Original Image File here: 2018 Mazda6