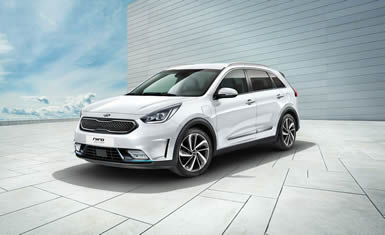 The 2018 Kia Niro Plug-In Hybrid Review: The Niro is Kia's green warrior. A hybrid Niro preceded the plug-in, and an all-electric version just debuted at the North American International Auto Show in Detroit in January (it's about a year away). There is no gasoline-only Niro. The Niro is blessed with appealing, nicely balanced lines and proportions, without any extreme styling excesses. It wears Kia's now familiar tiger mouth grille with the pinch in the middle and it looks good from every angle.
Inside, cleanly rendered panels blend smoothly, and the textures are rich-looking. The door and dash panels are slightly padded, giving the car a more upscale feel. The switchgear feels durable and moves with precision. An asymmetrical center console sweeps down from the dash, implying some sportiness.
Both the inside and outside classiness owe their dignity to former Audi designer Peter Schreyer, who has led Kia and Hyundai design for a decade, transforming both brands' design language and image.
As a hybrid, the Niro combines a 1.6 liter four-cylinder gasoline engine with a 60-horsepower electric motor, which in PHEV form is fed by an 8.9 kWh battery. This battery weighs 258 pounds versus the much smaller and lighter one in the standard Niro Hybrid, which only uses regenerative braking. The engine's 104 horsepower and 109 lb.-ft. of torque mixes with the motor, with its robust 125 lb.-ft. of torque, giving a total of 139 horsepower and 195 lb.-ft. of torque combined.
An idle stop and go system turns the engine off when the car is stationary, further saving gasoline. The drivetrain flows through a six-speed, dual-clutch automatic transmission.
The car is no rocket, with an 8.8-second zero-to-sixty time. When you press the pedal down hard you'll hear the sound of downshifting and an engine working hard to contribute its part to moving the 3,450-pound crossover forward.
The Niro Plug-In Hybrid earns 110 City, 99 Highway, and 105 MPGe Combined on the EPA's tests, and a still decent 48 City, 44 Highway, and 46 Combined mpg on gasoline only. The official battery range is 26 miles, although my test car's display always read 24 when full. That was enough for me to commute all week on electricity alone, leading to an exemplary 81.3 mpg for the week. If you rarely go more than 24 miles on a trip, you may find your gas lasts for months. Kia claims an impressive gas + electric range of 560 miles. EPA Green Scores are 7 for Smog and a perfect 10 for Greenhouse Gas.
The NIRO PHEV comes in three trims, LX, EX, and EX Premium. My Platinum Graphite tester was an EX Premium, with a soothing light gray interior. The price-leader FE model hybrid isn't sold as a plug-in.
The LX offers a decent sound system, Android Auto/Apple CarPlay, a smart key with pushbutton start, and more. The EX adds safety features, including Blind Spot Detection, Lane Change Assist, and Rear Cross Traffic Alert. You also get "hybrid" cloth and leather seats, heated front seats and outside mirrors, 10-way driver seat adjustment with lumbar support, and more. The EX Premium adds leather seat trim, 3-level heated and ventilated seats, a larger 8-inch touch screen on the dash, and a voice-command navigation system.
With an 8.9 kW battery, you can easily fill the battery at a Level 2 charger in a couple of hours from empty, or fill it overnight at home on 120 household current. The charge door includes a small light, a thoughtful touch.
At just 171.5 inches long on a 106.3-inch wheelbase, the car is tidy for nipping around town, but can carry 54.5 cubic feet of gear when you flip down the rear seats.
Pricing starts at $28,840 for the LX, and moves up to $32,440 for the EX and $35,440 for the EX Premium. All prices include shipping. My car's only option was $135 worth of carpeted floor mats.
As a crossover, the Niro PHEV is sitting pretty, right in the middle of today's most rapidly growing vehicle segment. I found it just right for family and musical instrument hauling.
The 2018 Niro PHEV just won Green Car Journal's Green SUV of the Year Award, so I expect to see lots of them on the road soon.
By Steve Schaefer © AutoWire.Net - San Francisco
The 2018 Kia Niro Plug-In Hybrid Bottom Line Review provided by:
Tony Leopardo © AutoWire.Net
The Bottom Line: The 2018 Kia Niro Plug-in Hybrid (PHEV) is a stylish and useful compact crossover. You can drive it much of the time on battery power alone, and when necessary, take a long trip using the gasoline engine. You can set the car to EV or HEV mode. In the default EV mode, the Niro uses pure electricity until its big battery is depleted and then runs as a hybrid. In HEV mode, you can select hybrid driving right away and retain the power for later.
I predict that this is the drive train that all cars, light trucks and SUV's will have in the very near future. Efficient long range battery power, an ICE gas engine so you're never without motive power, a full regenerative braking system, 110 / 220 / 440 volt plug in capability and the ability to lock in what ever driving mode you want, at any time.
And maybe, just for those reasons alone, you should "Drive one, Buy one, Today ©".
This Bottom Line Review is provided by: Tony Leopardo © AutoWire.Net
"Tony the Car Guy" is an automotive writer, editor and publisher in the San Francisco Bay Area. If you have a question or comment for Tony send it to TonyLeo@pacbell.net or visit AutoWire.Net at www.autowire.net - And remember: "You Are What You Drive ©"

Column Name: The futures drivetrain is here today
Topic: The 2018 Kia Niro Plug-In Hybrid
Word Count: 1,010
Photo Caption: The 2018 Kia Niro Plug-In Hybrid
Photo Credits: Kia Internet Media
Series #: 2018 - 08
Download the Microsoft Word version here: 2018 Kia Niro Plug-In Hybri
Download the Original Image File here: 2018 Kia Niro Plug-In Hybri