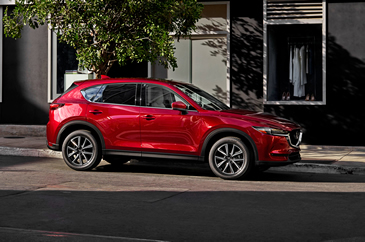 The 2017 Mazda CX-5 Grand Touring Review: Driving on the country roads that zigzag around plots of farmland in rural East Texas, one thing is clear about the new Mazda CX-5. It still carries some sports-car DNA. That's long been the chief selling point for the CX-5, a family-friendly vehicle that has reasonable space for baby seats in back, yet still feels light, nimble and enjoyable when you flick the steering wheel and zoom by cow pastures. It's perfect for drivers who need practicality, but also want a hint of the MX-5 Miata's smile-making personality.

For people who know Mazda, that's no surprise. This brand has built its reputation around sparkling handling and Japanese reliability, sort of like a BMW of the Far East, but without the luxury price tag.
To me, though, the surprising thing about the new CX-5 isn't that it has the best handling in its class. It's that it has the nicest cabin, too.

I've never driven a reasonably priced crossover that was fitted with as much rich, supple, soft-touch material as this one. The leather feels fantastic. All the touch points are padded and smooth. Everything is stitched together and neatly styled like a fine Italian handbag.
To be fair, my tester was a loaded Grand Touring model that rang up at $32,785. The base model's cabin comes across as Bulgarian, not Italian, but still a nice-try knockoff of the Lexus, Audi and Mercedes interiors that command big bucks.

It's a cabin that's trying harder, and reaching farther, than the CX-5 has attempted before. That's important if Mazda will ever be able to expand its core buyers beyond a niche that cares religiously about brake feel and body roll. Both those are spectacular, by the way, so car geeks like me can rejoice.

From a styling standpoint, the CX-5 seems to follow the same formula as many refreshed CUV competitors: a bigger grille, more body creases and a higher belt line. Nearly every crossover today is following that pattern, so this one ends up looking contemporary but not particularly wild.

It also recently joined the rest of the Mazda lineup in being named a "Top Safety Pick+" by the Insurance Institute for Highway Safety. Its driver assistance package, called i-ACTIVSENSE, includes all kinds of sensors and warnings to help you monitor blind spots and keep you safely in your lane.

It also comes with Smart City Brake Support, which can automatically prime and then apply the brakes if a radar sensor predicts a collision when you're driving under 20 mph.
I particularly enjoyed the heads-up display on my tester that recognizes traffic signs and projects that information up near the windshield. It's got a space-age feel to it, sure, but it's also surprisingly useful for those times you're driving along and can't remember the current speed limit. The CX-5 can read the signs and let you know.

Power comes from a 2.5-liter, four-cylinder engine that makes 187 horsepower. It's tuned for a very fast throttle response that makes it seem more powerful than it really is, something that's become a Mazda hallmark in recent years. It's rated for 31 mpg on the highway even though it drives and sounds like something that ought to be more of a gas-guzzler.

Other additions for 2017 include G-Vectoring Control to enhance the handling, available radar cruise control, a reclining rear seat and rear A/C vents with two rear USB ports. That brings the total USB count to four, an important number for digital-dependent families.
What was tested? The 2017 Mazda CX-5 Grand Touring FWD with a base price of $29,395. Options on the test car are: Cargo mat for $70, machine gray paint for $300, a retractable cargo cover for $250 and the premium package for $1,830. The total MSRP price as tested including the $940 destination charge came to: $32,785

Wheelbase: 106.2 in.
Length: 179.1 in.
Width: 72.5 in.
Height: 66.1 in.
Power: 2.5-liter four cylinder with 187 hp and 185 lbs-ft of torque
Transmission: Six-speed automatic
Fuel economy: 24 city, 31 highway

Why buy it? Crisp handling, prompt acceleration and good fuel economy make the CX-5 a strong choice. A surprisingly luxurious cabin in the Grand Touring trim is a nice bonus.

Pricing starts at $24,045 for the base Sport trim, $25,915 for the well equipped Touring, and $29,395 for the luxury-oriented Grand Touring.
By Derek Price © AutoWire.Net - San Francisco
The 2017 Mazda CX-5 Grand Touring Bottom Line Review provided by: Tony Leopardo © AutoWire.Net
The Bottom Line: The 2017 Mazda CX-5 Grand Touring gets an upgrade and this all new Mazda crossover still remains sporty, and then adds some surprising nice luxury touches. The design for 2017 includes a fresh new look for its body and the new version is 15 percent stiffer for better handling and refinement. Now the abundant use of soft-touch materials makes the CX-5 Grand Touring stand out. Today it looks and feels more like an expensive luxury car. And I love that about it. And maybe, just for those reasons alone, you should "Drive one, Buy one, Today ©".
This Bottom Line Review is provided by: Tony Leopardo © AutoWire.Net
"Tony the Car Guy" is an automotive writer, editor and publisher in the San Francisco Bay Area. If you have a question or comment for Tony send it to TonyLeo@pacbell.net or visit AutoWire.Net at www.autowire.net - And remember: "You Are What You Drive ©"

Column Name: Mazda's CX-5 Gets an Upgrade
Topic: The 2017 Mazda CX-5 Grand Touring
Word Count: 957
Photo Caption: The 2017 Mazda CX-5 Grand Touring
Photo Credits: Mazda Internet Media
Series #: 2017 - 19
Download the Microsoft Word version here: 2017 Mazda CX-5 Grand Touring
Download the Original Image File here: 2017 Mazda CX-5 Grand Touring