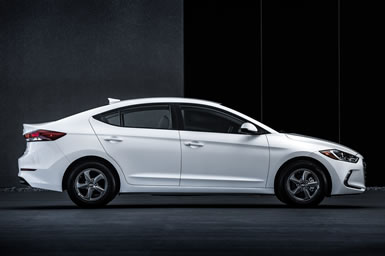 The 2017 Hyundai Elantra Eco Review: Even with low gas prices and SUVs aplenty, some people just want to drive a good compact sedan. Honda, Toyota, Mazda, and others have mastered the art off providing these over the years with the Civic, Corolla, and Mazda3, respectively. Hyundai's Elantra is a good way to do it, too. And today, the "compact" sedan has grown to more like a midsize inside.
The appeal, besides easy parking and a reasonable price, is fuel efficiency. While full electric and hybrid vehicles offer the best climate friendliness, some gas-burners do better than others. Hyundai's Elantra, always a good performer, is now in the top tier, with its new ECO model.
Check out these EPA mpg numbers: 32 City, 40 Highway, and 35 Combined. Green scores are 6 for Smog and 8 for Greenhouse Gas. Nice! I averaged an even 33.0 mpg in my week of driving, putting this car near the top of my non-EV tests. With these kinds of numbers, my tester predicted 498 miles of range when I first stepped into it.
In this sixth-generation Elantra, the looks are toned down a little from the Fluidic Sculpture theme of gen 5 to the Dynamic Precision one. The car, with its broad grille and sharp lines, is pleasant to look at. The stack-of-dots daytime running lights are a whimsical bit of illumination.
Inside, the Elantra feels spacious and offers a subtler ambiance that matches the new body styling. It feels more static than the old flowing curves, but appears a little more substantial. With a coordinated palette of matte finishes, it was certainly clean and sober in black, gray, and silver in my Symphony Silver test car. I quickly got comfortable with dropping into the front bucket, pushing the start button, and taking off.
The Elantra is very up-to-date in offering Apple CarPlay and Android Auto. This makes so much sense, it lets you use your smart phone inside your car, safely and legally, by presenting the information on the dash screen, and even allowing voice commands. You can step into the car and continue what you were doing, almost seamlessly.
Sometimes, a company gives its base model the smaller engine or the best fuel economy, but in this case, Hyundai slotted the new model in between the SE and the upper-level Limited.
A big difference in the ECO is the engine, a 1.4-liter turbo with 128 horsepower and 156 lb.-ft. of torque versus the 147-horsepower 2.0-liter four (with a lower 132 lb.-ft. of torque) in the other two models. The 2,857-pound ECO employs a seven-speed EcoShift dual-clutch automatic, which is more efficient than the standard six-speed automatic, or the rare six-speed manual in the SE. You can choose from ECO, Normal, and Sport modes to match your appetite for efficiency or fun.
The ECO gets some goodies not found in base SE models (but would be available with the optional Tech Package at $1,300). These include a handsome leather-wrapped steering wheel and shift knob, 3.5-inch color dash display, dual automatic temperature control, a key that stays in your pocket (and works with push-button doors and start), heated front seats, and more. The dash clock looks like a sophisticated Swedish Skagen watch.
One worthwhile item is Smart Trunk. While some companies brag about trunks that open when you wave your foot under the car, this one just opens on its own if you walk up and stand there for three seconds.
One difference in the ECO is a shrink from 16-inch to 15-inch alloy wheels. I'm guessing this cuts weight and with narrow tires, helps push that highway fuel economy number to the magical 40-mpg mark on the highway.
Pricing is quite affordable by 2017 standards. An Elantra SE with the manual-transmission starts at just $17,985. Add $1,000 for an automatic. The Limited, with its leather seats, 17-inch alloy wheels, four-wheel disc brakes, and other upgrades, begins at $23,185. The ECO sits in between. My ECO tester came to a MSRP price of $21,610, including $125 for carpeted floor mats. Why do they charge extra for these? All prices include the $835 shipping charges.
Like many other international brands, the Elantra is assembled in the American south, in this case, Montgomery, Alabama. It contains 70 percent Korean content, including the entire engine and transmission. By Steve Schaefer © AutoWire.Net - San Francisco
The 2017 Hyundai Elantra Bottom Line Review provided by: Tony Leopardo © AutoWire.Net
The Bottom Line: The 2017 Hyundai Elantra has built a reputation for quality in the U.S. over the years, from its humble beginnings in the 1980s. They still offer that industry-leading five-year, 60,000-mile warranty and a 10-year, 100,000-mile power train warranty, along with a five-year, unlimited-mile roadside assistance. You likely won't be needed it, but it's reassuring to know it's always there.
Plus the Elantra has been a pleasant, high-efficiency, useful choice, for years. Not flashy, but thoughtfully drawn, and packed with useful features, it's a worthy competitor with the Japanese brands and other American and European products as well. And maybe, just for those reasons alone, you should "Drive one, Buy one, Today ©". This Bottom Line Review is provided by: Tony Leopardo © AutoWire.Net
"Tony the Car Guy" is an automotive writer, editor and publisher in the San Francisco Bay Area. If you have a question or comment for Tony send it to TonyLeo@pacbell.net or visit AutoWire.Net at www.autowire.net - And remember: "You Are What You Drive ©"

Column Name: And it's built in Montgomery, Alabama
Topic: The 2017 Hyundai Elantra Eco
Word Count: 962
Photo Caption: The 2017 Hyundai Elantra Eco
Photo Credits: Hyundai Elantra Internet Media
Series #: 2017 - 12
Download the Microsoft Word version here: 2017 Hyundai Elantra Eco
Download the Original Image File here: 2017 Hyundai Elantra Eco