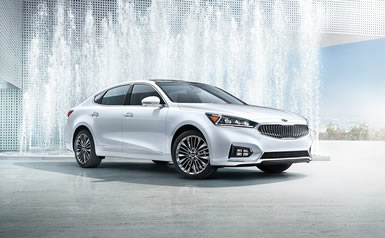 The 2017 Kia Cadenza Limited Review: The first thing I noticed about this car was its window-sticker price of $45,290, a number I still struggle to wrap my mind around on a Kia. Then I drove it and realized this might be the nicest $45,000 car I've ever been in, making it feel like a steal. There are plenty of strong choices for premium sedans in this price class, starting around $32,000, but few of them can reach the lofty level of my loaded-up 2017 Cadenza tester. It came with everything I'd expect from a $60,000 luxury car, sans the snob appeal.
With a huge sunroof that stretches all the way over the back seat, a powerful engine, smooth ride, classy cabin and tons of leg room in back, it makes a compelling case for people who want a luxury car but not necessarily a luxury brand. And that begs a question: Are there enough of those buyers for Kia to sell a large number of higher priced cars?

Kia's Korean-brand cousins at Hyundai thought it would be wise to break out a separate brand for its luxury vehicles this year, following the pattern Toyota set by launching Lexus in 1989. Kia is no doubt watching the fresh Genesis brand to see if an expensive new branding umbrella can boost its numbers.

For now, Kia continues to offer it's up market cars including the Cadenza, along with the even pricier K900, with a base price of $49,900, under its standard banner, hoping the content, substance and attractive pricing of the cars will matter to buyers more than froufrou branding. And there's a lot of substance to enjoy in the Cadenza.

For one thing, with an all-new design for 2017, it feels like a more solid, well-sorted car than many of its competitors. A stout chassis not only helps it seem quiet and refined on the highway, with lots of insulation from wind and road noise, but it also helps with handling. Its driving feel reminds me of a big European car, mixing smoothness in straight lines with responsiveness in corners.

Kia's designers absolutely nailed the interior of the new Cadenza. While the previous generation was nice, especially for when it was first introduced, this new one is on par with considerably more expensive, luxury-brand nameplates. The leather, the sweeping lines, the wood and tight construction all combine to make it an elegant place to spend lots of time behind the wheel.

While it's not unpleasant to look at, the exterior design doesn't strike me as a home run like the interior does. It uses the lazy but all-too-common practice of offering the same basic design in several different sizes: small, medium or large.

Just like you can order your Starbucks peppermint latte in tall, grande or venti, you can order your upscale Kia sedan in Optima, Cadenza or K900. They all look the same at first glance.

Look closer and you can find spot important differences in the details. While the Cadenza's lower trim levels have the same "Diamond Butterfly" grille as the rest of Kia's lineup, if you spend enough you can get the "Intaglio" grille with vertical blades to match its luxury posture in the marketplace.

I'm also a huge fan of the automatic transmission in the new Cadenza. It's the first time Kia has put an eight-speed in a front-wheel-drive car, and it feels spectacular when accelerating with the 3.3-liter, 290-horsepower V6.
By Derek Price © AutoWire.Net - San Francisco
What was tested? The 2017 Kia Cadenza Limited with a base price of $44,390. Options on the test car: none. Total MSRP price as tested including the $900 destination charge came to: $45,290

Wheelbase: 112.4 in.
Length: 195.7 in.
Width: 73.6 in.
Height: 57.9 in.
Engine: 3.3-liter direct injection V6 (290 hp, 253 ft. lbs.)
Transmission: Eight-speed automatic transmission
Fuel economy: 20 city, 28 highway

The 2017 Kia Cadenza Limited Bottom Line Review provided by: Tony Leopardo © AutoWire.Net

The Bottom Line: An all-new design for 2017 makes the Kia Cadenza even more compelling to drive. It's roomier, stronger, lighter and offers more of a luxury experience than before. Quilted seating surfaces, tasteful material choices and solid, rattle-free construction help the Kia Cadenza feel more expensive than it is.

Why buy it? The New Kia Sedan offers ample luxury and refinement for the price.
It's a bargain in today's market for a luxury car, assuming you don't want a luxury badge. A complete redesign for 2017 makes it roomier and more refined than ever before, with lots of high-end content and perfect interior finishes for the money.
And maybe, just for those reasons alone, you should "Drive one, Buy one, Today ©".
This Bottom Line Review is provided by: Tony Leopardo © AutoWire.Net
"Tony the Car Guy" is an automotive writer, editor and publisher in the San Francisco Bay Area. If you have a question or comment for Tony send it to TonyLeo@pacbell.net or visit AutoWire.Net at www.autowire.net - And remember: "You Are What You Drive ©"

Column Name: Cadenza Sells for a Song
Topic: 2017 Kia Cadenza Limited
Word Count: 887
Photo Caption: 2017 Kia Cadenza Limited
Photo Credits: Kia Cadenza Internet Media
Series #: 2017 - 08
Download the Microsoft Word version here: 2017 Kia Cadenza Limited
Download the Original Image File here: 2017 Kia Cadenza Limited