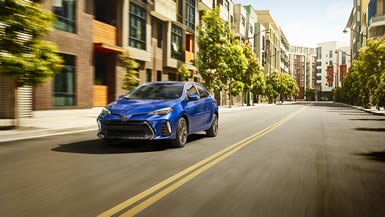 The 2017 Toyota Corolla XSE Review: Forty-three million. Think about that.
It's the number of Corollas Toyota has sold since it began production in late 1966, making this the best-selling automotive nameplate in the history of the world. That's selling an average of around 100 Corollas per hour, 24 hours a day, nonstop for 50 years.
If you parked 43 million Corollas end to end, that's enough to circle the equator five times. It could stretch halfway to the moon.

Granted, that off-the-cuff math is using the 2017 Corolla's dimensions. Cars tend to get bloated over the decades, just like us drivers, and the current Corolla is no exception. It feels like a luxury boat compared to the '70s version.

But what I find most fascinating about the Corolla is that it demonstrates like no other car the disconnect between the automotive press and reality.

This isn't a car you ever expect to see on the cover of Motor Trend. Its acceleration is embarrassing, even by compact sedan standards. To "car guys," the Corolla is a rolling punch line, the very antithesis of excitement, interest or appeal.

When people vote with their wallets, though, this is the vehicle that buyers have named Car of the Year over and over again. By that standard, it ought to be on the cover of every car magazine every month because it's the vehicle most buyers are really, truly interested in buying.

Why is that? A drive in the slightly revamped 2017 Corolla helps it make sense.
For one thing, this isn't a car that surprises you. It's been so consistent for so long that buyers know exactly what to expect when they sit inside one. Controls are in the right place. It feels natural, homey and comfy.

More than that, though, is something you can't see or feel: the reputation.
The Corolla is known for bulletproof reliability. If you keep up with the maintenance, its lifespan is phenomenal, making it the Galapagos turtle of the car world.
Pretty? Not necessarily. Long lasting? Absolutely.

And that reputation has been built over many decades, not just a short blip in the automotive timeline. Based on the Consumer Reports and J.D. Power rankings, most American and Korean brands have made dramatic improvements in quality over the past few years. If they can manage to maintain that for thirty, forty or fifty years, then maybe they can reap the same rewards Toyota has from its mind-blowing consistency.

That's not to say the Corolla stays the same every year. This year's upgrades are noticeable, including refreshed styling and an expansion of trim levels for people who want a slightly sportier look and feel.

I also thought the TRD performance exhaust on my Corolla tester was a hoot. I've never heard a Corolla sound like that before, loud, bellowy and buzzy, like the aftermarket exhausts kids put on their Civics. "We can do that, too," Toyota seems to be saying.
More impressive is a change that wouldn't make the cover of Road & Track in a million years: a dramatic upgrade to the Corolla's standard safety features.

As much as it mystifies diehard car fans like me, the vast majority of buyers don't give a rip about 0-60 times. They do care deeply about being safe on the road, though, and the base Corolla answers that need better than other cars in this price class.

This year, it's making a package of high-tech safety features called Toyota Safety Sense-P standard equipment, even on the cheapest $18,500 Corolla. That includes pre-collision sensing that can detect and react to cars and pedestrians, lane departure alert with steering assist, radar cruise control and automatic high beams.

That's the kind of stuff that, only a few years ago, you would exclusively see on high-end luxury cars. You'd have to spend $60-$70,000 to get it not too long ago. More recently, it dropped into the $30,000 range on some cars.

Well, now Toyota is making it standard on the affordable, seemingly ordinary base Corolla. It's mixing an unbeatable long-term reputation with impressive value for the money, something that's actually quite extraordinary.

It may not be sexy, but for the vast majority of drivers, that combo makes a whole lot of sense. By Derek Price © AutoWire.Net - San Francisco
What was tested? The 2017 Toyota Corolla XSE with a base price of $22,680.
Options on the test car are: Entune premium audio with navigation for $525, emergency assistance kit for $59, cargo tote for $49, a universal tablet holder for $99, TRD performance exhaust for $649, TRD performance air filter for $80, illuminated door sills for $309, mudguards for $129, paint protection film for $395, first aid kit for $30, cargo net for $49, rear bumper protector for $79, wheel locks for $67 and the carpet and trunk mat set for $224. Total MSRP price as tested including the $865 destination charge came to: $26,288

Wheelbase: 106.3 in.
Length: 183.1 in.
Width: 69.9 in.
Height: 57.3 in.
Engine: 1.8-liter four cylinder (132 hp, 128 ft.-lbs. torque)
Transmission: Continuously variable
Fuel economy: 28 city, 35 highway

The 2017 Toyota Corolla XSE Bottom Line Review provided by: Tony Leopardo © AutoWire.Net

The Bottom Line: The world's best-selling car of all time, the 2017 Toyota Corolla, celebrates its 50th anniversary this year. It has refreshed styling and upgraded content, but it doesn't lose focus on its core mission of basic, efficient, reliable transportation.
A suite of features called Toyota Safety Sense-P is standard equipment this year on all trim levels, including the $18,500 base model, and leather trim with contrasting color stitching sets the upper XSE trim levels apart.
Why buy it? Features and Value keep the Toyota Corolla a Showroom Superstar as it's a known quantity. It's got one of the best long-term reputations for reliability of any car in the world that's for sale today. And maybe, just for those reasons alone, you should "Drive one, Buy one, Today ©".
This Bottom Line Review is provided by: Tony Leopardo © AutoWire.Net
"Tony the Car Guy" is an automotive writer, editor and publisher in the San Francisco Bay Area. If you have a question or comment for Tony send it to TonyLeo@pacbell.net or visit AutoWire.Net at www.autowire.net - And remember: "You Are What You Drive ©"

Column Name: Car of the Century by Sales
Topic: The 2017 Toyota Corolla XSE
Word Count: 1,101
Photo Caption: The 2017 Toyota Corolla XSE
Photo Credits: Toyota Corolla Internet Media
Series #: 2017 - 07
Download the Microsoft Word version here: 2017Toyota Corolla XSE
Download the Original Image File here: 2017Toyota Corolla XSE