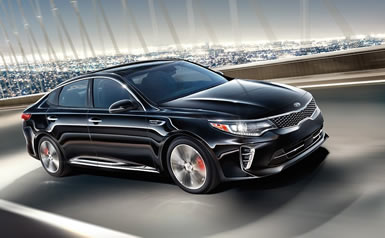 The 2016 Kia Optima SX Turbo Review: Perhaps no car sums up the status of Korean vehicles like this one, the new-for-2016 Kia Optima. My perception of this car will always be clouded by what it used to be more than a decade ago: a sedan for people who either couldn't afford better or didn't know better. In my mind, the Optima of yesteryear was a last-resort car akin to the awful Daewoo Leganza, that my wife drove until it fell apart all too soon after it left the factory.

Fast-forward to 2016 and I find myself in the driver's seat of an all-new Optima that poses a serious threat to Honda and Toyota, brands that once seemed unbeatable. It's a Korean car that kicks the Japanese in some of their most sensitive spots:

Styling: It's more eye-catching than the Accord and Camry (which, admittedly, is not saying much given how their bodies are more conservative than the Tea Party) and less controversial than the Nissan Altima. After this year's redesign, it looks more like a European luxury car than an Asian driving appliance.

Performance: It's hard to pin down exactly why, but the Optima feels expensive from the driver's seat. Its taut suspension delivers just a pinch of those magical BMW-like sensations, and it's quiet enough on the highway that it could easily come from an entry-luxury brand like Acura. And with the optional 2.0-liter turbo engine in my test car, it doesn't lack power with 245 easy-revving horses to pull you around.

Interior: The 2016 Optima is one of those rare cars (at least at an affordable price) that actually feels like its cabin was created by a designer, not a focus group or committee. It combines straight edges, ones that seem as if they came directly from a drafting table, hand-drawn with a ruler, with a functional layout and Old World bling like quilted leather seats and precisely fitted metal trim. And it still feels contemporary and tailored enough to fit in at Fashion Week.

The one downside of this car is that it's not the screaming bargain it used to be. While it starts at a reasonable $21,990, my test car gave that starting price a fat 60 percent boost after all the add-ons. It rang up over $35,000, a number I still struggle to wrap my head around for a Kia Optima.

Maybe that means it needs a name change. It shares nothing at all, not philosophy, not driving feel, not appearance, not clearance-rack positioning in the market, with the lackluster Optima I remember from 15 years ago. Why should it share a name?
Whatever you want to call it, this new-generation Optima comes with a long list of meaningful upgrades over the 2015 model, a car I thought was already highly competitive.

Some of the more noteworthy ones are new features in the UVO digital interface that are perfect for nosy or protective owners. It now offers Geo Fencing, which gives you an alert when the car is being driven in a certain geographic area, along with alerts to tell you when the car goes over a certain speed or is driven during a set curfew time. It sounds ideal for parents of teenagers or couples who will soon be shopping for divorce lawyers.

The computer can also give you a driving score based on how smoothly and consistently the driver applies the gas and brake pedals. Being a ham-footed driver, I'm sure I'd flunk.
Lastly, Kia has introduced a new engine for the Optima this year. It's a 1.6-liter turbo that makes 178 horsepower and is mated to a seven-speed dual-clutch transmission, a style of shifter I personally love but some owners have been known to gripe about. Other versions get a more traditional, sensible, smooth-shifting six-speed automatic.
What was tested? The 2016 Kia Optima SX Turbo with a base price of $29,690. Options on the test car: The SXT Premium Technology Package for $4,800. Total MSRP price as tested, including the $825 destination charge, came to $35,315.

Wheelbase: 110.4 in.
Length: 191.1 in.
Width: 73.2 in.
Height: 57.7 in.
Engine: 2.0-liter turbocharged four cylinder (245 hp, 260 lb.-ft.)
Transmission: Six-speed automatic
EPA Mileage: 22 city, 32 highway
Why buy it? The Kia Optima seems more like a premium product with each passing generation, and that's certainly the case with the all-new version for 2016. It looks and drives almost like a luxury car, with new digital features and a more refined driving experience than ever before.
By Derek Price © AutoWire.Net - San Francisco
The 2016 Kia Optima SX Turbo Bottom Line Review provided by: Tony Leopardo © AutoWire.Net
The Bottom Line: The 2016 Kia Optima enters an all-new generation that makes it look and drive more like a premium, refined product than ever before. Horizontal lines dominate the dash in the Optima's nicely finished interior, and it has the look of a high-style cabin that was influenced by one designer, rather than a focus group. With this new freshly designed Optima sedan, Kia shows a continued leap in Korean build quality. Add in a new turbo engine, plus a new dual-clutch automatic transmission that gets better fuel economy, and maybe, just for those reasons alone, you should "Drive one, Buy one, Today ©". This Bottom Line Review is provided by: Tony Leopardo © AutoWire.Net
"Tony the Car Guy" is an automotive writer, editor and publisher in the San Francisco Bay Area. If you have a question or comment for Tony send it to TonyLeo@pacbell.net or visit AutoWire.Net at www.autowire.net - And remember: "You Are What You Drive ©"

Column Name: All-new Optima aims for top spot
Topic: The 2016 Kia Optima SX Turbo
Word Count: 990
Photo Caption: The 2016 Kia Optima SX Turbo
Photo Credits: Kia Internet Media
Series #: 2016 - 21
Download the Microsoft Word version here: 2016 Kia Optima SX Turbo
Download the Original Image File here: 2016 Kia Optima SX Turbo