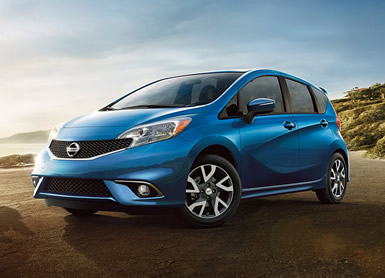 The 2015 Nissan Versa Note Review: Normally, I drive my test cars back and forth to work and around town, but my Red Brick 2015 Versa Note test car took me from the San Francisco Bay Area to San Juan Capistrano, below Los Angeles, and back. It was a surprisingly pleasant ride, and never let me down.

My tester was the new SR model, which, along with the feature-loaded SL, debuts for 2015. Sharing the drive train with the other Notes, its calling card is its style. You get more aggressive front and rear fascias, dark headlamp treatment, body-color side sills, a nicely-integrated rear spoiler, and little turn-signal lamps in the "Euro" design rearview mirrors. The hip-looking 16-inch alloy wheels are a big step up from the standard 15-inch steel wheels and covers. Inside, black suede bucket seats with a bright orange accent stripe and a leather-wrapped steering wheel make it look like a Nissan much higher on the food chain.

With modest vehicles like the Versa, you tend to set your expectation meter pretty low. I was pleased with how much more the car delivered, particularly in full-day 400-mile jaunts. The seats sit high and are supportive enough that my back and bottom didn't get sore. The interior, although it's all hard plastic, even the door armrests, is pleasant to the eye and looks more upscale than you might expect. And with a decent SiriusXM satellite radio, we didn't get bored. The four speakers are not pro audio quality, but with low vehicle noise, we were well entertained.

Every Versa Note, whether it's the entry-level S, S Plus, SV, SR or SL (in ascending order), uses the same 1.6-liter, 109-horsepower engine, with 107 lb.-ft. of torque. The S is the only one where you can shift for yourself, with a five-speed manual. The other models all come with Nissan's Xtronic Continuously Variable Transmission (CVT) standard.

Widely used in Nissan vehicles, a CVT is really the way to go these days, both for better fuel economy and ease of driving. You'd think the SR (sporty) model would offer a six-speed manual, but the target buyer is likely young and much less enthusiastic about manuals than older folks, so it would probably be a small group of takers.

There are some serious grades between San Francisco and the Los Angeles area, including the famous Grapevine. The Note, with two passengers, sprinted up that road with no problem, although the tachometer read over 4,000 at times. Moving 2,523 pounds of car is apparently no problem for the 109 horses. On the long flat sections of Interstate 5, I set the cruise control at 75 and the car flew along with just a slight hum emanating from below its sloped nose.

The Note sits on a 102.4-inch wheelbase, so there is a surprising amount of rear legroom, and as a hatchback, it accommodates a lot of gear. The EPA considers it a compact, not a subcompact, and that means you don't feel claustrophobic in it, even for day-long trips. The large, long, minivan-like windshield and high roofline help too.

The EPA awards the automatic-equipped Versa Note scores of 31 City, 40 Highway, 35 combined. I averaged 34.8 mpg, much of that earned on the Interstate. The green ratings are 5 for Smog and a fine score of 8 for Greenhouse Gas.

The Note is assembled in Aguascalientes, Mexico, which helps keep costs down. There was no sign of cost-cutting in the car itself, however. Recognizing its job as Nissan's price-leader, the car simply did not feel cheap to me. You can take an S home (as long as you know how to drive a stick) for $10 shy of $15,000, a real bargain.
The S Plus, SV, SR and SL add features as you move up the line. My SR, with the SR Convenience Package and floor and cargo area mats, came to $19,180. The top-level SL gets the most high-tech features, and handy items like keyless entry and heated seats. It still tops out under $20K.

When I scheduled the Versa Note, I didn't realize that it would be the car that would take me and my wife on a long weekend jaunt, but it really came through. I expect it would be a fine daily driver, as well. So many entry-level cars are chosen for cost and efficiency, so it's great to find one that delivers more than basic transportation, and, if a machine can have a personality, seemed to enjoy the drive. By Steve Schaefer © AutoWire.Net
The 2015 Nissan Versa Note Bottom Line Review provided by:
Tony Leopardo © AutoWire.Net
The Bottom Line: The 2015 Versa is the entry point to Nissan ownership and the Versa Note model is a five-door hatchback that is very different from the four-door Versa sedan. Available in five levels, the Note provides surprisingly strong and enjoyable performance, along with affordability and fuel economy. With a starting price of under $15,000 with a manual transmission and 35 MPG the Note is a great little car for just about everyone. And maybe, just for those reasons alone, you should "Drive one, Buy one, Today ©". Bottom Line Review provided by: Tony Leopardo © AutoWire.Net
"Tony the Car Guy" is an automotive writer, editor and publisher in the San Francisco Bay Area. If you have a question or comment for Tony send it to TonyLeo@pacbell.net or visit AutoWire.Net at www.autowire.net - And remember: "You Are What You Drive ©"

Column Name: The Versa is the entry point to Nissan ownership
Topic: The 2015 Nissan Versa Note SR
Word Count: 971
Photo Caption: The 2015 Nissan Versa Note
Photo Credits: Nissan Versa Internet Media
Series #: 2015- 014
Download the Microsoft Word version here: 2015 Nissan Versa Note
Download the Original Image File here: 2015 Nissan Versa Note