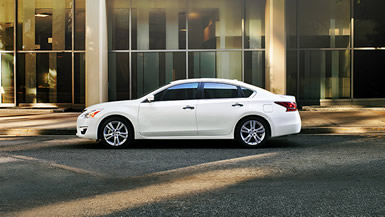 The 2014 Nissan Altima Review: It takes a lot for a four-door car to stand out in today's world, but the new-generation Nissan Altima seems to have found the right recipe. At a time when the sedan market has never been more competitive, with brilliant products available this year from America, Japan, Korea and Europe, the Altima's sales are growing faster than any other car in its class so far this year. Why all the interest? Three things: polish, fun and comfort.
The polish is apparent both inside and outside this car after it was completely redesigned for the 2013 model year. It's got a striking body, at least by family-car standards, with voluptuous curves on the front fenders and dramatic, swept-back styling in back. And its cabin is as solid and supple as anything on the market, with materials that are soft to the touch and tightly assembled.
Fun has always been one of the Altima's strengths, offering a good combination of sporty handling and meaty power. The 2.5-liter and 3.5-liter engines let you pick between good gas mileage (up to 38 mpg with the four-cylinder) and prodigious acceleration (270 horsepower with the V6).
The comfortable aspect of this car, though, is a more recent addition, mainly thanks to a wonderful feature with a gimmicky name: "zero-gravity" seats.
The Altima's seats were designed based on NASA research on how the human body relaxes in outer space. It tries to mimic how the body naturally positions itself when gravity isn't a factor, hence the lovely "zero-gravity" marketing phrase. Whatever the inspiration, these seats really do feel more comfortable than most cars do, something even more noticeable after long stretches behind the wheel.
Another reason I like this car is for personal, albeit anecdotal, reasons: my wife drove a '96 Altima for six years without a single major problem. That old Altima of ours seemed bulletproof, which makes me optimistic that today's new versions, even though they're dramatically different, could give buyers the same luck with reliability.
I do have one complaint about this car, though: its continuously variable transmission (CVT) doesn't seem like a good fit in an otherwise sporty vehicle. All the other aspects of the Altima, the engine, suspension, steering, brakes, and even the exhaust note, seem tuned to provide a hint of a playful, enjoyable, tactile feel to the driver. The CVT, with its rubber-band acceleration, seems a bit out of place in that context.
Fortunately, as Nissan doubles down on its CVT-focused strategy, its transmissions are getting better with each passing year. The Altima's recently redesigned transmission is more responsive and quieter than previous versions, plus gets better fuel economy, which is the whole point of using a CVT in the first place.
While the 2014 Altima is mostly a carryover model after the extensive changes last year, there is one notable addition: a system called NissanConnect that lets you use your car to access online services. It lets you do Google searches, play music through Pandora and connect to Facebook, for example.
As a whole, it's easy to see why this car is selling so briskly, even as its competitors are stronger than ever before. I honestly can't think of a "bad car" in this class, which is a big departure from, say, 10 years ago when the quality of mid-size sedans wasn't so consistent.
It does so many things so well, from looks, to driving dynamics, to keeping up with the rapid changes of in-car electronics, that it's worth taking a close look at.
What was tested? The 2014 Nissan Altima 2.5 SV with a base price of $24,340. Options on the test car: Convenience package for $1,350 and the navigation package for $590. The total MSRP price as tested including the $810 destination charge came to: $27,090
Wheelbase: 109.3 in.
Length: 191.5 in.
Width: 72 in.
Height: 57.9 in.
Engine: 2.5-liter I4 (182 horsepower, 180 lbs.-ft.)
Transmission: Continuously variable transmission
Estimated Mileage: 27 city, 38 highway
Why buy it? It's a sharp, fun family sedan. After getting a complete redesign last year, it's become more comfortable than ever without losing its characteristic spunk. By Derek Price © AutoWire.Net - San Francisco
The 2014 Nissan Altima Bottom Line Review provided by: Tony Leopardo © AutoWire.Net
The Bottom Line: The 2014 Nissan Altima leaves the impression of a pricier car at first glance, with angular headlights and a bright, aggressive grille that is almost reminiscent of a contemporary Lexus. Nissan's mid-size sedan saw a hugh sales jump after the 2013 redesign. And now the 2014 Altima's cabin is even more comfortable, with particularly thanks to its cleverly named "zero-gravity" seats, that reduce driver fatigue on long trips.
And maybe for that reason alone, you should "Drive one, Buy one, Today ©" Bottom Line Review provided by: Tony Leopardo © AutoWire.Net
"Tony the Car Guy" is an automotive writer, editor and publisher in the San Francisco Bay Area. If you have a question or comment for Tony send it to TonyLeo@pacbell.net or visit AutoWire.Net at www.autowire.net - And remember: " You Are What You Drive © "

Column Name: Altima getting more popular
Topic: 2014 Nissan Altima
Word Count: 892
Photo Caption: 2014 Nissan Altima
Photo Credits: Nissan Altima Internet Media
Series #: 2014- 18
Download the Microsoft Word version here: 2014 Nissan Altima
Download the Original Image File here: 2014 Nissan Altima