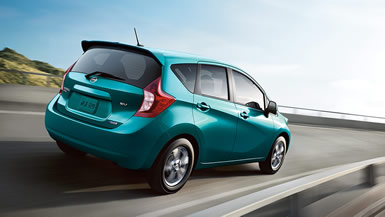 The 2014 Nissan Versa Note Review: The 2014 Versa is Nissan's lowest-priced car. Assembled in Mexico, it leads the pack of entry transportation modules, and it's no surprise. For 2013, Nissan brought in a brand-new Versa sedan. It was nice enough, but not that exciting. The '14 Versa Note is something different, though. Called simply the Note in the other places it's sold, it's a five-door hatchback, a very useful configuration, and looks different from the sedan. It has the kind of eye-catching look that you'd find on, say, a Mazda3, with plenty of motion and character. My test car, in a bright, unpretentious Metallic Blue, seemed happy to be a car.
My first look at the Versa Note was when I saw the back of one on a transporter truck on the freeway next to me. It looked new, but kind of familiar, too. Then, I went by a dealership and took one out on the road with a friendly salesman. But my blue test car was mine for a week, and I drove it all over the place.
Despite its modest 109-horsepower 1.6-liter engine with 107 lb.-ft. of torque, the Note sings just fine out in traffic. The electric power steering delivers safe, secure, and responsive handling. The transmission, a continuously-variable automatic favored by Nissan in many of its cars, takes care of business. The brakes, front disc and rear drum, have antilock,
Electronic Brake force Distribution, and Brake Assist, modern technology that gives you confidence out there in the driving jungle.
The new Versa, with the CVT transmission, averages 35 mpg, with 31 City and the coveted 40 mpg Highway, per the EPA. I averaged 32.6 mpg, still better than most cars out there. And the EPA's fueleconomy.gov website gives the Note a 6 for Smog and a sensational 9 for Greenhouse Gas. It's SmartWay approved.
The basic car, the S model, comes with a five-speed manual transmission and some worthwhile items. Step up to the S Plus and get the CVT automatic, as well as cruise control and an interesting and unusual feature, Active Grille Shutter. This controls airflow for slightly better aerodynamics, which means better fuel economy, too. The SV is the likely bread-and-butter model, with power windows and locks, keyless remote, Bluetooth, a leather steering wheel, and more.
My test car was the top-level, with the SL Package ($1,700) and SL Tech Package ($800). That $2,500 gives the car everything you'd want short of a true luxury rig. You get nice 16-inch alloy wheels, fog lights, and variable intermittent wipers outside. Inside, enjoy Sirius Satellite Radio, a USB port for your iPod, heated front seats, and even a rear-seat armrest with cupholders.
The SL Tech Package adds a 5.8-inch color touch-screen display for navigation and also a ton of amusing electronic features normally found in cars higher up the food chain. You can even order Nissan's "Around View Monitor," which works along with the rear view camera to give you a bird's-eye view of your car for easy parking.
I tried out the Navigation system and Satellite Radio, but never got around to using the hands-free text message assist. Apparently, it will read your messages to you. If it's like the one on my wife's voicemail at work, it makes a lot of hilarious machine-brain-only mistakes.
From $14,800 for the S to $19,280 (including shipping), you go from basic to super. $20,000 is now the starting price for a car with modern electronics, and most people expect those features in their car today.
One nice little item was the Divide-N-Hide rear floor. Working something like an old-fashioned Monopoly board, a hard panel sits at exactly liftover height to make a flat floor when the rear seats are folded, for easy loading. If you like some hidden space, lift up a corner of the divider and stash a briefcase or laptop out of sight. If you need more storage height, pull and fold it down and you've got more room.
I wasn't expecting greatness for the price and market position, but I came away thinking, "I could live with this one for a long time." I got rich sound from the audio system, high fuel economy, incredible rear seat leg room (shockingly like a limo), a modest price, and effective upright bass hauling ability. Plus you can pick colors such as Metallic Peacock and MorningSky Blue to stand out, and the car was actually enjoyable to drive.
It's never been so good to shop at the bottom of the market as it is now, especially when you add a few feature packages. The Versa Note is what a family car looks like in many countries, and it's a great way to keep it modest without pain. By Steve Schaefer © AutoWire.Net - San Francisco
The Bottom Line: The 2014 Nissan Versa Note is a new 5-door hatchback sedan with rear fold down seats, a peppy engine, and it still gets 40 MPG. Loaded up with options it has an MSRP price just over $20,000, and that's with a CVT automatic transmission, a backup camera and a nice sound system. This is one of the best, low cost, entry level, high MPG cars for sale in America. With a starting price of only $14,800 you can buy TWO Versa Note's, and still be under the $32,000 average purchase price of a new car. And maybe, just for that reason alone, you should "Drive one, and Buy one, Today ©"
Bottom Line Review provided by: Tony Leopardo © AutoWire.Net
The 2014 Nissan Versa Note Bottom Line Review provided by: Tony Leopardo © AutoWire.Net - "Tony the Car Guy" is an automotive writer, editor and publisher in the San Francisco Bay Area. If you have a question or comment for Tony send it to TonyLeo@pacbell.net or visit AutoWire.Net at www.autowire.net - And remember: " You Are What You Drive©"

Column Name: One of the best, low cost, entry level, high MPG cars for sale in America
Topic: The 2014 Nissan Versa Note
Word Count: 1,053
Photo Caption: The 2014 Nissan Versa Note
Photo Credits: The Nissan Versa Internet Media
Series #: 2014 - 14
Download the Microsoft Word version here: 2014 Nissan Versa
Download the Original Image File here: 2014 Nissan Versa