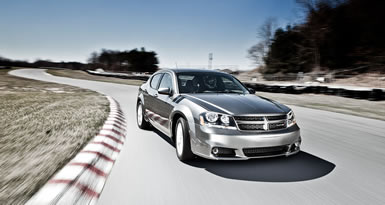 The 2014 Dodge Avenger Review: If you're someone who appreciates the golden age of domestic sedans, those big, comfortable, heavy-feeling cars with a uniquely American sense of style, this one ought to pique your interest. It's the Dodge Avenger, and it's part of a disappearing breed of domestic family cars that actually feel American.
While most four-door cars seem to be following the longstanding Japanese model of lightweight construction, firm suspensions and jellybean bodies, this one just doesn't. It feels more iron-like than most cars being sold today, with a softer suspension, smoother ride and portlier handling than its competitors.
After you open the wide, weighty front doors, you plop down into the driver's seat and are greeted by a thick, meaty steering wheel. From the oversized air vents to the wide seats and big honkin' gear selector, the Avenger is a car that actually seems like it's built with the American market in mind rather than a globalized, homogenized platform that would make people in Finland or Thailand equally happy.
In some ways, it's the counterbalance to Dodge's very Italian-feeling Dart.
That also means it's not a good fit for people who are looking for a super-duper fuel sipper. At its best, the Avenger is rated for 31 mpg on the highway, which isn't impressive when mid-size cars are routinely available in special eco-friendly versions that achieve 40+ mpg ratings these days.
On the flip side, none of the tree-hugger cars offer as much torquey, pavement-crushing power as this one.
The 3.6-liter V6 in my test car makes 283 horsepower, enough to make it accelerate with nearly the same gusto as a muscle car. And it's rated for 29 mpg on the highway, which isn't bad at all for that level of power.
Not surprisingly, the Avenger aims to exert some of that muscle-car influence through its sheetmetal, too.
Oversized fender flares and wide back pillars are throwbacks to 1960s Detroit, although I can't help but wish Dodge's designers would go even farther, either more blatantly retro, like the Challenger, or more refreshingly modern, like the Dart.
What I like best about the Avenger isn't the overarching Americanism coursing through its veins but something much more practical: attractive pricing.
While the base price is a hair under $20,000, the version you actually want, the one with V6 power, goes for $20,895. It's a true bargain for that many horses packed under the hood and doesn't burn much more fuel than the four-cylinder engine, making it the no-brainer pick.
Even on my test car, which came with leather seats, a navigation system and the trendy Blacktop appearance package, the total price rang up at $26,480. For a comfortable car with a healthy level of luxury amenities, that's an impressive price indeed.
What was tested? The 2014 Dodge Avenger SXT with a base price of $23,295. Options on the test car: Leather seats for $400, Blacktop package for $495, V6 engine for $300 and the Uconnect with Navigation package for $995. The total MSRP price as tested including the $995 destination charge came to: $26,480
Wheelbase: 108.9 in.
Length: 192.6 in.
Width: 72.8 in.
Height: 58.4 in.
Engine: 3.6-liter DOHC 24-valve V-6 (283 hp, 260 lb.-ft.)
Transmission: Automatic six-speed overdrive
EPA Mileage: 20 city / 31 highway
Why buy it? It has the smooth, soft, heavy driving feel of a classic American car. Its ample V6 power and lots of equipment make it a good value for the money.
By Derek Price © AutoWire.Net - San Francisco
The 2014 Dodge Avenger Bottom Line Review provided by:
Tony Leopardo © AutoWire.Net
The Bottom Line: The 2014 Avenger mid-size Dodge offers plenty of power and equipment for the price, and it's a real American value. With flared fenders and a wide back pillar, the Dodge Avenger looks like a cross between a modern sedan and a classic muscle car. Plus the Avenger's equipment levels make it a good value. My test car came with leather interior, navigation, 283 horsepower and the Blacktop appearance package and was priced at only $26,480. And that alone is why you should "Drive one, Buy one, Today ©" Bottom Line Review provided by: Tony Leopardo © AutoWire.Net
"Tony the Car Guy" is an automotive writer, editor and publisher in the San Francisco Bay Area. If you have a question or comment for Tony send it to TonyLeo@pacbell.net or visit AutoWire.Net at www.autowire.net - And remember: " You Are What You Drive ©"


Column Name: Avenger is an American value
Topic: The 2014 Dodge Avenger
Word Count: 790
Photo Caption: The 2014 Dodge Avenger
Photo Credits: Dodge Avenger Internet Media
Series #: 2014- 08
Download the Microsoft Word version here: 2014 Dodge Avenger
Download the Original Image File here: 2014 Dodge Avenger