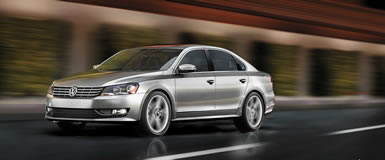 The 2014 Volkswagen Passat Review: The Passat is Volkswagen's midsize sedan. While earlier versions were imported, the latest one was designed especially for Americans and is built here in the US. It has lots of room and a long list of features we expect from the other midsize cars, such as the Chevy Malibu, Ford Fusion, Toyota Camry, Honda Accord and Hyundai Sonata. The Passat is meant to compete, but also provide something special.
This is a midsize car with full-size room, with 102 cubic feet of passenger space. The rear seats provide limo quality legroom and the airy cabin is both bright and cheerful. The trunk space is just a tick under 16 cubic feet. Part of the German design is providing comfortable, supportive seats and the Cornsilk Beige interior in my car added to the feeling of spaciousness.
The exterior design is edgy and rectangular. That might seem a little out of the current trend of sheetmetal exuberance, but VW is aiming for the traditional feel that used to be a mainstay at BMW and Mercedes-Benz. It's more handsome than flashy, but every panel and transition is carefully considered and sculpted. There are no awkward or unbalanced angles, inside or outside.
Typical for a midsize car, the Passat comes in several levels, from the basic S, to the Wolfsburg Edition, SE, Sport and SEL. Within these, choose from three different engines to configure the Passat that fits your budget and inclination.
New this year is the 1.8-liter turbo four-cylinder engine. It replaces the 2.5-liter five-cylinder that was the former standard powerplant. With an identical 170 horsepower and an additional seven lb.-ft. or torque, it improves fuel economy and loses nothing. In my 3,230-pound test car, mated to a six-speed automatic transmission, the Passat felt more than up to the job, with lively response and a pleasant engine note. EPA ratings are 24 City, 34
Highway, and 28 mpg Combined. I averaged 26.0 during my test week. The Green Vehicle ratings are above average, at 7 for both Smog and Greenhouse Gas.
The two other engine choices are a 2.0-liter TDI Diesel and a 3.6-liter V6. The Diesel generates 30 fewer horsepower than the 1.8-liter turbo but develops much more torque (236 lb.-ft.). Scoring 43 mpg on the highway, it has a nearly 800-mile range. You'll stop for personal reasons long before your car needs refueling. With its Selective Catalytic Reduction system, this clean Diesel is sold in all 50 states.
The 3.6-liter V6 makes the Passat into a real sports sedan. With 280 horsepower and 258 lb.-ft. of torque, it still earns 28 mpg highway. It comes only with a DSG dual-clutch six-speed automatic, which is optional on the Diesel. The 1.8 and 2.0 engines are available with manual transmissions, if you want them, but the DSG, by eliminating a clutch and providing immediate gear changes, gives another kind of satisfaction.
The new Passat may have been designed in Deutschland, but it's assembled in Chattanooga, Tennessee, as part of Volkswagen's 5-billion dollar investment in North American manufacturing. My test Candy White Passat featured an engine built in Silao, Mexico, and a Japanese transmission, so it's an international effort.
The Passat offers the Fender Premium Audio System. Fender is renowned for its line of electric guitars and amplifiers. This system puts out 400 watts through nine speakers, including a subwoofer in the trunk. I sampled various stations on the SiriusXM Satellite Radio and it not only handled the Rock, as you'd expect from Fender, but rendered Classical with sensitivity and balance.
As a modern car, the Passat has the usual safety cage, crush zones, and multiple airbags. Also, you get Electronic Stability Control (to help you stay on the road), anti-lock brakes with Brake Assist, and tire pressure monitoring. Volkswagen pays for the first two years or 24,000 miles of maintenance, too.
As an SEL Premium, my tester had most of what you'd want, including leather seating, automatic climate control, and the rest. The only step up would be to take the larger engine, but I really don't think I'd need it. My tester came to a competitive $31,715, including shipping.
The base S model with the 1.8-liter turbo and five-speed automatic gives you a long list of standard features, including a multi-function steering wheel; air conditioning; trip computer, AM/FM/CD audio system; Bluetooth, and power windows, mirrors and locks. Prices start at a modest $21,815. The top of the line SEL Premium with the 3.6-liter V6 comes in at $35,085.
By Steve Schaefer © AutoWire.Net - San Francisco
The Bottom Line: This new 2014 Passat successfully mixes the spirit of Volkswagen and the realities of global production. It matches the needs of many Americans, while giving a little more driving pleasure on the road than the sales leaders, and it stays under the radar with it's traditional styling. Volkswagen has big sales goals for America, and the Passat is helping reach that new level with a wide range of comfort and luxury options, engines, transmissions and price points, and maybe that's why you should "Drive one, and Buy one, Today ©"
Bottom Line Review provided by: Tony Leopardo © AutoWire.Net
The 2014 Volkswagen Passat Bottom Line Review provided by: Tony Leopardo © AutoWire.Net - "Tony the Car Guy" is an automotive writer, editor and publisher in the San Francisco Bay Area. If you have a question or comment for Tony send it to TonyLeo@pacbell.net or visit AutoWire.Net at www.autowire.net - And remember: " You Are What You Drive © "



Column Name: The Passat is a midsize car with full-size room
Topic: The 2014 Volkswagen Passat
Word Count: 975
Photo Caption: The 2014 Volkswagen Passat
Photo Credits: Volkswagen Passat Internet Media
Series #: 2014 - 04
Download the Microsoft Word version here: 2014 Volkswagen Passat
Download the Original Image File here: 2014 Volkswagen Passat