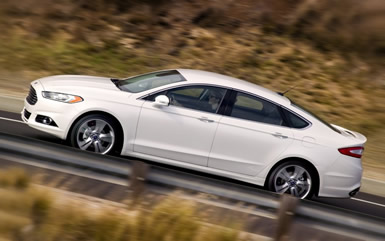 The 2013 Ford Fusion Titanium Review: Picking a car is a bit like shopping for sandwich bread. Every choice can do the job, but the tiny differences between them can make you love one type and hate another, for reasons that are sometimes difficult to explain. Picking a mid-size sedan, often called the automotive equivalent of white bread, makes it even tougher.
They've all got four doors, a trunk and space for a couple of baby seats in back. But the subtle differences in how they look, work and drive can take a bland car and turn it into a real "wow" experience. That's exactly what Ford has done with the new Fusion.
Ford tweaked every aspect of this car, from its body styling to its driving feel and under-the-hood engineering, to create one of the best sedan redesigns I've experienced in several years.
In terms of dramatic makeovers, it's on par with the previous generation Chevy Malibu and current generation Hyundai Sonata, two redesigns that helped to raise expectations and set new standards of quality for their entire brands.
I drove the new Fusion for the first time at Texas Motor Speedway, including back-to-back drives in some of its competitors, and the overall impression was eye opening. It's as refined, high-tech and stylish as any sedan on the market today, including the easy-to-love Sonata.
It starts with the way it looks. When the new Fusion was first introduced and I started seeing it pop up on area roadways, I mistook it more than once for an Aston-Martin in my rearview mirror. "Is that an Aston?" I'd ask myself, before seeing the Ford badge come into view.
If auto designers are going to carbon copy a car, taking one from a gorgeous British sports car, is a great place to do so. But the beauty is more than skin deep on the Fusion, especially in two areas: the suspension damping and cabin quality.
This is a car that's been carefully tuned to provide the ideal mix of comfort and sportiness, a combination that's hard to get right. The Fusion's suspension hits that sweet spot, with a nice transition between tactile feedback in corners and a silent, isolated feeling on high-speed straightaways.
Its cabin, especially in the high-end Titanium trim, is equally spectacular. Ford has done an amazing job eliminating the hard plastics and hollowed-out, cheap feeling that plagued its dash assembly years ago, replacing it with the kind of soft-touch materials and tight construction that would almost feel at home in a European luxury car.
Finally, the new Fusion is bringing technologies to the market that aren't common at this price point, including:
Lane Keeping System, which uses cameras to watch the stripes in your lane and warns you if you start to veer off course. It can even gently apply pressure on the steering wheel to keep you in the lane.
Active Park Assist, which helps you parallel park. It uses sensors to position the car correctly with the steering wheel so all the driver has to do is operate the gas and brake pedals.
Even its drive trains use technology to save fuel. The ordinary Fusion is rated for up to 37 mpg on the highway, while the gas hybrid model is rated at 47 mpg, and the plug in hybrid at 100 mpge.
If you're going to buy white bread, it's best to get the good stuff. And the new Fusion is among the tastiest and freshest on the shelves this year.
What was tested? The 2013 Ford Fusion Titanium with a base price of $30,200. Options on the test car: The Driver assist package for $1,200, active park assist for $895 and adaptive cruise control for $995. The total MSRP price as tested including the $795 destination charge came to: $34,085.
Why hesitate? If you want to get really picky, the sloping roofline means headroom was sacrificed slightly in the back seat.
Why buy it? It looks gorgeous, and has a driving feel that seems honed to perfection. It stands out in a sea of look-alike, and drive-alike sedans.
By Derek Price © AutoWire.Net - San Francisco
The 2013 Ford Fusion Titanium Bottom Line Review provided by:
Tony Leopardo © AutoWire.Net
The Bottom Line: The 2013 Ford Fusion Titanium. The new Fusion's front end mimics Aston-Martin, the exclusive British car company, which is a good place from which to take design inspiration. Style, driving feel, and technology make this mid-size Ford stand out in its class. In Titanium trim, the Fusion's cabin feels luxurious and rich, and its tight construction and soft materials make it seem expensive. But its not, the price starts at just $30K, and that alone is why you should "Drive one, Buy one, Today ©"
Bottom Line Review provided by: Tony Leopardo © AutoWire.Net
"Tony the Car Guy" is an automotive writer, editor and publisher in the San Francisco Bay Area. If you have a question or comment for Tony send it to or visit AutoWire.Net at www.autowire.net - And remember: " You Are What You Drive © "

Column Name: Fusion gets tasty makeover
Topic: The 2013 Ford Fusion Titanium
Word Count: 893
Photo Caption: The 2013 Ford Fusion Titanium
Photo Credits: Ford Fusion Internet Media
Series #: 2013- 14
Download the Microsoft Word version here: 2013 Ford Fusion Titanium
Download the Original Image File here: 2013 Ford Fusion Titanium