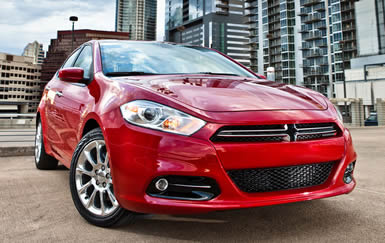 The 2013 Dodge Dart Review: In the early 1960s, American car companies decided to take on a rising tide of imports. The Big 3 introduced the Chevy Corvair from GM, the Falcon from Ford and the Plymouth Valiant from Chrysler. In 1963, the Dodge division got the new Dart, based on the Valiant platform. The Dart became Dodge's first successful compact car, and was sold through 1975, when it was replaced by the Dodge Aspen. Now with the new 2013 Dart, Dodge has a nice credible mid size compact sedan. Why use the old name? Apparently it tested very well in consumer research with both folks old enough to remember the old Dart fondly and with young millennials, and that means fresh new buyers.
The Dart is the first Chrysler product based on a Fiat platform, in this case the well-regarded Alfa Romeo Guilietta. This means it has something of a European driving feel, but the styling, inside and out, is all today's Chrysler Corporation. That is a good thing. The look is smooth and flowing, something that's sometimes hard to pull off on a compact car. The floating cross-hair grille gives the car brand identity. This is Dodge's first use of an active grille shutter system, which opens the lower louvers when required for ventilation and closes them when not needed, improving aerodynamics for better fuel economy.
Inside, the surfaces flow from the doors over the dash, with a carved-out door panels and useful console with a "floating" panel. In my Redline Pearlcoat tester, the black and "Light Diesel Gray" interior wore sturdy cloth. The main dash panel was padded, but some of the other surfaces had grained, hard plastic that didn't feel especially luxurious.
In the Dart, there is a notable shortage of edges and straight lines, which evoked for me a little of the feeling of mid 1990s Ford products. But the cabin turned out to be comfortable and the fairly soft buckets felt supportive. The Dart comes in five ascending trim levels: SE, SXT, Rallye, Limited and R/T. My tester was a Rallye, upgraded with about $6,000 in option packages. An unusually generous 8.4-inch touch-screen panel in the center of the dash lets you control audio, climate, navigation, phone and other settings. It features large enough "buttons" that it was easy to use quickly, unlike some other cars screens.
Below the screen are basic knobs for audio selection and temperature and fan functions, but for deciding where to send the air, you use the touch screen. When the Bluetooth-connected phone rings, a prominent touch spot on the screen makes it easy to answer. In the instrument panel, the flattened number design is very "Eurotech" for a clean look. A small screen provides fuel economy and other information, which you select using a steering-wheel-mounted button.
You can choose from three engines in the Dart, working through a manual trans or a choice of two automatic transmissions. The regular engine is a 160-horsepower 2.0-liter "Tigershark" inline four. My tester had the second choice; a 1.4-liter turbocharged four that also puts out 160 horsepower. The racer of the bunch is a 184-horsepower 2.4-liter "Tigershark" four.
The 1.4- and 2.4-liter engines use Multi-Air technology, which delivers optimum combustion at any speed under all driving conditions by allowing direct and dynamic control of air intake and combustion. This results in a 15 percent increase in low-engine-rpm torque and a 7.5 percent improvement in fuel efficiency.
The 1.4 liter turbo in my tester earns solid EPA numbers of 27 City, 37 Highway and 31 combined. I averaged 27.5 mpg in my driving. That's not extremely high, but the Dart, like its ancestor, is not a tiny econobox. EPA Green Vehicle Guide numbers are a fine 8 for Greenhouse Gas and a midrange 5 for Smog. This gives it SmartWay status.
The 1.4-liter was not silent in my tester. It had a little graininess, especially during acceleration, but this is not a car meant for serene cruises. It is engaging in a friendly way. To sweeten the pot, you have 12 color paint options and 14 interior color and trim choices, so, just like the old Burger King ad, "Have it your way."
The Dart may have Italian underpinnings, but it's built in Chrysler's Belvidere, Illinois assembly plant. Chrysler sold many Mitsubishi compact cars over the past years, but this car, like the Neon sold from 1995 to 2005, is made in the U.S.A.
Pricing starts at just $16,790 and goes up from there. My Dart Rallye, with a collection of welcome options, came to $24,460, including shipping.
The new Dodge Dart is probably better in every possible way than the first one. Like its ancestor, it remains a good choice for those seeking a comfortable sedan that's not too tiny, not too basic, or too big to park easily.
By Steve Schaefer © AutoWire.Net - San Francisco
The 2013 Dodge Dart Bottom Line Review provided by: Tony Leopardo © AutoWire.Net
The Bottom Line: The 2013 Dodge Dart is new this year and is it's aimed directly at the compact car market. Dodge has taken a name from the past and put it on its newest car built in the USA. It's a nice blend of an Italian chassis with American styling and International engines that give this new car a Dodge look, with crisp power, and European handling. And it's all wrapped up in USA pricing that starts at just under $16,800. The Dart has 3 engines, 2 transmissions and several trim levels to choose from, so you can easily built a Dart just the way you like it, and to your price point too. With the right size, power and price, the Dart is on target to be a major contender in the mid sized compact car market, so you should "Drive one, Buy one, Today ©". Bottom Line Review provided by: Tony Leopardo © AutoWire.Net
"Tony the Car Guy" is an automotive writer, editor and publisher in the San Francisco Bay Area. If you have a question or comment for Tony send it to TonyLeo@pacbell.net or visit AutoWire.Net at www.autowire.net - And remember: "You Are What You Drive ©"

Column Name: A new compact sedan from Dodge
Topic: The 2013 Dodge Dart
Word Count: 1078
Photo Caption: The 2013 Dodge Dart
Photo Credits: Dodge Dart Internet Media
Series #: 2013- 06
Download the Microsoft Word version here: 2013 Dodge Dart
Download the Original Image File here: 2013 Dodge Dart