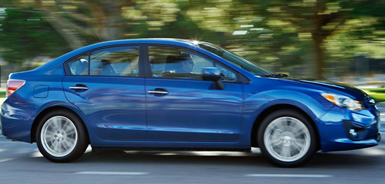 The 2012 Subaru Impreza 2.0i Sport Limited Review: If you've ever driven the rock-hard, super-fast version of the Subaru Impreza, you know it's a car with great bones. In this hopped-up trim, the Impreza WRX is one of the most thrilling cars you can buy with four doors, and that includes much more expensive offerings like the BMW M3. The WRX is raw, exciting and total proof that this car's architecture is designed to withstand the brutal demands of a performance car.
The majority of Subaru buyers, though, don't choose the wild WRX and instead opt for the more sedate, efficient and affordable flavor, the regular ol' Impreza, which is what I've been driving for the past week.
The Impreza is a car with a cult following for its four-wheel traction and reputation for longevity. Lots of people who live in mountainous areas love it because the all-wheel drive system is perfect for navigating icy roads in the winter, but it gets much better gas mileage than, say, a Jeep Wrangler.
It's like a small, good-looking Jeep for practical people.
The Impreza was totally redesigned for 2012, although it doesn't feel like a back-to-the-drawing-board kind of redesign. It's more an evolution of what the Impreza has long stood for, which is great traction and a solid driving feel.
It's tough to compare this car to anything else on the market because there's not much that competes with it directly.
A typical front-wheel-drive sedan is going to get better gas mileage than the Impreza and probably come with a classier, roomier interior for the money. But it won't have all-wheel drive.
And there are plenty of big SUVs and crossovers that are available with all-wheel drive, but they generally get worse gas mileage and cost far more than the Impreza. Most would start over $30,000, compared with just $17,495 for a base Impreza. That means if you want a small, efficient car that will make you feel confident in the snow and mud, this is pretty much your only option.
Aside from the great traction on gravel, ice and mud, one of the Impreza's best features has traditionally been its fun driving feel. It was hard to see that in my test car, though, because Subaru opted to fit it with a continuously variable transmission, that saps most of the excitement out of it.
Subaru is one of the few car companies to use a "boxer" engine layout, which is famously employed by Porsche and BMW, so the five-speed manual transmission would be a much better choice for drivers who want that German sports car feeling on the cheap. It's what I'd recommend.
There's also a five-door hatchback version of the Impreza that adds to its versatility. With the hatchback, you can fold the back seats down to reveal a gigantic cargo area that's designed for carrying big, bulky things. Even with the back seats up, it comes with more storage room than you usually find in this class.
The clean, crisp styling is also an improvement over the outgoing Impreza.
Pricing starts at $17,495 for the basic 2.0i and ranges to $22,595 for the more luxurious Sport Limited model, which comes with leather seats, automatic climate control and the CVT automatic transmission.
The much more exciting Impreza WRX starts at $25,595 which, for me at least, would be incredibly tempting.
What was tested? The 2012 Subaru Impreza 2.0i Sport Limited with a base price of $22,895. Options on the test car: Option Package 63 with power moon roof and navigation for $2,000. The total MSRP price as tested including the $750 delivery fee came to: $25,645.
Why avoid it? The CVT automatic transmission is no fun. It negates the great "boxer" engine under the hood.
Why buy it? It's a great car for people who need all-wheel-drive traction at an affordable price. The hatchback version is almost as versatile as a crossover. By Derek Price © AutoWire.Net - San Francisco
The 2012 Subaru Impreza Bottom Line Review provided by:
Tony Leopardo © AutoWire.Net
The Bottom Line: The 2012 Subaru Impreza retains all its strengths, the all-wheel-drive traction, and a solid driving feel, after a complete redesign for the new model year. The Impreza's cabin in Limited trim has two digital displays. One is behind the steering wheel, and the other is above the center stack, which also houses the available navigation system. The car is very impressive, and the new base price for the All-wheel-drive Subaru Impreza starts at just $17,495, so you should "Drive one, Buy one, Today ©"
Bottom Line Review provided by: Tony Leopardo © AutoWire.Net
"Tony the Car Guy" is an automotive writer, editor and publisher in the San Francisco Bay Area. If you have a question or comment for Tony send it to TonyLeo@pacbell.net or visit AutoWire.Net at www.autowire.net - And remember: " You Are What You Drive © "

Column Name: Efficient, affordable traction
Topic: 2012 Subaru Impreza 2.0i Sport Limited
Word Count: 863
Photo Caption: 2012 Subaru Impreza 2.0i Sport Limited
Photo Credits: Subaru Impreza Internet Media
Series #: 2012- 19
Download the Microsoft Word version here: 2012 Subaru Impreza
Download the Original Image File here: 2012 Subaru Impreza