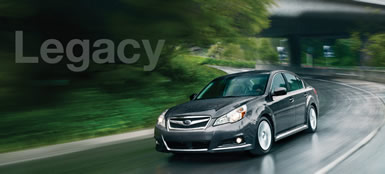 The 2012 Subaru Legacy 2.5i Limited Review: The Subaru Legacy can be summed up in one word: solid. Rarely do four-door family cars feel as well built as this one, with its standard all-wheel drive and chassis that seems more German than Japanese. It's one of those special cars that feels like it's built from a single block of steel.
The doors close with a solid thud. The dash trim is all chiseled and tightly assembled. Even the driving feel is heavy and slightly militaristic, with that go-anywhere, do-anything machismo of 4x4 trucks, only in a much more socially acceptable package.
The Legacy's standard all-wheel drive system is terrific comfort for those times when road conditions are slippery. That's one of the reasons Subarus are so popular in areas with frequent snowfall and mountain terrain, but it can also be helpful on wet roads as I found out during a freakishly strong spring storm in Texas recently.
Other cars would have felt skittish in such a downpour, struggling for traction on the soaked tarmac, but the Legacy always displayed Jeep-like confidence over puddles and through the howling wind. There's a cost to that all-wheel-drive confidence, though, and it comes in the form of added weight that hurts its gas mileage.
The most efficient Legacy, with the 2.5-liter four-cylinder engine and a Continuously variable transmission, is rated for 31 mpg on the highway and 23 in the city.
There are two ways to look at those mileage figures. They're obviously worse than you would get from more traditional front-wheel-drive cars such as the Honda Accord, Toyota Camry or Ford Fusion. But on the flip side, that's excellent mileage for an all-wheel-drive vehicle and much better than you could expect from crossovers and SUVs with similar capability.
One of the best parts of the Legacy, like any Subaru, is the design of its engine. The Legacy offers both four- and six-cylinder engines with a horizontally opposed layout, also known as a "boxer" design, that's more common in high-end German cars such as Porsches and BMWs.
Boxer engines have cylinders that bang against each other in opposite directions, from side to side, virtually eliminating the need for balancing. This design gives them a smooth, almost turbine-like feeling when you press the gas pedal. It's a wonderful thing to find in affordable cars and something I wish more brands would offer a boxer engine in their lineup.
Subaru offers a smaller car called the Impreza that has a sportier driving feel, but the Legacy is a more grown-up model. Its suspension is tuned to the smoother, more comfortable side of the driving spectrum, and its cabin is bigger and more practical for families.
Styling seems to draw inspiration from European cars, using the high, dramatic beltline of new Volvos and the trunk bump popularized on
BMWs. Its overall shape nicely straddles the line between sporty and classy.
Pricing starts at $19,995 for the basic 2.5i model and reaches up to $28,595 for the performance-oriented 3.6R Limited version.
What was tested? The 2012 Subaru Legacy 2.5i Limited with a base price of $25,895. Options on the test car: Package 8, including the moonroof, navigation system and audio system upgrade for $2,995. The total MSRP price as tested, including the $750 destination charge, came to: $29,640.
Why avoid it? Gas mileage isn't as good as any ordinary front-wheel-drive car.
Why buy it? It comes with all-wheel-drive traction and a solid feeling from the driver's seat. It seems like a well-designed, tightly assembled car.
By Derek Price © AutoWire.Net - San Francisco
The Bottom Line: The 2012 Subaru Legacy 2.5i Limited has body styling that nicely straddles the fine line between sporty and classy. The Legacy's cabin feels much bigger and more solid than many of its competitors. And with All-wheel-drive standard on the Legacy, it inspires confidence on slippery roads, and that's why you should "Drive one, Buy one, Today ©"
Bottom Line Review provided by: Tony Leopardo © AutoWire.Net
"Tony the Car Guy" is an automotive writer, editor and publisher in the San Francisco Bay Area. If you have a question or comment for Tony send it to TonyLeo@pacbell.net or visit AutoWire.Net at www.autowire.net - And remember: " You Are What You Drive © "

Column Name: The Legacy feels chiseled, and solid
Topic: The 2012 Subaru Legacy 2.5i Limited
Word Count: 777
Photo Caption: The 2012 Subaru Legacy 2.5i Limited
Photo Credits: Subaru Legacy Internet Media
Series #: 2012- 13
Download the Microsoft Word version here: 2012 Subaru Legacy
Download the Original Image File here: 2012 Subaru Legacy