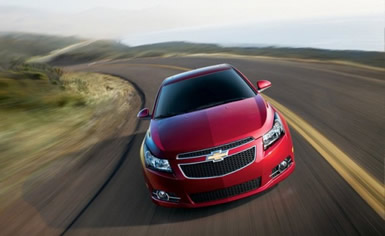 The 2012 Chevrolet Cruze 2LT Review: You know Chevrolet has come a long way when its cars are outshining competitors from Japan, even after their new models are launched. That's exactly what Chevy is doing with the Cruze, a compact car that looks and feels like an upscale midsize vehicle.
Even after its sharpest competitors are releasing totally redesigned models for 2012, like the Honda Civic and Toyota Yaris, their perceived quality doesn't quite stack up to the plucky American car.
It's an incredible turnaround after years of apathy at General Motors, which resulted in eminently forgettable vehicles, including a long string of tacky, poorly made compact cars, that that contributed to the company's bankruptcy.
Yet here we are looking at a Chevy that was launched in America in 2011, and globally long before that, which compares favorably against some brand-new versions of cars that ate its lunch just a few years ago. The difference is the sense that somebody, somewhere, deep within General Motors, cared deeply about how this car turned out.
You can feel it as soon as you look at the Cruze, which has a simple, clean and modern body that doesn't match its bargain basement Chevy pricing. It looks slightly elegant, but not ostentatious, just the right visual mix for this kind of car. And it gets even better from the driver's seat.
People cared about how this car feels, from the soft materials on the dash to the way buttons and knobs click with precision. People cared about how it drives, including creating a suspension that feels smooth on the highway but also provides enough sensory feedback to make twisty roads fun.
And people cared the most that the Cruze end up in a way that doesn't feel cheap, which was the biggest problem with the Cavalier, Cobalt and countless other plastic-covered General Motors compacts that came before it. You used to sit in a compact Chevy, then a similar Toyota, and immediately knew the Japanese car was built more solidly. Not anymore.
Granted, those feelings are based on first impressions. Toyota and Honda do have track records for building bulletproof cars for over a couple of decades. Chevy just doesn't, although recent J.D. Power and Associates satisfaction surveys show that's been changing.
It's very possible, indeed, likely, that brands such as Ford, Chevrolet and Dodge may have better long-term reputations than their Japanese rivals a decade from now. It will be interesting to see.
There aren't many downsides to this car, assuming you know what it is to begin with. It's a roomy commuter car, with a back seat big enough for three small kids or a couple of adults in a pinch.
It's not going to win races, make a postmodern artistic statement and save the polar bears, although it is among the most fuel-efficient cars in its class. It's rated for 38 miles per gallon on the highway, and 42 mpg in the special Cruze Eco model. It's just a solid, well-built, good-driving compact car, which is exactly what Chevy needs to be building.
What was tested? The 2012 Chevrolet Cruze 2LT with a base price of $20,605. Options on the test car: Automatic transmission for $1,185, the navigation stereo system for $995, premium audio for $445 and the paint upgrade for $325. The total MSRP price as tested, including the $750 destination charge, came to: $24,305.
Why avoid it? Chevrolet doesn't have as long a track record of building quality cars as Honda and Toyota do.
Why buy it? It's a well-rounded car with a lot of strong points. It's quiet and smooth for its class, and drives like a much more expensive vehicle.
By Derek Price © AutoWire.Net - San Francisco
The 2012 Chevrolet Cruze Bottom Line Review provided by:
Tony Leopardo © AutoWire.Net
The Bottom Line: The 2012 Chevy Cruze is a compact car with the presence of a mid-size model. After being introduced last year it still feels more polished than its new rivals. One of the Cruze's strong points is its interior, which feels more luxurious and well built than most of the cars in this class. This is a super solid and fuel efficient Chevy, and that's why you should "Drive one, Buy one, Today ©"
Bottom Line Review provided by: Tony Leopardo © AutoWire.Net
"Tony the Car Guy" is an automotive writer, editor and publisher in the San Francisco Bay Area. If you have a question or comment for Tony send it to TonyLeo@pacbell.net or visit AutoWire.Net at www.autowire.net - And remember: " You Are What You Drive © "

Column Name: The Cruze beats Japanese compacts in many ways
Topic: 2012 Chevrolet Cruze 2LT
Word Count: 816
Photo Caption: 2012 Chevrolet Cruze 2LT
Photo Credits: Chevrolet Cruze Internet Media
Series #: 2012- 10
Download the Microsoft Word version here: 2012 Chevy Cruze
Download the Original Image File here: 2012 Chevy Cruze