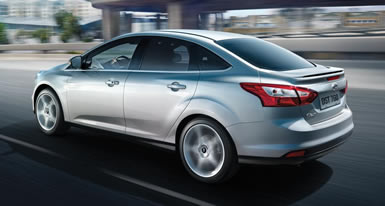 The 2012 Ford Focus Review: The Ford Focus was a nice step forward when it debuted in 2000 here in the U.S. It was based on a European design, and although it was built in North America, it was taut and fun to drive. But despite some restyling, it was never the real European model, and as time went on, the folks across the pond got a better car, while we settled for a restyled version of the old one. Well, that's over.
As part of the company's One Ford strategy, we receive just about the same car they enjoy, but it's built for us in a plant in Wayne, Michigan, the heartland of America. The Focus is very popular worldwide, with more than ten million sold since its European debut in 1998.
Foci (is that the plural?) come in four trim lines stateside: S, SE, SEL and Titanium. All except the base S model are available in both five-door hatchback and four-door sedan configurations; the S is a sedan only.
My Ingot Silver Metallic test car was an SE, with, oh boy, a five-speed manual transmission. That helped to make the driving experience even sportier, with firm, direct shifts.
The new Focus turned out to be surprisingly roomy, and had more lines and curves on it and in it than anything I've seen since the smaller Fiesta I drove a while ago. The taillights, especially on the hatchback, are fanciful and like nothing else I've ever seen. This is one car that really looks unlike its predecessor, and that's probably a good thing.
The car came with an impressive set of black alloy wheels, 17-inchers that gave the silver car a look with attitude. I am personally less thrilled by black wheels, they remind me of silver wheels covered in brake dust, but the look is modern and youthful, so I made the best of it and smiled.
The quality of the new Focus' interior is way above the old one. I'm not sure why, but everything from materials to fit and finish is simply superior to the past iteration. Europeans expect even their most inexpensive cars to be well turned out, and with this car, they are giving Americans more than they expect at the lower end of the automotive marketplace.
The fresh interior is remarkable for its busy interplay of surfaces and textures. The top of the dash is remarkable in its varied terrain. There's plenty of silvery trim on the steering wheel, door handles, and the brake thumb button. The light blue needles of the gauges are an unusual and tasteful accent.
Ford's SYNC® with MyFord Touch™ replaces many of the traditional buttons, knobs and gauges with LCD screens and buttons. I have always found the system annoying, with normally easy actions buried in menus and interruptions by a female automated voice. I have to relearn each time how to get my iPod connected. Living with the system for a while would probably solve this problem.
Of course, most cars sold in the U.S. will be automatics, because that's what most Americans want. The one in the Focus is a six-speed with a low first gear for quickness off the line and overdrive fifth and sixth gears for better fuel economy.
Under the hood is an all-new 2.0-liter DOHC four-cylinder engine that combines high-pressure gasoline direct injection and twin independent variable camshaft timing for enhanced performance and fuel efficiency. Its 160 horsepower is 20 more than the previous Focus 2.0-liter engine yet it also brings a more than 10 percent fuel economy improvement. My tester was rated at 26 City, 36 Highway, averaging at an even 30 mpg. I averaged 28.1 mpg.
The EPA Green Vehicle Guide gives the car a superior 9 for Air Pollution and a respectable 7 on Greenhouse Gas, placing it squarely in the SmartWay category. It actually gets a PZEV (partial zero emission vehicle) rating for its clean ways.
You can get the Euro-style five-door hatchback, but many Americans will likely opt for the sedan. It fits in as the second step in a four-sedan Ford lineup, anchored by the Fiesta. Above it are the midsize Fusion and the now full-size Taurus, so it's a strong team today.
Prices start at $17,225 for the S sedan and move up in steps to the Titanium at $23,425. Both prices include shipping. My SE Sedan tester, with the Convenience Package (cruise control, alarm, and MyFord audio system) and SE Sport Package (includes a leather steering wheel and leather covered gear shift knob plus a rear spoiler) came to a total MSRP price of $20,580.
Finally, the Focus has become the world car it was meant to be, and you can go get yours now anytime you want.
By Steve Schaefer © AutoWire.Net - San Francisco
The Bottom Line: The 2012 Ford Focus is the best small car Ford has ever built. Based on the European model Focus, the new car has 2 body styles, four trim levels, 2 transmissions and an all-new 2.0-liter DOHC four-cylinder engine, that combines high-pressure gasoline direct injection and twin independent variable camshaft timing, for enhanced performance and fuel efficiency. Combined with a low base price, the 2012 Focus now has a model for just about everyone. You should "Drive one, Buy one, Today ©"
Bottom Line Review provided by: Tony Leopardo © AutoWire.Net
The 2012 Ford Focus Bottom Line Review provided by: TonyLeopardo © AutoWire.Net - "Tony the Car Guy" is an automotive writer, editor and publisher in the San Francisco Bay Area. If you have a question or comment for Tony send it to TonyLeo@pacbell.net or visit AutoWire.Net at www.autowire.net - And remember: " You Are What You Drive©"

Column Name: The Focus is now the world car it was meant to be
Topic: The 2012 Ford Focus
Word Count: 1,014
Photo Caption: The 2012 Ford Focus
Photo Credits: Ford Focus Internet Media
Series #: 2012 - 6
Download the Microsoft Word version here: 2012 Ford Focus
Download the Original Image File here: 2012 Ford Focus