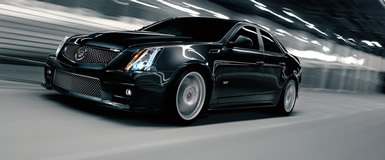 The 2012 Cadillac CTS-V Review: If you want to buy the fastest four-door car in the world, where do you look? You might think of something Italian, like a four-door Ferrari or the Maserati Quattroporte. Germany is another obvious place to consider, with the Porsche Panamera, BMW M5 and Mercedes-Benz AMG models generating lots of headlines. But you'd be wrong. The fastest production sedan in the world is actually made here in
America, and it's called the Cadillac CTS-V.
This car takes the smallest Cadillac sedan and soaks it in horsepower steroids, adding a 6.2-liter engine, ridiculously huge brakes and an advanced suspension to create the most exciting car I've ever driven with a baby seat strapped in back. And yes, the baby loved it.
At its core, the CTS-V is all about power. It makes 556 horsepower from a supercharged Corvette engine; the kind of number normally associated more with Italian supercars than with Grandma's favorite brand, and it sounds phenomenal while making all 556 of them.
Everywhere you go, it feels like you're driving an executioner. This is a car that always wants to kill something, so sinister is its demeanor, and snarling exhaust note. But one of the most surprising things about this car is just how drivable it is.
It's obviously engineered more for the racetrack than anything you can do legally on public roads. Heck, it recently set track records on Germany's historic Nurburgring circuit, which is nicknamed "the green hell" for its 154 turns that are torture on racing drivers.
Yet you can drive the CTS-V on the highway in near silence while cool air chills your backside in the ventilated leather seats. and soothing music plays over the satellite radio. It's absolutely remarkable.
One of the big reasons for that dual personality is the magnetic ride suspension system that was inherited from the Corvette. In its normal "touring" mode, the suspension is relatively soft and supple, firmer than the ordinary CTS, but not what you would want on the racetrack.
Press a button, though, and the suspension's "sport" mode makes the suspension rock hard. It all but eliminates body roll in high-speed corners and is like installing a full track-day suspension in an instant.
The engineering that went into this car just blows me away. It can accelerate from zero to 60 mph in a mere 3.9 seconds, a figure that is better than all but a very few, hyper-expensive, exotic supercars.
And the only other car I've driven with a similar dual-nature personality, full-on racetrack thrills while also being comfortable enough for ordinary grocery trips, is the Audi R8, which is based on a Lamborghini design.
The Audi R8 costs $114,000 and makes 430 horsepower. The CTS-V costs around $63,000, makes 556 horses, and comes with a back seat. You do the math.
Like any race-bred car, the CTS-V has its downsides. It's rated for 12 miles per gallon in town and will get even worse than that when driven aggressively, so you practically need an oil tanker to follow you around on the street.
And because its brakes are designed to work beautifully at triple-digit high speeds, they don't feel as good at lower street-legal speeds. You really have to mash the pedal hard to stop from low speeds when the brakes are cold.
That's a small price to pay, though, for driving the fastest sedan in the world.
The CTS-V performs like the most expensive, rare and exotic cars on
Planet Earth, yet it costs a fraction of what they do and is built in
Lansing, Mich. Americans everywhere should be proud.
What was tested? The 2012 Cadillac CTS-V with a base price of $63,215. Options on the test car: Premium paint for $995, 19-inch satin graphite wheels for $800, wood trim package for $600, yellow brake calipers for $595, Recaro performance seats for $3,400, and suede trim for $300. The total MSRP price as tested, including the $875 destination charge and the $2,600 gas guzzler tax: $73,380.
Why avoid it? It burns through gas like crazy, enough to qualify for the gas-guzzler tax. Its brakes feel a lot better at high speeds than they do around town.
Why buy it? If you want the fastest four-door car in the world, this is it.
By Derek Price © AutoWire.Net - San Francisco
The 2012 Cadillac CTS-V Bottom Line Review provided by:
Tony Leopardo © AutoWire.Net
The Bottom Line: The 2012 Cadillac CTS-V is the world's fastest four-door car. The bulging hood is the biggest giveaway that you're not looking at an ordinary Cadillac CTS, but the super-quick CTS-V sedan. It has a supercharged engine that's so big it can't fit under the ordinary hood. This is the heart of the CTS-V, a 6.2-liter supercharged V8 engine that makes 556 horsepower. It's designed for the racetrack, but is comfortable enough to use for ordinary driving, and it's an American engineering masterpiece. This is why you should "Drive one, Buy one, Today ©"
Bottom Line Review provided by: Tony Leopardo © AutoWire.Net
"Tony the Car Guy" is an automotive writer, editor and publisher in the San Francisco Bay Area. If you have a question or comment for Tony send it to TonyLeo@pacbell.net or visit AutoWire.Net at www.autowire.net - And remember: " You Are What You Drive ©"

Column Name: CTS-V - a Supercar with a back seat
Topic: The 2012 Cadillac CTS-V
Word Count: 938
Photo Caption: The 2012 Cadillac CTS-V
Photo Credits: The Cadillac CTS Internet Media
Series #: 2012- 04
Download the Microsoft Word version here: 2012 Cadillac CTS V
Download the Original Image File here: 2012 Cadillac CTS V