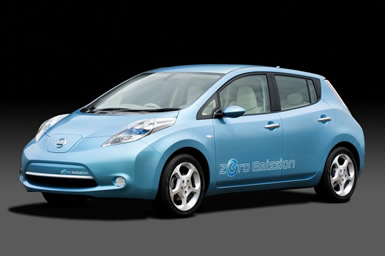 The 2011 Nissan LEAF Review: The Nissan LEAF is the first completely normal, mass market, all-electric vehicle. It's dramatically styled outside, pleasant to drive and ride in and equipped with all the accoutrements you require, satellite radio, USB, climate control, power accessories, navigation and more. The LEAF looks like a regular car, but it's especially rounded and organic. There's generous rear set legroom, and with those seats folded, an upright bass will fit, thanks to a convenient hatchback. So you'll be in fine shape for monthly runs to Costco or visits to Home Depot for weekend projects.
Range is a consideration with a pure electric car, but the LEAF actually fit my needs pretty well. Nissan feels the same way. They claim that the car will go about 90 miles before a recharge, although the EPA says 73 miles. The main thing is most people don't drive more than that in a day.
I have a 44-mile round trip commute, and the LEAF took me to work and back, gas free, with about one third of the full charge remaining when I rolled, silently, into my driveway.
Charging is slow if you use a 110-volt trickle charger, and it took about 14 hours to completely top off my tester. But if I owned the car, I would install an in-garage 220-volt charger that would do the job in a very reasonable five hours.
The driving experience is serene, almost unbelievable. You sit in the soft, yet supportive chair and press the On button. The key remains in your pocket. The car plays a cute little chime song when you push the button, like a kid's toy starting up or when you turn on your laptop. On the gently curved dash, the icon of a LEAF with a two-headed arrow below it appears and you're ready to go. Push the slim shifter into Drive and take off.
It's like flying, really. With generous sound insulation, you hear virtually nothing. There is no engine sound, just an occasional very slight, high-pitched whine from the motor during heavy acceleration. It felt like riding on a magic carpet, and I was very happy about my minimal use of energy. The light gray, sculpted shaped cabin coddles you, and with the silence of the ride, the audio system entertains with no distractions.
If you put the car into Drive a second time, it takes the ECO setting. Then, it generates more electricity with regenerative braking and accelerates a bit more leisurely, but you'll get several miles more range. When I was close to home and had plenty of charge left, I moved the lever into the normal Drive setting and the car leaped forward like I'd given it a shot of Red Bull. (I wonder where you'd pour it in? There's no gas tank.).
Electric cars, like the more familiar hybrid vehicles, encourage driver participation. An icon on the instrument panel lets you "earn" trees from your efficient driving. The old way of interacting with cars was through shifting, accelerating, and zero-to-sixty times. The new way is to see how far you can go on a charge, which means careful driving, not wild performance.
There's an iPhone app that lets you stay aware of the charge of your car remotely. I consulted it from work when the car was at home. The car downloads its information to a database (and asks you each time for permission), which makes this possible. The app also tells you where the nearest charging station is, and that list includes your house as soon as you've charged there.
The base price is $33,720, but numerous rebates and offers apply, so you may be able to grab a LEAF for the low $20,000s. My Glacier Pearl tester, with a few extra minor trim items and delivery, came to $35,430.
But, consider this. I earned 4.3 miles per kilowatt hour (KWh). That means that the 44-mile commute cost me, at my rates, about $1.40 in electricity. A Prius would burn just under a gallon of gas, which goes for $4.10 these days. A "regular" car, at 22 miles per gallon, would cost $8.20. So there's a definite savings there. The new window sticker says the car gets 99 miles per gallon equivalent to 106 City, 92 Highway. You do the math.
For now, if you bring a LEAF home you'll want to have another car available for long distance travel. Or, plan to use a Zip car or rent an SUV when you want to take the family on a 1,500-mile vacation. I expect that charging times and range will improve significantly over the next few years until it'll mean a half-hour lunchtime charge at the Denny's halfway to LA.
Meanwhile, the LEAF makes pure electric motoring not only possible, but enjoyable too. By Steve Schaefer © AutoWire.Net - San Francisco
The Bottom Line: The 2011 Nissan Leaf is a taste of the future of pure electric cars that will be available over the next 2 to 3 years. With driving ranges of around 100 miles per charge, or less, electric cars are not for everyone. You have to plan your trip in miles, not time, and know where the charging stations are. The Leaf is the first electric car that is being built in volume from a major manufacture. The hybrid electric car, like the Chevrolet Volt, will be the competition, and the marketplace will decide which technology wins out in the long run. Kind of like Beta vs. VHS in the 1970's, and let the best car win. But why wait? You should - "Drive one, Buy one, Today ©"
Bottom Line Review provided by: Tony Leopardo © AutoWire.Net
The 2011 Nissan LEAF Bottom Line Review provided by: Tony Leopardo © AutoWire.Net "Tony the Car Guy" is an automotive writer, editor and publisher in the San Francisco Bay Area. If you have a question or comment for Tony send it to TonyLeo@pacbell.net or visit AutoWire.Net at www.autowire.net - And remember: " You Are What You Drive©"

Column Name: The LEAF is the first, mass market, all-electric vehicle
Topic: The 2011 Nissan LEAF
Word Count: 1,061
Photo Caption: The 2011 Nissan LEAF
Photo Credits: Nissan LEAF Internet Media
Series #: 2011- 29
Download the Microsoft Word version here: 2011 Nissan LEAF
Download the Original Image File here: 2011 Nissan LEAF