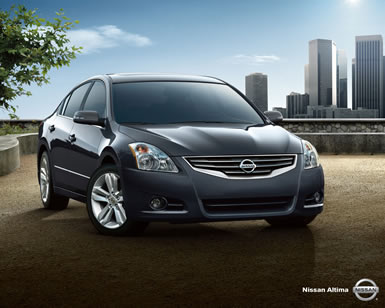 2011 Nissan Altima 2.5 S Review: If you're looking for a four-door car that feels sharp and precise, this is the one for you. It's the 2011 Nissan Altima, and while it doesn't receive any changes this year, it does retain that nimble, edgy feel that gives it such a playful personality.
Compared to its chief competition at Honda and Toyota, the Altima has more dramatic styling and a sportier driving feel. Even with the base
Engine, a 2.5-liter four-cylinder that makes 175 horsepower, it has a zippy, anxious, highly caffeinated driving feel that demands your attention.
This isn't a car you'll buy and forget about. It's more of a toy you'll want to play with, a machine designed for fun rather than basic transportation.
The Altima feels like a lightweight car, even if it's actually quite roomy on the inside. It sends power to the front wheels, so it's not a classic sports sedan, but it can develop plenty of grunt if you opt for the 3.5-liter V6 that makes 270 horses.
Its best feature, though, has to be the body. It's a sexy sedan, one that looks sleek, and aggressive and sophisticated all at the same time. It's more expressive than the Honda Accord or Toyota Camry, with a high-tech look that should age well. Inside, it's not as impressive.
The cabin is nice enough, with a spacious, airy feeling even in the back seat, but the materials and construction don't feel as upscale as you'll find in today's Korean and American cars. They've actually been beating Japanese cars, hands down, for the past couple of years.
Entertainment options are plentiful, including a hard-drive navigation system that lets you store music and see extra information on the nav map, including the Zagat Survey restaurant guide and traffic and weather data.
If you haven't driven one before, you may be surprised to find the Altima is only available with a continuously variable transmission, or CVT. Some weird things about it, it doesn't actually shift like a normal automatic transmission. There are no gears to select between, so you don't have that
"Vroom-kachunk-vroom-kachunk-vroom-kachunk" feeling as you accelerate.
It's just a perfectly smooth change in speed, as if the car was moving with rubber bands instead of metal gears. If you hold the gas pedal all the way down to accelerate, the engine revs up to the redline and stays there. You get a steady, high-pitched shriek that sounds like you're whipping the engine in a torture chamber.
It gets better gas mileage than it would with a conventional automatic. A regular transmission has a fixed number of gears, but the CVT has unlimited gear ratios. That means it can pick the ratio that's most efficient for the precise speed you're driving, and you get slightly better mileage as a result.
What was tested? The 2011 Nissan Altima 2.5 S with a base price of $22,070. Options on the test car: Splash guards for $135, the convenience package for $1,150, the convenience plus package for $1,150 and the premium audio package for $1,240. The total MSRP price as tested, including the $760 delivery fee, came to $26,505.
Why avoid it? An all-new Altima is going to be coming before too long, and the Korean and American brands have learned how to make more upscale interiors than this one.
Why buy it? The sporty, precise driving feel is the best reason to look at this car. It has an attractive body, too.
By Derek Price © AutoWire.Net - San Francisco
The 2011 Nissan Altima Bottom Line Review: provided by: Tony Leopardo © AutoWire.Net
The Bottom Line: The 2011 Nissan Altima is a sharp-edged sedan in an athletic mid-size car, with an arching roof and crisp body lines. Even though it doesn't get any changes for 2011, the Altima is still worth looking at if you want something hard-edged and sporty. It lets you feel the road even better than a Honda Accord, which is really saying something, and it has a sleek body to match. "Drive one, Buy one, Today ©"
Bottom Line Review provided by: Tony Leopardo © AutoWire.Net
"Tony the Car Guy" is an automotive writer, editor and publisher in the San Francisco Bay Area. If you have a question or comment for Tony send it to TonyLeo@pacbell.net or visit AutoWire.Net at www.autowire.net - And remember: " You Are What You Drive © "

Column Name: Altima unchanged for 2011 model year
Topic: The 2011 Nissan Altima 2.5 S
Word Count: 788
Photo Caption: The 2011 Nissan Altima 2.5 S
Photo Credits: Nissan Altima Internet Media
Series #: 2011- 11
Download the Microsoft Word version here: 2011 Nissan Altima
Download the Original Image File here: 2011 Nissan Altima