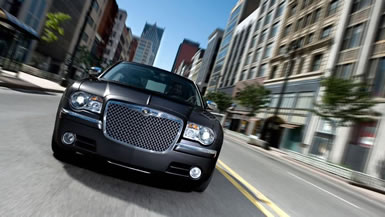 Chrysler 300C Hemi Review: Even in the era of crossovers, SUVs and minivans, there's something to be said for the good ol' American family car. The market for big, full-size four-door cars has all but disappeared as drivers have turned to bigger, boxier, heavier vehicles to replace them. The barge-like sedans that floated down America's highways in the 1960s and '70s are replaced today by nimble, Japanese-style sedans and taller, tougher-looking vehicles.
One of the few exceptions is the big Chrysler 300. It's a heavy car, a bombastic car, one that brings to mind a time when Detroit ruled the world and the American auto industry was unstoppable.
It's not just a nostalgic throwback. It does have loud, bold styling like in the good ol' days, but it's not exactly retro either. Its flanks mimic the look of modern Bentleys, and its chopped roofline seems like it was custom built for gangstas, like a family car for Lil Wayne or, in a more old-school sense, Al Capone.
Even though the 300 is an aging design, it's still compelling for people who like their cars fast and large. And really, what other choices are there? A Toyota Avalon might be more sensible, but driving it creates the exact same sensation you feel when watching concrete dry. The new Ford Taurus is a much better car, but seriously, does it feel right to grunt and say, "That thing got an EcoBoost?"
The 300 is available with a proper engine for a big American car, a Hemi V8. It's an engine that makes so much power it can feel overwhelming in a giant truck, it's what Dodge uses in the big Ram after all, so sliding it into a four-door family car is sheer sweetness.
This isn't a car you buy for refinement. For that, you'd be better off with the Eco-whatever Ford, the somniferous Toyota, or practically any other car in the world. No, you buy a Hemi 300 because at any time, at any place, you can turn off the traction control and liquify your rear tires. It's brilliant.
The biggest downside of the 300, at least the version I was driving, is a sloppy suspension that doesn't seem nearly good enough to handle all the power and speed a Hemi creates. On an ordinary 300, without the Hemi, the suspension is fine for comfortably cruising around town.
But on the 300C, with its jurassic Hemi V8, that soft suspension just doesn't cut it. It squats and wallows and flops you down the road. Anyone who is considering a Hemi-powered 300 ought to opt for the SRT package, which actually comes with a decent suspension.
My test vehicle, a non-SRT 300C, was outfitted like a luxury car with a navigation system, lots of buttons on the dash, and adaptive cruise control, which is useful for not smashing into other cars on the highway, and extra gobs of chrome on the body.
Somehow, though, the luxury treatment didn't seem fitting. This isn't a luxury car, and no matter how many extra doodads Chrysler adds to it, the 300 has such a strong blue-collar personality that it just can't pull it off. It's like putting Larry the Cable Guy in a tuxedo. No, the 300 is a pure and powerful American muscle sedan, and that's a beautiful thing.
What was tested? The 2010 Chrysler 300C Hemi with a base price of $38,010. Options on the test car: The Luxury Group II for $2,190, a power sunroof for $950, engine block heater for $40, adaptive cruise control for $595 and the media center navigation system for $900. The total MSRP price as tested including the $750 destination charge: $43,435.
Why avoid it? It's not as refined as newer designs such as the Ford Taurus, and the added weight and power of the Hemi V8 makes the SRT performance package a necessity.
Why buy it? If you want a full-size American car with a powerful V8 engine, this is your only choice. Its bold styling still makes a statement, and its roomy cabin is great for long trips.
By Derek Price © AutoWire.Net - San Francisco
The Bottom Line: Chrysler's 300 sedan has become a big, bold American statement, a design icon, one of the few full-size American sedans still being sold, and certainly the boldest looking. The 300's age means its interior isn't as refined as its competitors, but it's still a very roomy, comfortable place to be. Bottom Line Review provided by: Tony Leopardo © AutoWire.Net

"Tony the Car Guy" is an automotive writer, editor and publisher in the San Francisco Bay Area. If you have a question or comment for Tony send it to TonyLeo@pacbell.net or visit AutoWire.Net at www.autowire.net
And remember: " You Are what you Drive "
Column Name: Chrysler 300 one of few remaining full-size sedans
Topic: The 2010 Chrysler 300C Hemi
Word Count: 852
Photo Caption: The 2010 Chrysler 300C Hemi
Photo Credits: Chrysler 300 Internet Media
Series #: 2010 - 34
Download the Microsoft Word version here: 2010 Chrysler 300

Download the Original Image File here: 2010 Chrysler 300