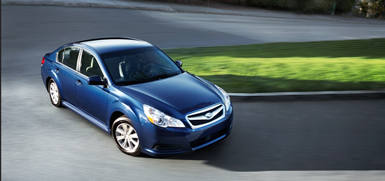 Subaru Legacy Review: If you're looking for a German car, you're probably thinking about buying a Volkswagen, BMW, Audi or Mercedes. But have you ever considered a Subaru? Subaru's aren't made in Germany, obviously, and I'm not aware of any legitimate German connection. They're about as German as a Chicken McNugget.
Somehow, though, every time I drive a Subaru I come away feeling like it's a German sedan. They have that Teutonic heft, that heavy mechanical precision, that solid thud when you shut the door, all the things you normally find in a well-built German car.
In fact, the Subaru Legacy I'm driving this week feels just like a budget BMW, right down to the electronic emergency brake that's activated with a button, the same as in the very pricey 5-Series.
It's not as fast as a comparable BMW, nor as composed at high speeds, but the very fact that it comes so close to the storied German brand, and does so at a drastically lower price, says everything about what Subaru aspires to be.
They're aiming for the best, and it shows in the new Legacy.
Subaru completely redesigned the mid-size Legacy sedan for 2010, and they did a brilliant job. Last year's Legacy was a good car, but the new one is better in every way, from the way it looks, to how it feels on the road, to the amount of space in the interior.
Style-wise, the 2010 Legacy is bolder than before. It draws inspiration from classy, sporty and athletic cars, most notably the wheel arches on the Mercedes-Benz S-Class. And, if you're going to steal a car's look, that's a good place to start.
The body is definitely a departure from the more upright Legacy it replaces, Edmunds.com goes so far as to call it "polarizing", although I heard nothing but compliments about the styling during my time behind the wheel. It's a handsome car that's just different enough to make it look more interesting.
The driving feel is just as impressive. It's one of those rare cars that gets the right combination between sportiness and comfort, making it a joy for cruising on the highway, and plenty of fun on winding roads too.
Handling is helped by an outstanding all-wheel drive system, which is especially noticeable when the roads are wet. It produces so much traction, and is so well balanced when it starts to break loose, that it inspires confidence at every turn.
Unfortunately, that full-time all-wheel-drive system adds weight and sucks more power from the engine to the point that its two nicest powerplants are only rated for 18 miles per gallon in the city.
Speaking of engines, the Legacy offers three enticing options: a 2.5-liter "boxer" four-cylinder; a turbocharged four-cylinder; and a 3.6-liter six-cylinder version. All three offer good power, and they're especially smooth feeling, almost turbine-like, thanks to their horizontally opposed cylinder layout that naturally reduces vibration. Porsche is known for the same engine layout. There we go with that German thing again.
Other improvements include a bigger, more spacious cabin and an interior that has a feeling of real quality. Everything feels tightly screwed together, and the materials are soft and supple, almost like those in a true luxury car.
The overall feeling is something special. It's one of the best handling sedans on the market, with a Porsche-like engine and BMW-like sportiness that make you wonder what language Subaru comes from.
What was tested? The 2010 Subaru Legacy 2.5 GT Limited with a base price of $29,995. Options on the test car: The Moonroof and navigation package for $2,995, the Sirius satellite kit for $461, and the trunk cargo net for $65. The total MSRP price as tested including the $695 destination charge: $34,211.
Why avoid it? The all-wheel drive hurts gas mileage.
Why buy it? It draws on the technical brilliance and driving feel of solid German cars, but it has the Japanese reputation for reliability.
By Derek Price © AutoWire.Net - San Francisco
The Bottom Line: The 2010 Subaru's draw inspiration from Mercedes and BMW and the newly redesigned Legacy model has a more dramatic, athletic looking body. Coupled with Subaru's excellent engine lineup and all-wheel-drive handling, it's a compelling sedan. The new Legacy also has a bigger interior and more refined cabin, where high-quality materials make it seem more expensive than it really is.
Bottom Line Review provided by: Tony Leopardo © AutoWire.Net

"Tony the Car Guy" is an automotive writer, editor and publisher in the San Francisco Bay Area. If you have a question or comment for Tony send it to TonyLeo@pacbell.net or visit AutoWire.Net at www.autowire.net
And remember: " You Are what you Drive "
Column Name: Legacy feels amazingly German
Topic: The 2010 Subaru Legacy 2.5 GT Limited
Word Count: 835
Photo Caption: The 2010 Subaru Legacy 2.5 GT Limited
Photo Credits: Subaru Legacy Internet Media
Series #: 2010 - 33
Download the Microsoft Word version here: 2010 Subaru Legacy

Download the Original Image File here: 2010 Subaru Legacy