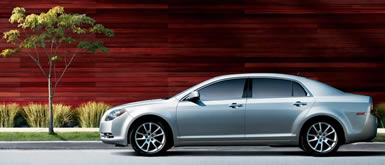 Chevy Malibu Review: General Motors is about to try something gutsy. According to Marketing Daily, GM is gearing up to do experiments in two markets where it allows, and even encourages, shoppers to drive competing brands. Why such confidence now? because GM is building cars like the new Chevy Malibu.
It takes a lot of swagger to do that. If you're interested in a Chevy, GM will also hand you the keys to, let's say, a Honda, a Ford and a Toyota. They think you'll be impressed enough to buy the GM product after you've test-driven all the competition.
When the current Malibu was first introduced a couple of years ago, I simply couldn't believe it. Here was a car with the lowly Chevy badge and a very affordable price, yet its build quality was almost Lexus-like. It took everything undesirable about the old GM, the disposable plastic interiors, the tractor engines, the styling that makes you snore, and threw them out the window.
This was a car that looked fantastic, had the build quality of a luxury car and more refinement than any of its competition. It was the kind of car that would terrify Japanese auto executives.
Now fast forward to today, and a lot of people still don't realize that Chevy makes one of the world's best mid-size cars. It's a big reason the company has added the tag line "May the best car win" to most of its advertising, encouraging people to shop for quality above all else, not just shouting about low prices or tugging at our heartstrings with blind patriotism.
The Malibu doesn't have to resort to that. Get behind the wheel, and you'll find yourself surrounded by precision and performance.
The precision part comes from looking at how the dash is built. It's no longer hard plastic held together with chewing gum, but soft-touch materials covering a dash that feels like it's made of polished marble. Everything is so solid, and so upscale, that you'd swear it was a European luxury car if not for the Chevy labels.
The performance part comes once you leave park and feel how effortlessly this car drives. It's never going to be a drag race winner, that's not what this kind of car is about, but it does drive with poise and confidence.
Its suspension is a big reason it feels so good. It has a great combination of sportiness and comfort, slotting perfectly between the hard feeling of a Honda and the lifeless, soft suspension in a Toyota, giving you just the right amount of feedback for enjoyable driving.
Two engines are available, both of which are surprisingly refined. A 2.4-liter four-cylinder gets up to 33 mpg, while a more powerful 3.6-liter V6 delivers 252 horsepower while still getting 26 mpg on the highway.
Pricing starts at $21,825 for the Malibu LS, and it tops out at $26,955 for the luxurious Malibu LTZ, which comes with leather seats and a Bose stereo.
Don't think that a low price equates with a cheap car though, in the case of the Malibu, it doesn't.
What was tested? The 2010 Chevy Malibu 1LT with a base price of $22,715. Options on the test car: Power convenience package for $525, Bluetooth for $250 and a compact spare tire for $100. Total MSRP price as tested including the $720 destination charge: $24,310.
Why avoid it? The good-looking rear pillars hamper visibility from the inside.
Why buy it? It's as good, if not better, than anything currently available from Honda or Toyota. It drives with the sophistication of a more expensive car, and its build quality will blow you away.
By Derek Price © AutoWire.Net - San Francisco
The Bottom Line: The current 2010 Chevy Malibu looks like a more expensive car than it is. Better yet, the beauty is more than skin deep, as its driving feel and interior are far better than you'd expect from such an affordable Chevy. Wood trim that cascades down the dash looks fantastic in the Malibu, which has one of the most well-crafted interiors in any mass-produced sedan. It's a testament to GM's turnaround in recent years.
Bottom Line Review provided by: Tony Leopardo © AutoWire.Net
"Tony the Car Guy" is an automotive writer, editor and publisher in the San Francisco Bay Area. If you have a question or comment for Tony send it to TonyLeo@pacbell.net or visit AutoWire.Net at www.autowire.net
And remember: " You Are what you Drive "

Column Name: Chevy Malibu makes you rethink GM
Topic: The 2010 Chevy Malibu
Word Count: 793
Photo Caption: The 2010 Chevy Malibu
Photo Credits: Chevy Malibu Internet Media
Series #: 2010 - 26
Download the Microsoft Word version here: 2010 Chevy Malibu

Download the Original Image File here: 2010 Chevy Malibu