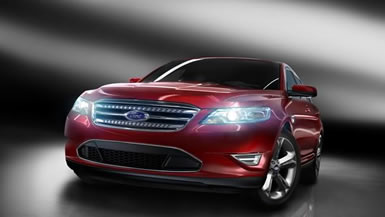 Ford Taurus Review: At Ford the blocky, old-fashioned rear-wheel-drive behemoths, such as the LTD, were hopelessly out of date. Enter the original "jelly bean" Taurus, which debuted on Christmas Day 1985, and it was a blockbuster for Ford, literally.
In the mid nineties the company revamped the car, but it didn't play nearly as well as the original. By the 2000's the old Taurus was filling rental fleets, so the name was retired, and the Five Hundred debuted. "Yawn," went the buyers, so Ford's management renamed it the Taurus, and sales still stayed flat.
Well, it's a different story today. The new Taurus features an aggressive, exciting look, inside and out, based partially on the European Fords. We will be seeing some of the smaller cars from across the pond soon, so the company wants to prepare us for that look.
To address complaints about the anemic standard 3.0-liter engine, the new car features a 3.5-liter Duratec V6 with a generous 263 horsepower and 249 lb.-ft. of torque. With two tons of metal to move, that's sufficient. My White Platinum Tri-Coat tester flew along easily, and shifted smoothly through a standard six-speed automatic with paddle shifters on the steering wheel.
This engine delivers decent EPA numbers of 18 City, 27 Highway. I averaged 21.0 mpg, pretty nice MPG numbers for a car that's nearly 17 feet long. The EPA gives the Taurus a better than average Air Pollution score of 7 and a Greenhouse Gas score of 5, that's average.
The all-new interior delivers the sportiness of a Mustang and the luxury of a Lincoln, with fine quality materials. Like GM, Ford finally offers an interior that's competitive with the Japanese and European midsize sedans.
Dividing the twin-hooded instrument panel is a long, sloping console that runs in an unbroken line from dash top down between the front seats. It reminds me of early 1960's T-Birds, with shiny elements adorning the matte-finished flow. Everything looks and feels substantial, and well thought-out.
Start at the SE level and you'll get a nice assortment of features, some of which would have been unavailable or optional on the old '86 model. Or, step up to the SEL, like my test car, or the Limited with more luxury content.
For the true midsize sedan enthusiast, the SHO model returns, this time with a twin-turbocharged EcoBoost V6. It delivers a V8-level 365 horsepower and 350 lb.-ft. of torque, but with V6-level fuel economy, 17 City and 25 Highway. You'll be seeing a lot more of Ford's high-tech EcoBoost engines in the future.
The new Taurus offers some remarkable new technology. Like many new Fords, it has the EasyFuel capless fuel system, just open the fuel door and fill, and close the door, and your done. No gas cap. More significantly, the new Taurus uses Adaptive Cruise Control with radar to set your cruising speed, automatically adjusting it to maintain a safe distance between you, and the car in front.
You can order Collision Warning with Brake Support, which uses a radar sensor to detect moving vehicles ahead and warns you visually and audibly when slower moving traffic is detected. Blind Spot monitoring, Cross Traffic Alert and Forward Collision Warning also use technology to warn the driver of other cars to prevent collisions.
Conveniences include keyless entry, and Ford's famous SecuriCode keypad, where you enter a five-digit combination on a touch panel to open the door.
One very interesting new family-friendly feature is MyKey. Before you present Junior with his own car key to the Taurus, you can program in settings just for him.
For example, the audio system stays silent until the seatbelts are buckled. None of the electronic safety features can be turned off. You can set a top speed of 80 mph, the low fuel warning comes on earlier, and you can even set a top audio volume level. Won't he or she be surprised!
Fords SYNC® system gives you control of your communications and entertainment options with voice commands, along with 911 Assist™ for emergencies, Vehicle Health Report and other GPS-based features. SYNC connects to MP3 players, iPods, memory sticks and PDAs.
Keeping your eyes on the road and using voice commands is a safety feature, but it's easy to get distracted with so much to do in the Taurus. Better to set the iPod for shuffle and take the car out for a nice drive in the country. The chassis is well sorted out for very enjoyable road feedback and control.
Prices start at $25,995 for the SE, including shipping charges. The SEL is $27,995, the Limited is $31,995 and the mighty SHO starts at $37,995. With plentiful options at all levels, those are only starting points. My SEL model came to a total MSRP price of $32,385 with a just few extras.
By Steve Schaefer © AutoWire.Net - San Francisco
The Bottom Line: The 2010 Taurus line up of cars finally can be part of a shopping list against upscale sports sedans from Acura, Volvo, and even the German trio of Audi, BMW and Mercedes-Benz. Now is the time to test drive a Ford Taurus and see firsthand, just how nice they are today.
Bottom Line Review provided by: Tony Leopardo © AutoWire.Net
"Tony the Car Guy" is an automotive writer, editor and publisher in the San Francisco Bay Area. If you have a question or comment for Tony send it to TonyLeo@pacbell.net or visit AutoWire.Net at www.autowire.net
And remember: " You Are what you Drive "

Column Name: Now is the time to drive a Ford Taurus
Topic: The 2010 Ford Taurus
Word Count: 971
Photo Caption: The 2010 Ford Taurus
Photo Credits: Ford Taurus Internet Media
Series #: 2010 - 05
Download the Microsoft Word version here: 2010 Ford Taurus
Download the Original Image File here: 2010 Ford Taurus