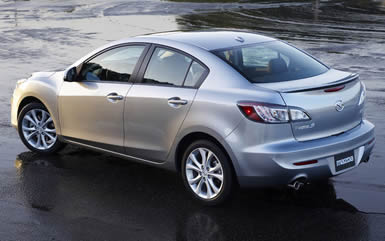 Mazda3s Sport Automatic Review: If there's one word to sum up the new 2010 Mazda3, it's refinement. This new generation of Mazda's compact car is still sporty, tossable, light feeling, just everything you'd expect from the Zoom Zoom brand, but there's something more sophisticated about the latest rendition that's hard to pin down. Is it the slimmer styling, the softer ride, the upscale cabin? Perhaps it's all of those things.
Mazda started with a great platform when redesigning the 3, one that was already among the best of its breed in small, affordable, sporty sedans. While last year's 3 was fun to drive, it was also criticized for having a ride that was too harsh and noisy.
In response Mazda took a rasp to the 3's hard edges, resulting in a car that feels smoother all around. It still has the BMW-like precision, the sublime steering and the pavement stickiness of its predecessor, but it's also a more civilized vehicle.
Inside you'll find a better cabin than you'd expect in a car that starts around $16,000. It's reminiscent of an Acura in some ways, offering nice materials and construction but not going over the top in opulence.
Mazda took an interesting approach with the 3's optional navigation screen too, one that some buyers will hate. Personally, I love it. Instead of putting a big LCD screen on the center console close to the driver's knees like in many cars, the new 3 has a small LCD right below the windshield. Its small size means it won't be very noticeable as a high-tech status symbol, but it actually works better up there than most nav systems do with their bigger screens.
That's for a simple reason: The driver's eyes don't have to leave the road as long. I've driven a few vehicles, usually SUVs that have the nav screen mounted so low that it's dangerous to look down and see the map. You might as well go digging around on the floorboard. But when a little nav screen is right up by the windshield, it's always in your peripheral vision. It just makes sense.
Even better, the nav controls are mounted right on the steering wheel. You don't have to reach down to operate it. You just press a button by your thumb, itís as easy as that.
Styling-wise, the new 3 continues Mazda's happy-face theme. Its huge grille openings look downright giddy, while wide wheel arches and a sleek roofline make its sporty intentions obvious.
Speaking of sporty, you can pick from two different four-cylinder engines: a 2.0-liter version that makes 148 horsepower, or a 2.5-liter model that pumps out 167. As neither are particularly exciting, the point of this car is handling prowess more than straight-line acceleration, but the bigger engine definitely feels more refined, fitting in with the car's sport/luxury theme.
On the downside, that bigger engine is only rated for 22 mpg in town. Some compact cars do a lot better. Overall, though, the new 3 makeís a compelling case for why smaller cars can be better. It's fun. It's practical. It's stylish. And it's also refined enough that you never feel like you're driving a cheap commuter car.
What was tested? The 2010 Mazda3s Sport Automatic model with a base price of $19,540. Options on the test car were: a Moon roof for $1,395 and the technology package for $1,195. The total MSRP price as tested including the $750 destination charge is $22,880.
Why avoid it? With the bigger engine, it's not as efficient as some of its competitors, and many people won't like the tiny navigation screen.
Why buy it? It has excellent driving dynamics with a more refined ride than many cars that try to be "sporty." It grips the road well, has two good engine choices and a nicer cabin than most cars in its class.
The Bottom Line: With a wide, happy-looking grille opening, wide wheel arches and sloping roofline, the Mazda3's new body reflects its sporty personality. Nice soft-touch materials and solid construction are better than in most compact cars, especially those with the Mazda's base price around $16,000.
By Derek Price © AutoWire.Net - San Francisco
Bottom Line Review provided by Tony Leopardo © AutoWire.Net

Column Name: Sporty Mazda3 moves upmarket
Topic: The 2010 Mazda3s Sport Automatic
Word Count: 752
Photo Caption: The 2010 Mazda3s Sport Automatic
Photo Credits: Mazda3 Sport Internet Media
Series #: 2009 - 60
Download the Microsoft Word version here: 2010 Mazda3s
Download the Original Image File here: 2010 Mazda3s