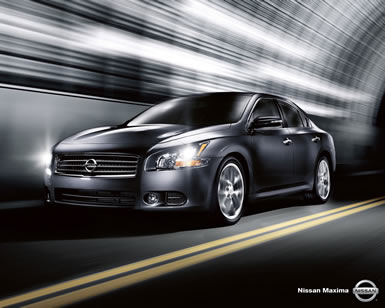 Nissan Maxima Review: Nissan's flagship has been a fun car to drive for its entire life. It may not have been the most exciting sedan to look at sometimes, but its healthy, happy V6 pulled it along vigorously. With a seventh generation for 2009, the company has dumped conservatism and gone for the gold.
The first thing you'll likely notice about the new car are its wraparound L-shaped headlights. Having done circles, rectangles, slits, and other shapes, the industry is trying new approaches to illumination. They give the Maxima's stubby face a fresh look. You'll see this motif on the face of the new 370Z as well. The taillamps each feature 12 LED's in a shape that complements the headlamps.
The new car sits on a nearly two-inch shorter wheelbase, but is an inch and a half wider, for a chunkier appearance, along with more nimble handling, while preserving generous room for five. The fenders bulge out wider than the car's waist, visually warning other cars to watch out! Nissan calls this look "Liquid Motion." Make of it what you will, but you can't ignore it.
Gazing out through the windshield of my Precision Gray tester, I could see the hood rise in the center, drop down and then curve up again into the boldly defined front pillars. Nissan calls this a "catamaran" design, its just part of the sense of intentional sportiness baked into every part of this new car.
The new cockpit-oriented interior design is meant to combine the intimate feel of a close-coupled sports car with the roominess expected of a car in this segment. So, for example, the shift lever is moved closer to the driver. Nissan went all out, with no skimping on materials. It's all soft-touch matte surfaces, padded wherever it needs it
Nissan has offered its potent and award-winning 3.5-liter VQ-series V6 for years, but for 2009, the Maxima's version gets bumped to 290 horsepower, up 35 from last year. Despite this, fuel economy is slightly improved, 19 City and 26 Highway, rising 1 mpg on the highway number. I averaged 19.9 miles per gallon during my test week, better than many other cars its size.
The EPA Green Vehicle Guide rates the new Maxima a 7 for Air Pollution and 6 for Greenhouse Gas, good numbers for a potent, 3,579-pound machine.
The engine is loaded with high tech features identified by acronyms, and uses exotic materials and exquisite finishing to achieve maximum efficiency and performance. It runs through the latest version of Nissan's Xtronic continuously variable transmission (CVT), which selects the perfect gear ratio for you or lets you pick your own with steering wheel mounted paddles.
The CVT comes with Ds mode (drive sport) this year, which increases acceleration feel at higher engine revs, provides automatic engine braking, and maintains engine speed during cornering, more like a manual (which you can't get anymore).
The Maxima remains front-wheel-drive, despite some consideration of moving to a rear-drive platform to match the competitors. Rear-wheel drive is considered "sportier" but front wheel drive provides lower cost and weight and offers more room so it was retained. Nissan assures sports sedan enthusiasts that torque steer, often a bugaboo of powerful front-wheel-drive --cars, is virtually nonexistent.
Nissan knew that they were competing with the sporty German makes, so they took the Maxima prototypes to Germany's famous Nurburgring Nordschleife circuit, where they sorted out many of the details while they were developing their mighty GT-R sports car. Some changes came from the tests, but it was a great PR move as well.
Maximas come as four-door sedans only, in two trim levels, 3.5 S and 3.5 SV. My tester was the latter, which means it had an upgraded Bose sound system with nine speakers and two (!) subwoofers, fog lights, and turn signal indicators in the outside mirrors.
All Maximas have niceties such as an eight-way power driver's seat, dual-zone climate control, cruise control, keyless ignition, the usual power everything, and much more. It is the brand's flagship, right?
Prices start at $30,720 for the S, including destination charges. My tester, with the addition of the Sport Package and Sport Technology Package, came to $37,380. The Sport Package adds a sport tuned suspension (of course), 19-inch alloy wheels, a rear spoiler, nicer leather all around, and more. The Sport Technology package brings in such things as a voice recognition navigation system with a seven-inch color monitor, a 9.3GB Music Box hard drive, XM NAVTraffic (live information) and an iPod hookup. With these two packages, the Maxima IS maxed out.
Nissan's goals for the new Maxima, exciting exterior design, sporty interior and class-leading performance, have clearly been met.
By Steve Schaefer © AutoWire.Net - San Francisco
Byline: Nissan Review provided by Tony Leopardo © AutoWire.Net

Column Name: Maxima is the brand's flagship
Topic: The 2009 Nissan Maxima
Word Count: 842
Photo Caption: The 2009 Nissan Maxima
Photo Credits: Nissan Maxima Internet Media
Series #: 2009 - 53
Download the Microsoft Word version here: 2009 Nissan Maxima
Download the Original Image File here: 2009 Nissan Maxima