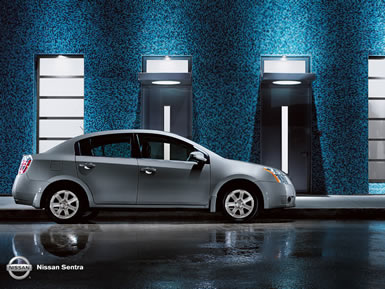 Nissan Sentra Review: The Sentra used to be Nissan's smallest and cheapest car. In recent years it's grown bigger and become more cushy, leaving room at the bottom of Nissan's lineup for the new Versa.
This follows the trend of a lot of compact cars. The Honda Civic spent too much time at the all-you-can-eat bar, so it was replaced by the Fit. The Toyota Corolla gorged itself on holiday sweets, so the Echo, and later, the Yaris, took its spot on the cheap list.
This leaves today's Sentra in an interesting position. It used to be Nissan's economy car, so it gets great gas mileage and drives with the spunk of a low-cost runabout. But at the same time it's become a much more mature vehicle with a quiet cabin and controlled, unflustered ride. It's turned into a grown-up car.
First of all it's designed to be efficient, not muscular, with a small, 2.0-liter 4-cylinder engine that makes 140 horsepower and gets 33 mpg on the highway. Routed through a continuously variable transmission, the Sentra doesn't feel underpowered, but the acceleration is far from exciting.
The driving feel is far smoother than you'd expect in a car this size. It's not harsh or rough like a lot of compact cars, with a soft suspension that's perfect for effortless highway cruising. It can be fun to drive when you really push it, but it's designed more for comfort than sportiness.
If it's excitement you want, you'll be much happier with a high-performance version of the Sentra called the SE-R. It comes with a more powerful engine and much firmer suspension for more precise handling.
Inside the Sentra's cabin is a surprisingly nice space. Soft-touch materials on the dash feel like they could belong in an Audi or Volkswagen, the companies that have made the best automotive interiors in recent years. The back seat feels a bit cramped compared to other cars in this compact class, but the front seats are perfectly comfortable.
Storage space is a big plus in the Sentra. It has a lot of simple but innovative features that make it more practical, like cup holders that are adjustable for different size containers, and a trunk divider that can split the storage space into two different compartments. It makes the best use of the available volume.
Pricing starts at $16,730 for the base model. A better-equipped Sentra S costs $17,760 with an automatic transmission, while the more luxurious Sentra SL starts at $19,660.
What was tested? The 2009 Nissan Sentra SL with a base price of $19,660. Options on the test car: a set of Splash guards for $140, floor mats for $165, trunk divider at $150 and the Premium Plus package for $850. Total MSRP price as tested including the $695 destination charge: $21,660.
Why avoid it? It's not particularly powerful, and the styling is dull.
Why buy it? It's smooth and efficient, with a soft suspension that feels great on the highway and a small, fuel-sipping engine that gets 33 mpg.
Bottom line: The Sentra is no longer the smallest and cheapest car in Nissan's lineup. It's become a grownup car now, with a smooth ride, a nice cabin and an efficient engine that make it a great compact car for highway cruising.
By Derek Price © AutoWire.Net - San Francisco
Nissan Sentra Review provided by Tony Leopardo ©AutoWire.Net

Column Name: The compact Nissan grows up
Topic: The 2009 Nissan Sentra
Word Count: 609
Photo Caption: The 2009 Nissan Sentra
Photo Credits: Nissan Sentra Internet Media
Series #: 2009 - 48
Download the Microsoft Word version here: 2009 Nissan Sentra
Download the Original Image File here: 2009 Nissan Sentra