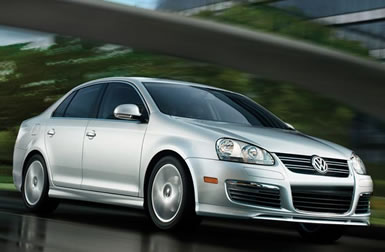 Volkswagen Jetta TDI Review: It's hard to believe modern diesel cars aren't more popular. That's probably because they have a reputation for being stinky, dirty and noisy. Back in the 1980s they used to sound like machine guns, smell like gas stations and belch smoke like locomotives in an old Western film. Today's newest diesels are nothing like that.
Modern engineering has made them nearly as silent as gasoline-powered cars, with only a hint of metallic clang. They're even clean enough to meet today's tough emission standards, and you don't have to worry about smelly smoke, thatís gone too. And after spending a week driving Volkswagen's diesel-powered Jetta, I discovered another huge advantage: fuel economy.
The Jetta TDI, which is what VW calls its diesel-powered cars, gets an amazing 41 miles per gallon on the highway. It's the most efficient non-hybrid car you can buy today, with gas mileage that's even better than hybrid versions of the Nissan Altima and Toyota Camry. It's also a lot more fun to drive than any hybrid.
While it only makes 140 horsepower, the diesel engine produces a muscular 236 pound-feet of torque, an enormous amount for such a small vehicle. With this much low-end grunt, the Jetta TDI accelerates from a complete stop better than most gas-powered cars, even ones that produce a lot more horsepower.
All that power is also extremely usable in everyday driving, with plenty of torquey thrust at low RPMs. With the Jetta's signature sporty suspension and grippy tires, it's a blast to drive, far more so than the Honda Civic Hybrid and Toyota Prius.
Yet another plus is that the federal government gives you an incentive to buy it. The Internal Revenue Service recently sent a letter to Volkswagen certifying the Jetta TDI as an "Advanced Lean Burn Technology Motor Vehicle."
What does that mean? You can get up to a $1,300 tax credit for buying it.
On the downside, Volkswagen charges a premium price for the Jetta TDI. It starts around $22,000, which is quite a bit of money for a compact car.
For that price thou you get a lot of safety features, including six airbags and standard stability control. You also get a car that in the grand Jetta tradition, feels extremely German. There's no other way to describe it. The controls are a bit quirky, in a good way. Doors slam with a Teutonic thud, and switches move with the precision of a luxury car.
Really though, the TDI is proof that it's easy being green. Volkswagen claims that if America switches all its cars to the TDI clean diesel technology it would save 1.4 million barrels of oil per day, the same amount we import just from Saudi Arabia.
If that happened and all cars got these clean, quiet, fun-to-drive diesel engines, I wouldn't complain one bit.
What was tested? The 2009 Volkswagen Jetta TDI with a base price of $22,270. Options on the test car: Rubber mats at $199. Total MSRP price as tested including the $700 destination charge: $23,169.
Why avoid it? It's pricey for a compact car, starting around $22,000, and it won't get as much eco-attention as trendy hybrids like the Toyota Prius.
Why buy it? It gets amazing hybrid-like gas mileage and is still fun to drive, with a high-torque diesel engine that pulls smoothly and strongly.
Bottom Line: Volkswagen's new Jetta TDI has a small but powerful diesel engine that is surprisingly fuel efficient. It gets 41 miles per gallon on the highway, which is better than the Toyota Camry Hybrid and Nissan Altima Hybrid. And like other Volkswagens, the Jetta TDI has a sporty, high-quality interior with firm seats and precise feeling switches.
By Derek Price © AutoWire.Net - San Francisco
Volkswagen Jetta Review provided by Tony Leopardo © AutoWire.Net

Column Name: VW TDI diesel is clean, quiet and efficient
Topic: The 2009 Volkswagen Jetta TDI
Word Count: 690
Photo Caption: The 2009 Volkswagen Jetta TDI
Photo Credits: Volkswagen Jetta TDI Internet Media
Series #: 2009 - 47
Download the Microsoft Word version here: 2009 VW Jetta TDI
Download the Original Image File here: 2009 VW Jetta TDI