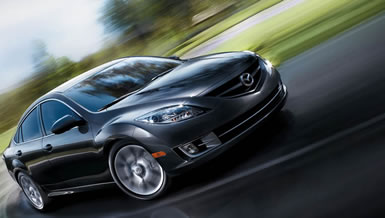 Mazda6 Review: About 30 seconds after my Sangria Red Mazda6 test car entered winding, two-lane Crow Canyon Road, I remembered why people buy Mazdas. The five-passenger family sedan handled like a bigger version of the legendary Miata sports car.
From its hooded instrument panel tucked behind the steering wheel to the quick shifts of the manual six-speed, the new for 2009 Mazda6 lopes down the road like a panther on the prowl.
In a good sales year, nearly a million people grab Toyota Camrys and Honda Accords - fine cars - but Mazda is different. Maybe that Zoom Zoom bit isnít just advertising hype. Something about the taut steering, stable cornering and responsive throttle - whatís not to like?
Mazda has transformed the 2009 Mazda6 to match the sharp, undulating beauty of its RX8, with separated-out front fenders, sharp geometric grille, and a long, almost fastback roofline. Itís significantly bigger, giving rear-seat passengerís generous legroom. Stretch out and enjoy the ride.
You can buy the Mazda6 in a sedan only, at this point. The wagon version did not make the transition to the new body.
The model lines are split neatly into i and s, differentiated by engine size. The ďiĒ models employ a 2.5-liter, dual-overhead-cam, 16-valve four-cylinder with variable valve technology (VVT). It puts out a respectable 170 horsepower and 167 lb.-ft. of torque. The ďsĒ models sport a 3.7-liter dual-overhead-cam V6 with a much more tire-burning 272 horses and 269 lb.-ft. of torque. That makes a significant difference in performance, despite adding about 240 pounds.
You can get an i model in four grades and the s in just three, because the four-cylinder line includes the SV model. It helps the entry price, including destination charge, below the $20,000 bar. At $19,220 that should give you years of entertaining motoring, but you can get a lot more by moving up to the Sport, Touring, and Grand Touring levels, which are essentially shared with the V6-equipped s line.
Move up to Sport and youíll get steering wheel audio controls, keyless entry, an audio jack, and a couple of other things. The Touring upgrades the wheels from 16-inch steel with covers to 17-inch alloys (18ís for the s), eight-way power driverís seat, a leather steering wheel and shift knob, trip computer and a few more items.
The Grand Touring tops both lines, bringing in the things you donít really need but find you canít live without once you have them: rain-sensitive wipers, extra-bright Xenon headlamps, heated outside mirrors, dual-zone climate control, Bluetooth phone and Internet connection, and automatic blind spot detection.
This last feature should help drivers avoid running into other cars in their left- and right-hand blind spots. A light on the mirror indicates if thereís a car there, and if you put on your turn signal and head that way, an audible reminder gets you to pay better attention. In my i Grand Touring tester, I grew to trust the system (but turned to check anyway).
Opting for the 4-cylinder engine not only saves you money (more on this shortly), but it improves your fuel mileage. With the manual transmission - available with the i only - you get 20 City, 29 Highway - very nice for a 3,300-pound sedan. The five-speed automatic improves on that, with 21 and 30 respectively. The V6 s models earn 17 City, 25 Highway.
The EPAís Green Vehicle Guide awards a 6 on both Greenhouse Gas and Air Pollution for the manually-equipped model, but the automatic does it one better, with a 7 on the Greenhouse Gas score. That gives automatic-equipped four-cylinder Mazda6 models the coveted ďSmartwayĒ designation. One version of the automatic-equipped i is available with a special engine that earns a 9.5 for Air Pollution. Find that one and feel really good about driving it.
The Mazda6 proudly scores top level five-star ratings in all of the government safety tests - frontal and side crash as well as rollover. Thatís another thing to feel good about. Of course you get the usual set of airbags, antilock brakes, and also dynamic stability control. That puts the carís computer to work keeping an eye on what your wheels are doing in relation to what the steering wheel is telling them. It automatically steps in to help you stay out of trouble.
Prices, once you pass on the SV model, start at $21,220 for the i Sport and run through the $25,880 for the i Grand Touring. The top model and level is the s Grand Touring, at $29,235.
Once again, Mazda gives buyers a little more fun for the same money as the mass sellers. Built in Flat Rock, Michigan, using a Mexican four-cylinder engine and a Japanese manual transmission, itís a model citizen of the world supply chain and is a world class car while staying out of the luxury price level. Zoom Zoom.
By Steve Schaefer © AutoWire.Net - San Francisco
Mazda6 Review provided by Tony Leopardo © AutoWire.Net

Column Name: A world class car while staying out of the luxury price level
Topic: The 2009 Mazda6
Word Count: 885
Photo Caption: The 2009 Mazda6
Photo Credits: Mazda6 Internet Media
Series #: 2009 - 40
Download the Microsoft Word version here: 2009 Mazda69
Download the Original Image File here: 2009 Mazda6