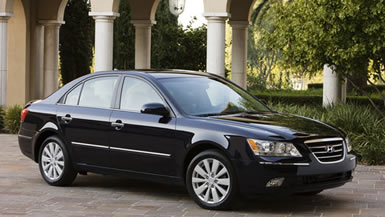 Car Review: Hyundai's mid-size Sonata sedan gets a thorough refreshing for 2009 as it faces new and improved competition. A tweaked body matches the car's overall driving refinement, which is especially impressive for the money. It starts under $20,000.
Like other family cars, the revamped Sonata is trying to make its interiors more luxurious by adding nice materials like wood and chrome. It seems to have good build quality too, judging from the tight, rattle-free construction in the cabin.
When the new Hyundai Sonata debuted in 2006, it was hard to believe how good it was. Judging from the way it looked and drove, the Sonata was just as impressive as a Honda Accord or Toyota Camry, yet it cost thousands less. After a test drive, it was the kind of car that made you think, "There's no way this is freakin' Hyundai. It's just too nice!"
Indeed, it was. But unfortunately for Hyundai, other car companies have raised the bar since then. Honda and Toyota have new versions of the Accord and Camry, both of which feel bigger, and in many ways better, than the Hyundai. Ford has improved the fantastic Fusion. And the new Chevy Malibu is absolutely convinced it's a Lexus.
In the face of all this new and improved competition, the once-proud Sonata suddenly seemed stale, so Hyundai decided to give it a makeover for 2009.
The nipped and tucked result is a definite improvement over the old car, particularly on the inside, where there's a new focus on becoming luxurious rather than merely acceptable. This is a huge change for Hyundai, a one-time automotive punch line for its pathetic quality, as the company is making interiors that mimic European luxury sedans.
Is the quality up to luxury standards? No. Don't be silly. It's still a very reasonably priced car that's built to a budget, but it does have wood and chrome in all the right places to convince you it's expensive. It also has the tight, rattle-free build quality you expect to see in Honda and Toyota, but not necessarily a Korean car like this Hyundai.
The new Sonata also adds a couple of nice features for music lovers. There are two standard auxiliary inputs for the stereo: a 3.5 mm mini jack for an iPod and a USB port to connect a flash drive. Not only will it charge the iPod, but it will show the song/artist/title information on the stereo display and let you control the iPod from the steering wheel. Pretty cool, eh?
The rear suspension is also revised for 2009 to provide what Hyundai calls "superb ride quality and noise isolation," but I honestly can't tell a difference from the 2006 model. The '06 drove so well I don't think it needed any changes to the suspension, but if Hyundai says the '09 is an improvement, I'll trust that. It's still a smooth, comfortable, quiet ride.
Hyundai also did something amazing under the hood. Both the four-cylinder and six-cylinder engines offer more power and better fuel economy than last year. The four-cylinder version makes 175 horsepower (13 more than last year) and gets 32 mpg on the highway (1 mpg better than last year). The V6 makes 249 horsepower (15 more than last year) and gets 29 mpg on the highway (also 1 mpg better). How'd they do that? My guess is black magic.
In any case, the '09 Sonata drives exceptionally well for such a low priced car. It starts under $20,000, but you can't tell that from the smooth, sophisticated, well-controlled way it feels on the road. It definitely doesn't feel like a bargain-basement vehicle.
And just in case you're still uneasy about that Hyundai badge on the hood, this car has a 10-year, 100,000-mile warranty on the powertrain and five-year, 60,000-mile bumper-to-bumper protection. That's some serious peace of mind.
But the big question remains: Can the refreshed Sonata stay relevant with all the new, impressive competition? While Honda, Toyota, Ford, Chevy and the others are making some great family cars these days, the Sonata still offers a compelling value and is holding its own in terms of quality, refinement and features. If you're still looking for a good sedan, a trip to the Hyundai dealer would definitely be worth your time.
What was tested? The 2009 Hyundai Sonata SE V6. Options on the test car: Carpeted floor mats at $90. Price as tested including the $675 destination charge: $23,935.
Why avoid it? The Hyundai name might still give you shivers.
Why buy it? It's still a good, affordable alternative to Japanese and American family sedans, offering a lot of space and refinement for the money.
By Derek Price © AutoWire.Net - San Francisco
Byline: Car Review provided by Tony Leopardo © AutoWire.Net

Column Name: Mid-size Hyundai preparing for battle
Topic: The 2009 Hyundai Sonata SE V6
Word Count: 946
Photo Caption: The 2009 Hyundai Sonata SE V6
Photo Credits: Hyundai Sonata Internet Media
Series #: 2009 - 03
Download the Microsoft Word version here: 2009 Hyundai Sonata SE
Download the Original Image File here: 2009 Hyundai Sonata SE