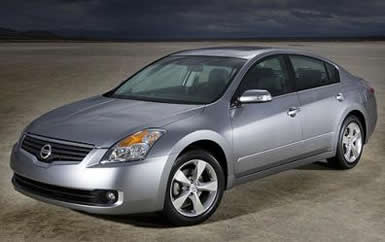 Car Review: There was a time, not too long ago, when American cars were designed with Jet-Puffed suspensions designed by sadists. The cars, with very few exceptions, would bounce along on a cushion of creme, which was great for comfort, but unfortunately came with the side effect of making them handle like the Lincoln Memorial.
Japanese cars took the opposite approach. Their springs and shocks were made of concrete so you could feel every pebble on the road, which made for excellent handling but, at the same time, some extremely sore backsides.
More recently the Japanese discovered that some people like cars that float and Americans figured out that some drivers like to feel the road, their roles have started to reverse. Today you see cars like the Ford Fusion, which drives like a skateboard, and the Toyota Camry, which drives like a 1986 Cadillac.
You also see the smooth-as-silk 2008 Nissan Altima. And it's a real shocker.
Until now the Altima has always been a fairly sporty car, at least as far as dull, four-door family cars go. It had the concrete suspension, sensitive steering and instant-on brakes that make it fun to drive, keeping the driver closely connected to the road.
The latest Altima seems to throw all that out the window now. Oh, it's got plenty of performance, but it also seems to say, "I've grown up. I'm past that whole 'sporty' stage. Now I want to be a luxury car."
In standard trim, the new Altima's suspension does a perfect Cadillac Fleetwood impersonation. It makes the car feel like it's floating in a sea of Cool Whip, always smooth and silent. It's still precise and allows for great handling, but it smoothes out the bumps better than Altimas ever did in the past.
The transmission does the smooth thing, too. In fact it's so smooth it doesn't even shift. Called a continuously variable transmission (CVT), this ingenious device eliminates the need for shifting gears like in a normal automatic transmission. The CVT constantly adjusts the gear ratio based on how fast you're driving and how hard you're pressing the throttle. I don't really understand how it works, I just know it never shifts gears and sounds like it belongs in a sci-fi movie.
Inside, Nissan continues the luxury-car impersonation with plenty of room to stretch out. The materials and construction seem nice with only one exception: the plastic covers that cover the cubbyholes near to the driver's seat. They feel like they're designed to last all of 10 minutes, or less.
As in the past the entry-level Altima comes with a very pleasing price, starting at $18,230 with a four-cylinder engine. The powerful V6 version starts around $24,000, and the top-of-the-line Altima with a few option packages will reach well over $30,000.
Compared with other popular Japanese sedans like the Toyota Camry and Honda Accord, the Nissan Altma has fairly sporty, aggressive styling with nice body creases and a sloping roofline. And the new Altima is almost luxurious in its cabin space with both the front and back seats having plenty of leg, hip, shoulder and headroom.
What was tested? The 2008 Nissan Altima 3.5 SE with a base price of $24,580. Options on the test car are: Splash guards $135, floor mat set $175, premium package $4,200, vehicle dynamic control $900.
Total MSRP Price as tested including the $625 destination charge: $30,615.
Why avoid it? The high-end models can get pricey, and the options are packaged into annoying bundles.
Why buy it? It has the sporty looks and excellent driving dynamics the Altima has come to embody, but it also has a surprisingly smooth suspension and CVT transmission.
By Derek Price © AutoWire.Net - San Francisco
Byline: Car Review provided by Tony Leopardo © AutoWire.Net

Column Name: Smooth moves from Nissan
Topic: The 2008 Nissan Altima
Word Count: 674
Photo Caption: The 2008 Nissan Altima
Photo Credits: Nissan Altima Internet Media
Series #: 2008 - 49
Download the Microsoft Word version here: 2008 Nissan Altima
Download the Original Image File here: 2008 Nissan Altima