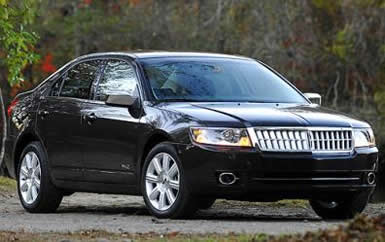 Car Review: At some point in the 1990s, entry-level luxury cars didn't just have to be luxurious they also had to be "sporty." I'm not sure why this happened. Perhaps it's because people who write about cars, folks like me, tend to prefer fast, nimble cars instead of big, plodding ones, so the car makers figured they could get better reviews if they started copying fast cars.
They knew if they made luxury cars that felt like race cars, it would please us delusional freaks who think we could win the Indy 500 if we just weren't so fat.
In any case, most small luxury cars today have the same suspension setup as a Radio Flyer wagon. They feel bumpy, firm and rough, amplifying every little pebble to jiggle your elbows and make you think you're driving something exciting. That's fun. But it's not everybody's idea of luxury.
Lincoln takes a different approach with its smallest car, the MKZ. This sedan has a soft, squishy suspension that wafts you down the road like you're floating on a giant Coleman air mattress. It's soft and supple, exactly the opposite of the granite suspension in a sports car. And you know the most amazing part? It still handles well.
The all-wheel-drive MKZ doesn't beg to be pushed hard like the luxury skateboards it competes with. But when you do push it, it reacts surprisingly well, cool and controlled, with excellent balance through the turns.
This should come as no surprise because it's based on the same platform as the fun-to-drive Ford Fusion and Mercury Milan, neither of which are as smooth as the Lincoln sibling.
The MKZ also takes a dramatically different styling direction from the Ford and Mercury flavors, more inside than out. While the body has the same basic shape of its plebeian relatives, with a few well-placed creases and more prominent grille to set it apart, the Lincoln's cabin is a unique retro feast.
The squared-off dash has a decidedly '80s look with very clear analog gauges set deep in the instrument pod. It's a nice style and a welcome change from other luxury car interiors, which increasingly seem to be nothing more than a shrine to beige.
Only one engine is available, and it's not bad. A 3.5-liter V6 engine that makes 263 horsepower, which is just enough to have fun without getting into too much trouble.
This car also has several advantages compared with its faster, and often smaller, competitors. It offers more interior space, including a really roomy back seat, and more trunk space than any other cars in its class. It also has 10-way power seats and lots of standard luxury features.
One feature in particular would put it on my shopping list: it comes standard with climate-controlled seats that keep your backside cool on hot days, a godsend for those of us in the Deep South.
Best of all, the MKZ comes with a price that undercuts most of its competitors, starting under $31,000. That's a lot of car for the money, considering it doesn't cost much more than a loaded Fusion. And it's proof that "sporty" doesn't always mean "rough enough to knock your teeth loose."
What was tested? The 2008 Lincoln MKZ AWD with a base price of $32,425. Options on the test car: Navigation system $1,895, power moonroof $1,200, high-intensity headlamps $495, interior upgrade package $195, stereo upgrade $995. Total MSRP as tested including a $740 destination charge: $37,945.
Why avoid it? It's not as exciting as the rough-riding competitors.
Why buy it? It's smooth and quiet, more so than the "sporty" cars that are popular in the entry-level luxury class. It's also affordable and comes with standard climate-controlled seats.
By Derek Price © AutoWire.Net - San Francisco
Byline: Car Review provided by Tony Leopardo © AutoWire.Net

Column Name: Small Lincoln a Smooth Operator
Topic: The 2008 Lincoln MKZ
Word Count: 682
Photo Caption: The 2008 Lincoln MKZ
Photo Credits: Lincoln MKZ Internet Media
Series #: 2008 - 46
Download the Microsoft Word version here: 2008 Lincoln MKZ
Download the Original Image File here: 2008 Lincoln MKZ