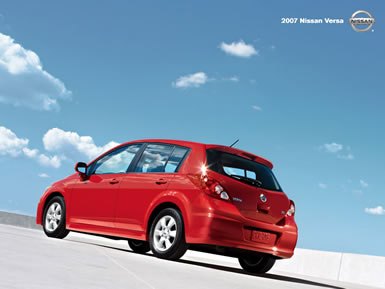 CAR REVIEW: Some car buyers are seeking good, reliable transportation. The problem is that if you opt to go basic, you can end up feeling like youíre stuck in the generic aisle at Pak N Save. The answer could be the surprising Nissan Versa.
From its spacious, luxuriously appointed interior, to its class-leading standard 122 horsepower, and its generous list of standard features, it extracts no penalty for paying a modest price.
Built in Mexico, but showing European ancestry, the Versa comes as a four-door hatchback or a sedan, in S and SL grades. Both hatchback and sedan stand surprisingly tall, at just over five feet, which gives a greater feeling of openness inside. Despite its position in the economy section of the market and as the baby of North Americaís Nissan family, the Versa receives a Midsize classification from the EPA.
Styling matches up well with the rest of the Nissan clan. The slab sides borrow from the popular Altima and sporty 350Z. The window greenhouse on the hatchback model combines a tiny triangular window in the windshield pillar, much like a minivan. The hatchbackís blocky rear pillar would be at home on a Renault. Is Nissan borrowing from its corporate cousin?
The cleanly styled nose and tail are easy on the eye. I smiled when I realized that the trunk on the newly introduced sedan, like my Magnetic Gray tester, borrows from the expensive BMW 7 series - an influential styling trend that was critically maligned when it debuted but is ubiquitous today.
There is certainly nothing resembling BMW in the pricing department. My automatic-equipped tester, in the lower S series, base priced at a mere $13,350. And itís only $12,630 for one with a manual five-speed transmission. Even with the options it sticker priced at just $15,390.
The Versaís interior is a surprise. Itís plush in there. From the suede-covered seats to the generously padded armrests to the elegantly finished satin trim, it is remarkable, especially when some recent Nissans have felt a little cheap in their choice of materials.
All Versas arrive with a 122-horsepower dual-overhead-cam four-cylinder engine, which moves the front-wheel-drive, 2,700-pound car along respectably.
There are three transmissions available. The manual five-speed is standard on most models, but you can also order a traditional four-speed automatic in the S model sedan or hatchback or pick Nissanís continuously variable transmission, the Xtronic CVT, in the SL hatchback. The Versa SL sedan comes only with the CVT.
Continuously variable transmissions are becoming more popular. They use belts and pulleys instead of toothed gears to vary the gear ratios in an infinite range to match the engineís rpm to the current torque requirements. So the ratio is lower when climbing a grade, but can immediately change to a higher ratio when it levels out for improved fuel economy. CVTís sound different from ordinary transmissions - like moaning instead of the familiar ascending sound - but you get used to it.
The Versaís fuel economy is good, with my automatic-equipped tester getting 24 City, 32 Highway in the EPAís stricter 2008 ratings. The manual transmission pushes those numbers to 26 and 31 and the CVT beats both with 27 and 33 MPG.
The EPA Green Vehicle Guide awards all Versas, regardless of transmission type, scores of 7 for Air Pollution and 8 for Greenhouse Gases - well above average.
The S model comes with a long list of standard features, including air conditioning with a microfilter, a four-speaker audio system, variable intermittent wipers, and a rear window defroster. If you want power windows, door locks, and remote keyless entry it will cost you just $700 for the complete Power Package. My tester had this power package along with cruise control at $200 and antilock brakes for $250, and they are both highly recommended.
For an additional couple of thousand dollars, the SL level includes plusher seat and door fabric; six-way seat adjustments instead of four-way; a center armrest; a substantially upgraded audio system with two additional speakers, dash CD changer and auxiliary input; and steering wheel controls for cruise and audio. The driverís sunvisor receives a vanity mirror as passengers already have one standard in the S. And the power controls and cruise control that are optional in the S are included in the SL model.
The Versa features Nissanís Advanced Air Bag System (AABS), which includes dual-stage front airbags and front seat side-impact airbags. The Versa receives top five-star ratings for crash safety Ė very comforting to know with a relatively small vehicle.
The only complaint I could come up with is that my test carís rear suspension made a disturbing thumping noise when I went over a speed bump, even at very low speeds. Otherwise, the car felt like more than the sum of its parts, and certainly more than youíd expect for the price.
By Steve Schaefer © AutoWire.Net - San Francisco

Byline: Car Review provided by Tony Leopardo © AutoWire.Net
Column Name: The baby of North Americaís Nissan family
Topic: The 2008 Nissan Versa
Word Count: 875
Photo Caption: The 2008 Nissan Versa
Photo Credits: Nissan Versa Internet Media
Series #: 2008 - 26
Download the Microsoft Word version here: 2008 Nissan Versa
Download the Original Image File here: 2008 Nissan Versa