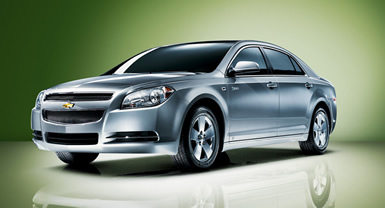 Car Review: The two-tone interior in the new 2008 Chevy Malibu LTZ looks like it would be perfectly fitting in a Lexus, with excellent build quality and nice feeling materials. Only itís better, in more ways than one.
I hate to sound ungrateful. But after you've driven a new car every week for seven years, it starts to get rather boring. Oh, sure, there are the occasional super-expensive sports cars that show up in your driveway, but for every one of those there are dozens of dull minivans, look-alike SUVs and dopey family cars that you have to drive and write about in a way that, hopefully, won't cause masses of people to fall asleep in their Cheerios while reading the morning paper.
Every once in a while, though, you get a surprise that makes it all worthwhile. That happened this week when a new 2008 Chevy Malibu appeared at my doorstep.
I know, I know. A Malibu. Big whoop. It's always been a second-rate car made by General Motors, a company that builds its vehicles out of duct tape and surplus parts from the Toys R Us clearance aisle.
Only this time, it didn't look like a clearance-aisle car at all. Honestly, if I had seen this car sitting on a Lexus lot with a Lexus badge and taken it for a test drive, I would have absolutely believed it was a real Lexus - and a good one at that.
But it's not a Lexus. It's a Chevy that starts at only $19,345, or closer to $30,000 for the luxed-up version I drove. That makes it even more remarkable.
When you walk around the new Malibu it looks like a Japanese luxury car, aside from the Chevy styling cues. The body panels fit tightly, with only the smallest, perfectly spaced gaps where the hood, doors and trunk line up. It even has smart styling, the kind of shape that doesn't draw attention to itself but still makes you turn your head for one more glance at its sharp looks as you walk away. And inside - oh, heavens.
It never occurred to me that GM could build interiors this nice. For example, in my LTZ test car there is a strip of wood - or at least something that looks very much like wood - that flows in a sinuous river starting at the driver's side door, snaking across the driver's dash, then cascading down the center console, across the passenger's dash and, finally, to the passenger's door. It's stunning. Absolutely stunning.
Thin strips of chrome fit like a Swiss timepiece. The leather is so soft you want to stroke it like a kitten. And everything fits so tightly that you'd think the whole interior was molded in one piece.
It also has the kinds of features everyone expects in a family car, like lots of cupholders, and a few other pleasant surprises. There's a 110-volt outlet in the rear console for plugging in a laptop or any other electronic device you'd normally use at home. There's also an incredible stereo system that can sound just like a symphony hall.
As if I haven't heaped enough praise on it already, the Malibu is also a great car to drive. It has more poise and a better driving feel than the old Malibu, with perfectly weighted steering, healthy acceleration and brakes that feel like they could stop a jetliner. I think it drives even better than both the Accord and Camry, offering just as much fun as the Honda but also the quiet, silky highway ride of the Toyota.
Tiny gaps between panels and a new, sleek look are part of the reason the new Chevy Malibu has become a world-class contender. The New Chevy shows GM can finally build a world-class family car. In fact, I'm left with just one complaint about this Chevy. Why doesn't GM make all its cars like this?
What was tested? The 2008 Chevrolet Malibu LTZ with a base price of $27,445. Options: Special paint ($295), rear power package ($250), power sunroof ($800). Price as tested including a $650 destination charge: $29,440
Why avoid it? Not a one!
Why buy it? Judging from its build quality and fancy interior, you'd think it was a Lexus rather than a Chevy. It's a world-class car that can finally beat, and in some ways top, the Honda Accord and Toyota Camry.
By Derek Price © AutoWire.Net - San Francisco

Byline: Car Review provided by Tony Leopardo © AutoWire.Net
Column Name: This new Malibu is a real contender
Topic: The 2008 Chevrolet Malibu LTZ
Word Count: 805
Photo Caption: The 2008 Chevrolet Malibu LTZ
Photo Credits: Chevrolet Malibu Internet Media
Series #: 2008 - 17
Download the Microsoft Word version here: 2008 Chevy Malibu
Download the Original Image File here: 2008 Chevy Malibu