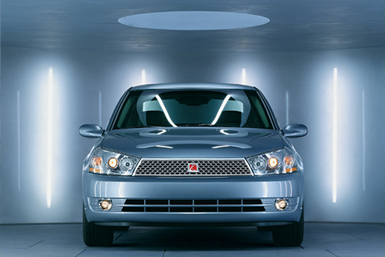 SAN FRANCISCO: Saturn owners are among the most loyal car buyers in the industry, largely because of the GM division's earned reputation for consumer-friendliness with its original S-Series. More recently it introduced the Saturn Vue to capture SUV buyers. To capitalize on this brand loyalty a few years ago Saturn introduced its L-Series, so Saturn buyers could move up to a larger vehicle. Now for 2003 Saturn has a new L series.
While the previous L-series was a good car, it suffered from rather bland styling and low-key marketing. This has been partially corrected with a restyled L-Series for 2003. While the previous basic body was retained, styling has been quite noticeably redone. This includes a more distinctive grille, redesigned and higher hood, a new tail end with a more substantial look, plus new taillights. Also the rocker panels and lower sections of the front and rear fascia now are now body colored. The result is a much better looking overall package, though styling is still very conservative.
The 2003 Saturn L Series come in only four models – entry level L200 sedan and LW200 station wagon and upscale L300 sedan and LW300 station wagon. The L-Series share their platforms with GM's German-built Opel Vectra. They are built in the U.S., however in Delaware rather than Saturn's well-known plant in Springhill, Tennessee. Like all Saturn's, the L-series feature reinforced plastic-composite body panels that will resist rust and minor dents and dings. However, the new L-Series have a steel trunk lid and rear fenders, which were needed for added rigidity with the larger cargo area.
Two engines are offered in the front-wheel-drive L-Series. If you order the L200 or LW200, you get a 2.2-liter, four-cylinder engine that is rated at 135-horsepower at 5200 rpm and 142 lb-ft of torque at 4400 rpm. The L300 and LW300 come with a 3.0-liter V6 with 182-horsepower at 5600 rpm and 190 lb-ft at 3600 rpm. A five-speed transmission is standard on the L200 sedan, with an automatic transmission being optional. If you are looking for decent performance in the L200 with the smallish four-cylinder engine, the five-speed manual is probably a better choice. The other three models have a standard four-speed automatic overdrive transmission where the V6 turns in very lively performance. The fuel tank holds 15.7 gallons, uses 87-octane gasoline and suitably equipped the L-series can tow 1,000 pounds. The EPA numbers are:
City MPG/Hwy MPG City MPG/Hwy MPG
5-Speed Automatic
2.2-liter 4-cylinder 24/32 21/29
3.0-liter V6 not available 23/31
Safety-wise, the Saturn L-series come with not only driver and front passenger airbags, but also front and rear side curtain airbags. The latter airbags drop like inflated curtains on both sides of the car to reduce the severity of head and neck injuries in side-impact collisions. Anti-lock braking that includes traction control is a $400 option on all models.
Prices for the L200 start at $18,230 and $19,040 with the automatic transmission. The L300 lists for $20,850 while the LW200 and LW300 are $21,225 and $23,185, respectively. Even the base L200 and LW200 models come quite well equipped with power windows and locks, air conditioning, alarm system, cruise control, keyless remote entry and AM/FM Stereo CD all standard equipment. It's quite easy to move into "entry luxury car" territory if you check off all the items on the options list. These include $725 for a power moonroof, $1,295 for heated leather front seats, $650 for chrome wheels, or up to over $4,000 for the DVD Entertainment Package with a roof-mounted, 7-inch screen for rear seat passengers. GM's OnStar is available as an option. The sixteen-inch wheels and tires are standard on the 300 models and optional on the 200s.
Unfortunately, GM cut a few corners to save a few bucks with items like a rod to hold up the hood and old-fashion trunk hinges on sedans rather than the hydraulic struts found on most of the L-Series' competitors. Also the rear windows don't roll all the way down. For the most part, instruments are easy to read and controls are easy to use. Exceptions might be the somewhat inconvenient controls for the optional power seats and the power window controls located on the center console like several European vehicles
While definitely not a sports sedan, the L300 I tested drove was very compentent under all driving condition and should please the demands of most drivers looking for a very comfortable and roomy family transportation car, especially the wagons. Though precise, the power steering is somewhat on the light side, but the car did very well when I encountered a pretty stiff crosswind. The designers did a very good job in insulating against road noise and vibration, but you can still feel bumps and irregular road surface, but no worse than the competitive cars. The Opel-based body is noted for it's very stiff structure and excellent suspension system. Though the ride has been softened a bit for American tastes, it was done without too much compromise of the typical German car-type road handling.
For its class, the L-Series is a very roomy car that is quite capable of carrying five adults in reasonable comfort with decent legroom and headroom for rear seat occupants. The rear seats in the sedan and wagon fold down for additional cargo space, and in case of the wagons, has inside capacities that rivals many of the smaller SUVs. All in all, the Saturn L-Series represents a very good value, plus you get Saturn's hassle-free dealer reputation. By Bill Siuru © AutoWire.Net - San Francisco

Saturn Home Page
Byline: Syndicated content provided by Tony Leopardo © AutoWire.Net
Column Name: A New L Series for Loyal Saturn Buyers
Topic: The new 2003 Saturn L Series
Word Count: 987
Photo Caption: The new 2003 Saturn L Series
Photo Credits: Saturn Internet Media
Series #: 2002 - 40
Download the Microsoft Word version here: 2003 Saturn L Series
Download the original image file here: 2003 Saturn L Series