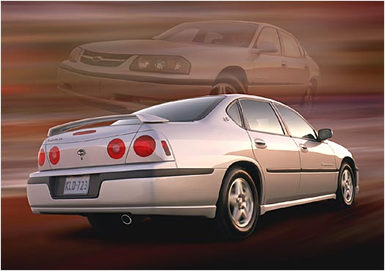 SAN FRANCISCO: Except for maybe senior citizens, police officers and low-rider fans, the name Impala probably envisions very fast running African animals. However, between 1958 and 1978, the Impala was an American icon as Chevrolets top of the line model and often America's best selling car nameplate.
With over a million Impalas sold in 1965 alone, it set a sales record for a single nameplate that still stands. When Chevrolet brought out its all-new flagship model in 2000, it quite appropriately named it the Impala. The latest front-wheel-drive Impala shares its platform and many of its mechanics with the higher priced Buick LeSabre and Pontiac Bonneville.
While the Impala's aerodynamic-influenced styling in not exactly attention getting, it is quite pleasing, though it does have bit of a rent-a-car look. That's not too surprising since the target markets include rental fleets, government agencies, utilities and taxi companies. Plus a full-blown police version is also offered. Styling cues include a "smiling face" grille and round taillights that are a reminder of those used on 1960s' Impalas. And if you don't like the rear deck spoiler on the LS it can be deleted for a credit of $175.
The Impala comes only in two styles, a base model and the Impala LS, both four sedans. The base Impala uses a 3.4-liter V6 that is rated at 180-horsepower at 5200 rpm and 205 lb-ft of torque at 4000 rpm. The LS gets a larger, 3.8-liter V6 with 200-horsepower at 5200 rpm and 225 lb-ft at
4000 rpm. This engine can be ordered as part of a $1000 option package on the base Impala that also includes anti-lock braking, traction control, tire pressure monitor and sport touring suspension – items that are standard on the LS model.
In these days of overhead camshaft and multi-valve engines, these simple overhead valve, pushrod and only 12-valve engines might seem antiquated. However, once you drive an Impala, especially one equipped with the 3800 V8, you will think otherwise. To its credit, General Motors has perfected and refined the OHV design to the point it matches, and even outperforms, many more sophisticated engines. Many years of manufacture and relative simplicity also translate to well proven reliability. Both engines are mated to a four-speed electronic automatic transmission. For a large, five or even six passenger sedan, the EPA numbers are quite good – 21 mpg city and 32 mpg highway with the 3.6 V6 and 19 mpg city / 29 mpg highway for the 3800 V6. The fuel tank holds 17 gallons for some great long distance cruising.
While ABS is standard on the LS, you will have to shell out $600 for ABS on the base model with the 3.6 V6. Disc brakes are used on all four wheels. Unlike rear-drive, V8-powered, and body-on-frame Impalas of days past, the towing capability is only 1000 pounds even when properly equipped. A seat-mounted side impact airbag is standard on the LS and optional on the base model.
The Impala's handling is very good for a large car that doesn't pretend to be a high performance sport sedan. It is definitely not like the floating Impalas of years past. Steering and braking both have that "just right" feel and function and the sport suspension package comes with a quicker steering ratio. Ride quality is silky smooth and interior noise level is excellent. As with many front-drive cars with torquey engines there is a small amount of torque steer and some understeer when driven very aggressively.
Where the Impala really shines is in interior roominess. With the standard bench seat, available in both versions, it can accommodate six adults. The center passenger has to contend with the central hump, just like in the old Impalas. Bucket seats are standard on the LS and optional on the base model. I tested an Impala with luxurious, heated leather seating that can surprisingly be ordered on both models and even with the bench seat. Like the old Impalas the trunk is huge, and with the
40/60 split rear seat in the LS it can accommodate even more stuff. Controls and instruments on the dashboard are excellent. Gauges are large, very complete in the information they provide, and easy to read under all lighting conditions. Controls are large and very user-friendly.
As expected in a car for this market segment, standard equipment includes air conditioning, driver and front passenger dual climate control, power windows and door locks, intermittent wipers, tilt steering wheel, theft-deterrent system, and AM/FM/cassette. The LS adds upgrades with cruise control, a center console, power driver's seat, 16-inch alloy wheels, and split-folding rear seat. GM's OnStar GPS-base customer-service network linked by satellite is standard on the LS and an option on the base Impala.
The Impala is a great family vehicle for those who don't want to drive a minivan or SUV. It is more fun to drive than both, while getting better fuel economy. Prices for the Impala start at $20,960 and $24,660 for the LS. However, if you start selecting from the huge list of options, usually in option packages, you can easily drive the bottom line up and over the $28,000 mark. The long options list allows customizing to just about anyone's tastes – just like the original Impalas. By Bill Siuru and Shawn Stewart © AutoWire.Net - San Francisco

Chevy Home Page
Byline: Syndicated content provided by Tony Leopardo © AutoWire.Net
Column Name: Impala is a great family vehicle
Topic: 2002 Chevrolet Impala
Word Count: 943
Photo Caption: The 2002 Chevrolet Impala
Photo Credits: Chevrolet Internet Media
Series #: 2002 - 21
Download the Microsoft Word version here: 2002 Chevrolet Impala
Download the original image file here: 2002 Chevrolet Impala