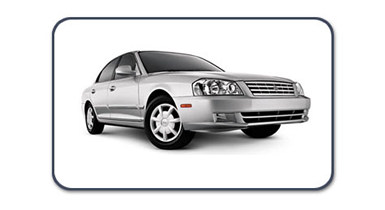 SAN FRANCISCO: I recently drove a car that surprised the heck out of me. Driving a lot of different cars tends to make me just a little blasť. So when the Kia Optima SE V-6 was parked in front of my house I didn't think much about it, after all, it was just another low priced Korean car. Sure its Magenta Red paint looked nice all shiny and new but, c'mon, looks can be deceiving right? Wrong.
From the moment I first drove the Optima SE V6 I was impressed. Everything about the car felt good. The doors shut with an authoritative "thud," the engine had a sweet growl when I accelerated, and perhaps most importantly, the whole car felt solid.
So here's Kia, relatively new on the scene, former purveyor of low-end economy cars, now selling cars that, if not the equal of the best from Japan, at least should have the rest of the world looking over their shoulder. I am amazed.
The Optima is a mid-size, four-door sedan. Basically it competes with the likes of the Honda Accord and Toyota Camry. There are four levels of Optima available – Optima LX, LX V-6, SE, and SE V-6. The LX and SE are equipped with a DOHC, 16-valve, 2.4-liter four-cylinder engine that puts out 149 hp and 159 lb-ft of torque. The LX V-6 and SE V-6 have a DOHC, 24-valve, 2.5-liter V6 engine that makes 170 hp and 169 lb-ft of torque. According to the Kia website (www.kia.com) the four cylinder is available with either a 5-speed manual or 4-speed automatic transmission. The V6 is only available with the 4-speed automatic but it has "Sportmatic" clutchless shifting (you can manually shift the automatic trans). The Optima is a front-wheel-drive car.
Inside the Optima SE V-6 approached luxury car levels. The fit and finish were exemplary and although the wood trim was plastic, it looked decent. I was impressed. Nothing looked cheap and there was a lot of attention to the details. Standard equipment included air conditioning, a premium sound system (although not bad, it didn't really rattle my cage), power seats/windows/locks/mirrors, cruise control, and moonroof. The only interior options were leather for the seats and floor mats. (Does anyone ever really get a car without floormats? Can't they be standard?) Outside you get a gorgeous paint job, fog lamps, chrome insert bodyside moldings, and a power antenna.
Under the hood was that nice V-6. One hundred and seventy horses may not sound like a lot but it was sufficient for the Optima. With only about 3,200 pounds to haul around it did nicely for itself. Sure, it could use a tad more but in your day-to-day driving you'll never even notice.
About the only thing I'd like to see upgraded would be the suspension. Or maybe there should be a separate sport version. Not that the suspension was all that flabby. For a nice, comfortable, family sedan it was fine. There was just a touch too much lean in the corners for me. Maybe stiffen up the struts a little and install some tires slightly more aggressive than the P205/60R15's that were on the Optima SE V-6.
There will be those who will fault Kia for designing what they see as a bland car. Well, beauty being in the eye of the beholder, I thought the Optima SE V-6 was a very handsome car. Nope, it doesn't jump up and down to get your attention but like a finely tailored suit it stands out for its lack of ostentatious ness.
One of Kia's selling points, and something not to be taken lightly, is its warranty. I've said before that warranties are really marketing tools, put in place to build confidence. Having said that, everyone should have confidence in Kia. Here's the basics you get on every Kia: 10 years or 100,000 miles limited powertrain; 5 years or 60,000 miles limited basic; 5 years or 100,000 miles limited anti-perforation, and 5 years and unlimited mileage roadside assistance. Of course there's the usual disclaimer about reading the fine print but this is one heck of a warranty.
Now let's move right on to the price. The base Optima LX lists for $15,299 and the Optima SE V-6 at $19,949. With options, and freight and handling the test car hit $22,269, which, all in all, isn't bad for what you get. And even with the V-6 fuel economy is pretty good at 19 mpg in the city and 25 on the highway. The 4-cylinder with a manual trans is rated at 21 city and 28 highway so you can see the V-6 is pretty frugal.
I'm not sure I'm ready to move Kia up to Honda or Toyota level just yet, but you know for the money the Optima SE V-6 is a solid contender and definitely worth a test-drive. By Bruce Hotchkiss © AutoWire.Net - San Francisco

Byline: Syndicated content provided by Tony Leopardo © AutoWire.Net
Column Name: The Optima SE V-6 approached luxury car levels
Topic: 2002 Kia Optima SE V-6
Word Count: 879
Photo Caption: 2002 Kia Optima SE V-6
Photo Credits: Kia Internet Media
Series #: 2001 - 38
Download the Microsoft Word version here: 2002 Kia Optima SE V-6
Download the original image file here: 2002 Kia Optima SE V-6 19k