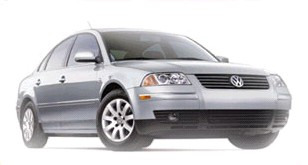 SAN FRANCISCO: Volkswagen built its reputation on the noisy, old-fashioned, economy-oriented Beetle, but today the company is flourishing by offering just the opposite. The new VW Passat is much closer to a Mercedes-Benz than it is to basic transportation.
Since 1997, the previous edition of the midsize Passat has impressed buyers and the automotive press alike. Scribes from Automobile magazine have named it an "All Star" for best family sedan, and even stodgy Consumer Reports made it a "Best Pick" for a family sedan.
Volkswagen claims there are more than 2,300 changes in the new car, but it looks a lot like the old one. That's because the doors and roof are retained.
The most obvious change in the new model is the treatment of the front and rear ends. The grille is larger and more raked back, with a great big VW logo in the center. Striking projector halogen headlights peer out from behind clear covers. The tail lamps have incorporated twin circles into the lenses. The car wears more chrome and appears more upscale.
Inside, generous rear legroom creates a mini-limousine quality. The gentle curves of the dashboard remain from before, with vents that can be closed flat. A tiny third sunvisor protects tender eyes from glare. Like other Volkswagens, the instrument panel glows blue at night, with fiery red needles.
The Passat covers a $10,000 range of midsize buyers. The standard GLS sedan, with a four-cylinder engine and manual transmission, starts at $21,750. The top of the line GLX sedan, with V6, automatic transmission, and 4MOTION all-wheel drive, comes to $31,575. In that continuum are numerous combinations and permutations, including a four-door sedan and a wagon.
The base four-cylinder engine is no slouch. The 1.8-liter powerplant, thanks to turbocharging and intercooling, puts out 170 horsepower this year, up 20 from before. Torque grows from 155 lb.-ft. to 166, too. The efficient four cylinder gives the 3,200-pound GLS mileage of 24 city, 31 highway with the manual, 20/29 with automatic. Zero to sixty comes in just 7.9 seconds with the stick, 8.8 seconds with the automatic.
The 2.8-liter V6 gives but it also takes away. It adds 20 horsepower and 40 lb.-ft. of torque, and also adds 133 pounds. What it takes away is acceleration and fuel efficiency. Surprisingly, the manual model takes .7 seconds longer to get from zero to 60 than the four-cylinder car, while the automatic version adds 1.1 second. If anything, that tells you how quick the turbo four is. The V6 subtracts fuel efficiency, with figures of 20/29 for the manual and 18/26 for the automatic. I averaged 19.3 mpg in my test GLX. Both engines, by the way, consume premium fuel.
The Passat sedan has also been offered in a convenient wagon configuration for years. Now, some sport utility buyers are realizing they will never go camping and are rediscovering the station wagon. Volkswagen is more than happy to oblige.
The GLS boasts an impressive list of standard features, including a theft immobilizer key, air conditioning, trip computer, folding key with remote locking, power heated side mirrors, eight speaker stereo with cassette, height adjustable and telescoping steering wheel, and more.
The GLX adds leather upholstery, genuine walnut trim, eight-way power front seats, automatic climate control system, power glass sunroof, stunning six-spoke alloy wheels, self-dimming rearview mirror, and more. It even provides heated windshield washer nozzles (less of a thrill in balmy California, admittedly).
My personal favorite was the eight-speaker Monsoon sound system. This popular and remarkable entertainment machine pumps up your favorite music to lifelike proportions. Specially tuned for each model of car in which it appears, it takes the pain out of commuting.
After a steady diet of crowded weekday freeways, the Passat makes you wish for a vigorous Saturday morning jaunt along curving back roads. With its power-assisted rack-and-pinion steering, four-wheel disc brakes with anti-lock (ABS), and front and rear stabilizer bars, the big VW holds its own. Electronic ABS also provides standard traction control, a sophisticated way to keep you on the road in a wide range of road and weather conditions.
For further peace of mind, the optional 4MOTION system continuously distributes power to all four wheels all the time at all speeds. Normally power is divided evenly between front and rear axles, but when things get slippery, the wheels with more traction are parceled out more of the engine torque, up to two thirds of it.
The Passat, reinvigorated for 2002, puts German engineering, style, and performance within reach of people who are shopping Camrys and Accords. To help the Passat compete against those worthy cars, VW provides a two-year/24,000 mile new vehicle limited warranty, and a limited powertrain warranty of ten years/100,000 miles. Then, they add on a 12-year limited corrosion warranty, and two-years/24,000 miles worth of free scheduled maintenance and emergency roadside assistance. Just feed it, insure it, and enjoy it. By Steve Schaefer © AutoWire.Net - San Francisco

Byline: Syndicated content provided by Tony Leopardo © AutoWire.Net
Column Name: An "All Star" for Best Family Sedan
Topic: 2002 Volkwagen Passat
Word Count: 881
Photo Caption: 2002 Volkswagen Passat
Photo Credits: Volkswagen Internet Media
Series #: 2001 - 35
Download the Microsoft Word version here: 2002 Volkswagen Passat
Download the original image file here: 2002 Volkswagen Passat 12k