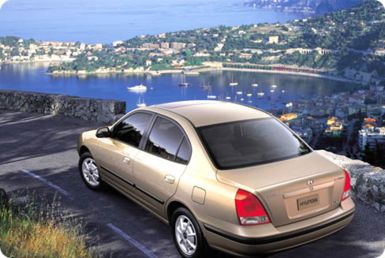 SAN FRANCISCO: A funny thing happened while dropping my niece off at school one morning. As we approached a group of her friends, turning into the parking lot, she ducked down on to the floor saying " Oh no, I can't let anyone see me in this." Huh !!?? What was this all about? Here we are in a brand spanking new, cute, lively, electric-green Elantra, and she feels embarrassed?? At once, I realized that there still is an image issue in regard to Hyundai that I feel compelled to address. So let's hop in a time machine and go back to the mid-eighties.
In February 1986 Hyundai launched the Excel, a new subcompact model, in the U.S. market. The timing of Hyundai's entry was ideal. Most automobile manufacturers had abandoned entry-level car sales in favor of the higher-end vehicles, leaving a huge void in the market. First-time buyers were in search of value-equipped cars that were priced within their economic means. Advertised at $4,995, response to the Excel was immediate. They sold like hot cakes, breaking sales records for new imports. So what went wrong?
As with any cutting edge product, there can be teething problems, and in this case the aches and pains that went along with teething were significant. A bad reputation is a very hard thing to change. It is a struggling, up-hill battle to shake an old image, and Hyundai has worked hard to reverse their course. They have made great strides and the proof is in the pudding. Read on.
The compact Elantra sedan had an exterior facelift in 1997, and has been capturing Hyundai sales records ever since. The interior upholstery is very innovative in a deeply textured, jacquard weave, which I found interesting and likable. The overall interior space is at the top of its compact class. The split-folding rear seat offers pass-through access to a spacious trunk. The center console is attractive, and the controls are conveniently accessible and easy to use. I found the Elantra both pleasurable and fun to drive.
It handles really nicely, especially in cornering, and has good pep - with 140 horsepower and 133 ft lb of torque. Hyundai Beta engine technology helps to maximize fuel economy, and does a good job of it. I easily averaged 30 mpg on the highway. My tester had a four-speed automatic transmission, but I personally prefer the five-speed stick for a little extra zip.
Hyundai provides customers with one of the auto industry's most comprehensive warranty packages. It includes a ten-year/100,000-mile power train protection package, a five-year/60,000-mile bumper-to-bumper coverage warranty and a five year/unlimited-mile roadside assistance program.
This package makes a definite statement that Hyundai is backing their car well and protecting the consumer with a long-term commitment. I also noticed there has been no price increase for 2000. The Elantra starts at a very unpretentious $12,249. And loaded with power windows, power door locks and cruise control, my test car was easy to handle price wise at under $13,000. If you are looking for an inexpensive, dependable, attractive-looking, spirited sedan, you can't go wrong with the Hyundai Elantra.
It is a simple car that does a simple job really well. Hyundai is dedicated to erasing that bad reputation and has fixed what needed fixing. Clearly the possibilities for the new century look very promising for the top Korean automaker with the new Elantra. Reality really does surpass the image. P.S. I'd like to know what you think. Email me at: coolcarol7@aol.com By Carol Green © AutoWire.Net - San Francisco

Byline: By Carol Green © AutoWire.Net - San Francisco
Column Name: "Reality Surpasses the Image"
Topic: 2000 Hyundai Elantra
Word Count: 639
Photo Caption: 2000 Htundai Elantra
Photo Credits: Hyundai Internet Media
Series #: 2000 - 39
Download the Microsoft Word version here: 2000 Hyundai
Download the original image file here: 2000 Hyundai 49k