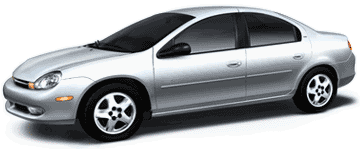 SAN FRANCISCO: It's time to say goodbye to Plymouth, the workingman's friend since 1928. With little to distinguish itself as part of DaimlerChrysler in the post-merger international car market, the brand will be put to rest after the 2001 model year.
But don't despair. The new, very-much-improved 2000 Neon is here, and the last Plymouth perfectly represents the entry-level brand in its final days. And don't worry about buying an "orphan." Neon's will still be sold by Dodge dealers for years to come, and the same Chrysler dealership that sold you your Neon will still be around to service the car.
As part of the transition, the Plymou th Voyager minivan has become a Chrysler. The Breeze sedan is retired, but its Chrysler twin, the Cirrus, nowoffers a lower-level model to fill in. Prowler, the limited edition, factory-built hot rod, remains for now, but will roar off into the collector-car sunset next year. It never really seemed much like a Plymouth anyway.
But the Neon deserves attention. The original smiley concept car won awards at auto shows way back in 1991. In January 1994 the debut models went on sale as the first of the 1995s. Blessed with of class-leading room and power, Neon's have racked up 1.5 million copies sold since then. For 2000, the new cars have expanded interiors, run more quietly and offer more standard features.
Although it is more familiar today, the Neon's cab-forward design was pretty radical when it arrived. The huge, raked-back windshield delivers more room up front, which, when combined with a 105-inch wheelbase (an inch larger than the old car), gives the new Neon midsize space inside a compact body. Headroom and legroom are generous, and hip room is 1.6 inches greater up front and 2.3 inches broader in back. The soaring ceiling lets you wear your best Stetson.
DaimlerChrysler thoroughly updated the Neon to reflect the turn-of-the-century return to edges; there is a neat crease down the side of what used to be a softly rounded panel. The rear bumper and taillights turns up in a smile, and the front of the car is more evocative, with slightly more oval headlamps and a little spot of chrome on the protruding, chromed grille.
The car looks more sturdy and rigid, which it actually is. Bending stiffness is increased by 37 percent and torsional stiffness is up by 26 percent. Wide front pillars may be part of the price, but the ride and handling benefit, and I detected no annoying squeaks or rattles in my brand new test car.
The Neon boasts 132 horsepower from its 2.0-liter, 16-valve four. Normally, I prefer a manual transmission in this kind of car, but my test unit arrived with an automatic. While hardly a performance car, the Neon performed quite competently in day-to-day driving and zoomed briskly up to 70 mph on the freeway. The automatic transmission has just three forward speeds, which makes the car rev higher, spreading the acceleration out over fewer gears. Surely this is a cost issue, but the competition offers four- and even five-speed automatics now.
The Neon is strong in its class for interior space and engine power. Pricing is another strong suit, with base prices starting below $13,000, including destination charges. My test car came in at $15,380 with Customer Preferred Package 22G. This $2,510 package groups popular features like air conditioning, power windows (front only!) power locks and mirrors, keyless entry system, theft deterrent system and alarm, 15-inch wheels and tires, a tachometer, fog lamps, and leather-wrapped steering wheel and shift knob.
The Neon obviously is built to a price point. I was amazed to find a car with power front windows and manual crank rear windows. And there's that matter of the three-speed automatic. All that notwithstanding, after a week living with the Neon, I warmed to its good, solid charm as its overall strength and competence emerged. With a reasonable purchase price, excellent fuel mileage of 25 city, 31 highway, and spacious interior, it's worth your consideration and a test drive. By Steve Schaefer © AutoWire.Net - San Francisco

Byline: By Steve Schaefer © AutoWire.Net - San Francisco
Column Name: "It's Time to Say Goodbye"
Topic: 2000 Plymouth Neon
Word Count: 733
Photo Caption: 2000 Plymough Neon
Photo Credits: Plymouth Media
Series #: 2000 - 30
Download the Microsoft Word version here: 2000 Plymouth Neon
Download the original image file here: 2000 Plymouth Neon 13k