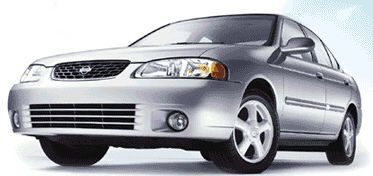 SAN FRANCISCO: Nissan's entry level Sentra was completely redesigned for the 2000 model year. While the styling is attractive, it looks like so many other cars in this class, so it won't get any second glances. However, buyers of cars in this low price range usually are not after breathtaking styling, but want reliability, low initial and operating costs, and overall good value. And here's where the Sentra delivers.
The 2000 Nissan Sentra is available in three trim levels - base XE, mid-range GXE, and sporty SE. Two four-cylinder engines are offered. A 1.8-liter dual overhead camshaft (DOHC) with four-valves-cylinder engine producing 126 horsepower at 6000 rpm and 129 ft-lb of torque at 2400 rpm is available in the XE and GXE. This all-new engine is quite sophisticated, especially for this price class, with features like variable valve timing, a timing chain instead of a less durable belt and a new direct-ignition system. A larger 2.0-liter engine installed in the SE is rated at 145 horsepower at 6400 rpm and 136 ft-lb of torque at 4800 rpm. Though not new, this DOHC, 16-valve is equally state-of-the-art. Either engine can be mated with a five-speed manual or four speed automatic transmission.
Californians can order the Sentra CA, for Cleaner Air, which the California Air Resources Board, CARB, has rated as a SULEV, or Super Ultra Low Emission Vehicles. The Sentra CA also qualifies for partial Zero Emission Vehicle credits because it also has zero fuel evaporative emissions and meets all On-Board Diagnostic II requirements. In comparison to the cleanest gasoline-fueled car now sold in California, the Sentra CA, with a 1.8-liter engine and new environmental technology, emits one-quarter the unburned hydrocarbons and one-tenth of the oxides of nitrogen. With zero evaporative emissions there is no escaping fuel vapors even while the vehicle is standing still.
The Sentra CA's radiator is coated with Engelhard Corp.'s PremAir. When ground-level ozone-laden air passes through the radiator, the PremAir coating converts the ozone molecules into oxygen. Therefore, the air behind the Sentra CA should be cleaner than the air in front of it. Because the 2000 Sentra CA requires low sulfur fuel to attain super clean emissions, the model is sold only in California, which is the single state requiring the sale of low-sulfur gasoline.
While larger on the outside – 6 ½ inches longer and about an inch wider – it rides on the same 99.8 inch wheelbase so interior space has not increased and is not exactly cavernous. While it can carry four adults, five in a pinch, rear seat passenger will hope front seat occupants have short legs. The instrument panel is well laid out and controls are easy to use. Sentras are built at Nissan's plant in Smyrna, TN and fit and finish is very good.
Prices for Sentras start at $12,169 for the base XE, which is a pretty spartan model. If you want an XE with an automatic you have to order the XE Option Package that costs $1200 more, but also comes with air conditioning and AM/FM/cassette, which are not standard on the XE. The GXE is the mid-level model at $13,499 and comes pretty well equipped with items like air conditioning, cruise control, AM/FM/CD player, variable intermittent wipers, and power windows, door locks and mirrors as standard equipment.
Additionally you will have to order the GXE Convenience Package at $150 to get remote keyless entry and a split-folding rear seat. Not available on the XE or CA, are anti-lock braking and front side airbags that add $699 on the GXE and SE. I found the handling, steering and braking on the SE I tested to be very good for a car in this class. This top of the Line model costs $15,419 with a five speed and $16,219 with an automatic. The Sentra CA model comes only with an automatic transmission and lists for $15,319.
The sporty SE features a sport-tuned suspension, four-wheel disc brakes, extra bracing and wider 15-inch tires on alloy wheels. Sentra models now have 14-inch wheels standard. Other upgrades on the SE include fog lights, a leather-wrapped steering wheel, remote keyless entry, a 60/40 split-folding rear seat, and titanium-faced gauges. For another $699, you can opt for a Performance Package that includes 16 inch wheels and lower profile tires, rear spoiler, body-color side sill extensions, better sound system and a few other interior amenities. The SE is the only Sentra available with a sunroof that costs $599.
While the five-speed manual gave spirited performance, I found the shifter a bit on the notchy side and the clutch a bit touchy. But all in all the SE was a very capable vehicle, especially considering the car stickered out at just over $15,000 with a long list of options. A lot of car and a very good buy in this price class that merits a serious test drive. By Bill Siuru © AutoWire.Net - San Francisco

Byline: By Bill Siuru © AutoWire.Net - San Francisco
Column Name: "Californians Can Order a Near ZEV Version"
Topic: 2000 Nissan Sentra
Word Count: 820
Photo Caption: 2000 Nissan Sentra
Photo Credits: Nissan Internet Media
Series #: 2000 - 25
Download the Microsoft Word version here: 2000 Nissan Sentra
Download the original image file here: 2000 Nissan Sentra 59k