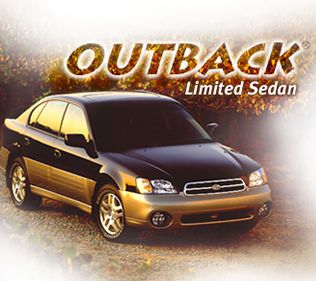 SAN FRANCISCO: When the popular Subaru Outback was redesigned for 2000, it gained a lot. The 2000's bolder looks are spread across a three-inch-longer body mounted atop a slightly stretched wheelbase. A new multilink rear suspension spreads more than five inches of additional space between the wheel intrusions inside, for enough room, Subaru claims, to handle four suitcases side by side. The 2.5-liter flat four "boxer" engine has improved fuel mileage and acceleration, too.
What the Outback lost was the "Legacy" part of its name. Available in wagon or four-door sedan, it is now a separate model from the Legacy from which it is derived.
The rugged Outback, with 7.3 inches of ground clearance, a pushed up roof line, large round foglamps with stone shields, handy roof rack and all-wheel-drive platform, is a great idea. That's why the Outback has led Subaru back from the brink to profitability. The company was languishing as it tried to compete directly with the Toyota Camry and Honda Accord. Finally, Subaru focused on its strength - its all-wheel-drive system-and invented "the World's First Sport-Utility Wagon." Now, all-wheel drive is standard on every Subaru.
Subaru realizes that most buyers never venture off the pavement, so their simple, lightweight, all-wheel-drive system is meant to enhance safety on the road. Sure, the Outback will take you to your favorite fishing hole, but it is at its best in rain and snow, when it sends traction automatically to the wheel that needs it the most. And, the best part, it always drives like a comfortable car, never like a truck-based sport utility vehicle.
Subaru's system normally supplies 90 percent of the traction to the front wheels and ten percent to the rear wheels. However, when the computer's traction control module senses a wheel losing traction, it automatically transfers the grip to where it's needed.
The 2000 Outback drives with a broad shouldered confidence. The 165-horsepower flat four feels as peppy as a six. Subaru has spent years conscientiously developing its boxer engine; the revised version uses a single overhead camshaft instead of a double, for more simplicity and efficiency as well as more power at lower rpm levels. Every 2000 Subaru is certified as a 50-state Low-Emissions Vehicle (LEV); My test car earned decent mileage numbers of 22 city, 27 highway.
The affordable Outbacks start at just $22,695. That includes items that are extra on some competitors, such as four-wheel disc brakes, air conditioning, power windows, keyless entry system and AM/FM cassette stereo with the weather band. For the upscale buyer, the loaded Limited version lists at $26,095.
My tester, a Limited, came with a few extras, including the All-Weather package, with a viscous limited-slip rear differential, heated seats and mirrors and a remarkable windshield wiper de-icer. It figures-Subarus are popular in cold places like Vermont and the Colorado Rockies. The Outback's steering assist is just enough to help but not enough to obscure road feel or control. The revised engine has improved torque in the low and mid ranges, where it is most obvious and useful.
A manual transmission is standard, but my tester had the automatic ($800), which shifted easily through its Mercedes-style gate pattern. Inside, the seats are decidedly firm, and quite comfortable. The new dashboard evokes the old, but enjoys a more modern and driver-oriented layout. The old "quirky" Subaru design of the 1970s is just a memory.
My tester, in two-tone of Timberline Green with Titanium lower side moldings, looked like it came out of an L.L. Bean catalogue. The green paint glows warmly in the sun. The new car's sober new face wears larger headlamps, a protruding bumper with a bottom breather grille and foglamps. The Limited's gold-trimmed alloy wheels and chrome add sparkle.
The sunroof has two sections, one narrow pop-up glass panel over the driver and front passenger, with a true "hole in the roof" sunroof panel above the rear passengers.
The car's full complement of musical options includes AM/FM and cassette, and not one but two dash-mounted CD players--one a simple slot and the other a six-disk changer.
It looks like another winner for Subaru. By improving what they have without changing the basic recipe, the all-wheel-drive company keeps on rolling along. By Steve Schaefer © AutoWire.Net - San Francisco

Byline: By Steve Schaefer © AutoWire.Net - San Francisco
Column Name: "It looks like another winner for Subaru"
Topic: 2000 Subaru Outback Limited
Word Count: 755
Photo Caption: 2000 Subaru Outback Limited
Photo Credits: Subaru PR
Series #: 1999 - 71
Download the Microsoft Word version here: 2000 Subaru Outback Limited