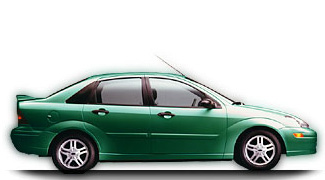 SAN FRANCISCO: With a name like Focus I suppose I could lead off with some witty pun (if such a thing exists), like Focus on Ford. But the new Ford Focus is no joke. No way. It's serious business for Ford. It would be too melodramatic to say that this is a make or break car for Ford.
It really isn't. The Focus is very important though. After years of touting "world cars" that weren't, Ford finally has a car that just might really be a world car. It certainly seemed to be world class in its construction.
Why is the Focus so important to Ford? From my perspective it's because it represents a new mindset that has taken hold at Ford. For years Ford has been building "almost there" small cars. The Focus seems to have the right combination of build quality, sensibility, and excitement. It looks exciting, with some European flair and some twenty-something, in your face but fun styling. It's kind of aggressive and kind of friendly at the same time.
The Focus is, or will be, available in three configurations - 3-door (hatchback), 4-door, and wagon. The 4-door is available in three trim levels; LX, SE, and ZTS. I drove a Focus SE 4-door sedan.
One of the things that we paid plenty of attention to when I worked for a certain Japanese automaker was fit and finish. We used to measure the gaps between body panels to ensure the clearance was minimal and that there was little to no variation. So I still pay attention to these details even now. The Focus passed with flying colors, inside and out. Fit and finish wise, the Focus is world class.
I was fooled by the Focus' size. Even after I lived with it for a week I always found myself thinking it was smaller than it actually is. The Focus 4-door is the same approximate size as a Honda Civic or Toyota Corolla. Yet when you get in the Focus it feels larger. This is due, at least in part, to the height of the Focus and the height of the seat cushions. Unlike many of its competitors you don't drop down into the Focus' front seat, the seat is at chair height. And there's still plenty of headroom.
Like many compact sedans, rear seat leg room is limited when the front seat is fully rearward. Still, the rear seats can be occupied by adults as long as those in the front aren't exceptionally long-legged or selfish.
I loved the Focus SE's engine, a 2-liter, DOHC, four cylinder, driving through a five speed manual transaxle (the Focus is front wheel drive). This engine, named Zetec, makes 130 h.p. @ 5,300 rpm in the Focus. There is an optional, base engine that is the same size but only has a single overhead camshaft (SOHC). The SOHC engine gets slightly better fuel economy (approximately 2 mpg) than the DOHC. The Focus SE that I drove is rated at 26 mpg city and 33 highway. There is an optional, 4-speed automatic transaxle that should suffice for those who aren't shifty (fuel economy is 1 mpg lower with the automatic).
I didn't put a stopwatch to the Focus but I can say with certainty that it is no slouch. Run it up hard through the gears and the Zetec makes a fine growl while rushing to highway (and beyond) speeds.
Besides accelerating hard, the Focus rode and handled like a European sedan. I was very impressed with the way it carved its way up Sharp Park Road. Get it up to speed, stick it in third gear and just hit the apexes. Great fun with no real drama.
Out on the highway it was equally composed. Crosswinds didn't seem to adversely affect the Focus, even when cruising at Montana speeds. There was a bit of wind noise but nothing the stereo couldn't cope with.
The sound system was a very nice AM/FM radio with CD player and four speakers. At only $140, it is a good buy. The standard stereo in the Focus SE is a four speaker AM/FM radio with a cassette deck. Maybe I'm a bit of an old fogey but I really would like to see the optional unit have both a CD player and a cassette deck (at least I don't still have eight tracks).
There is a long list of standard equipment on the Focus SE including 195/60R15 tires on 15" aluminum wheels, air conditioning, remote power door locks, power mirrors, and all kinds of trim stuff.
Options on the Focus SE were front and rear floor mats (why aren't they standard?), California emissions (no charge, thank you), power windows ($295), anti-lock brakes ($400), the stereo with CD, side impact air bags ($350), a comfort group ($395) which includes cruise control, and a sport group ($425) that includes a rear spoiler, tachometer, and fog lamps.
Out the door, the Focus SE 4-door listed for $16,040, not bad for such a well built car. Would I buy one? Yup, if I was in the market.
Oh yeah, for all you guys out there looking for a 4 cylinder to play with, buy the 3-door. Then start bugging Ford Motorsports for the trick stuff they're developing for the Zetec. Maybe Ford can build some competition for all those tricked out Civics. By Bruck Hochkiss © AutoWire.Net - San Francisco

Byline: By Bruch Hotchkiss Leo © AutoWire.Net - San Francisco
Column Name: "Focus on Ford"
Topic: 2000 Ford Focus SE Sedan
Word Count: 918
Photo Caption: 2000 Ford Focus
Photo Credits: Ford PR
Series #: 1999 - 70
Download the Microsoft Word version here: 2000 Ford Focus SE Sedan