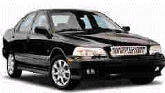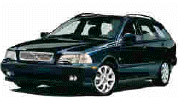 San Francisco: In a world filled with miniatures, from Ritz Bits snacks to Beanie Babies to Hot Wheels, there is now a pint-size Volvo, too. A smaller Volvo makes sense. The recognized purveyor of safe, environmentally sensitive family vehicles wants a less-expensive car to sell to younger singles, small families, and empty nesters. So, from the Netherlands, please welcome the S40 sedan and the V40 station wagon.
Going by nomenclature alone, I figured the S40 should be half the size of the flagship S80, but it's a lot bigger than I expected. The S40 is 93 percent as long as the S80, its weight is 83 percent, horsepower is 80 percent and the list price, just 64 percent. The S40's fuel mileage, amazingly, is just a mile or two better per gallon.
Neither box nor jellybean, the S40 seats four full-sized people comfortably, and accommodates a slender child in the center rear. The Swedish ergonomic seats give plenty of back support, and, in my car, wore fragrant leather. The driver's seat gets eight-way adjustment, and the both front seats have heaters. The dash exudes sober practicality, like the S80 and S70, with honest, straightforward presentation of gauges and controls, bullnosed edges and rounded corners. Interesting textures, top-quality materials and precision assembly show no hint of compromise. Well, the artificial wood does look fake, but it contributes to a luxurious feel all the same.
The handsome steering wheel, with its crescents of perforated leather at the 9 and 3 positions and the traditional Volvo center pad, is extremely friendly to hands and eyes.
This Volvo is full of the features buyers want. Standard equipment includes power windows, locks, mirrors, cruise control, and automatic climate control. The latter didn't always heat the car to my taste in the early morning, but it was quiet and otherwise effective.
The upgraded 100-watt audio package in my Silver Metallic tester ($800) entertains through six upgraded speakers, including two prominent dash-top grilles. The controls are located a little too low on the dash for easy tuning.
Starting at a base price of just $22,900, my tester's price ballooned to $28,897. The Weather Package ($400), included heated seats, headlamp washer/wipers and a traction control system. The Sunroof Package ($2,200) added the sunroof, leather seats, and simulated wood trim and shift knob. Front fog lamps ($250), a driver-side power seat ($495), a trip computer ($250), a leather-wrapped steering wheel ($150) and an unavoidable $575 destination charge rounded out the bill.
Volvo has a longstanding commitment to the environment. More than 90 percent of the S40 is recyclable and most plastic parts are labeled for easy sorting. Volvo has eliminated a long list of hazardous chemicals from its factories. Some parts, like fender liners, wind deflectors, and lamp housings, are made from recycled materials. Safety is king at Volvo. Basics include a passenger safety cage, energy absorbing structures, collapsible steering column, front and side airbags, seatbelts with pre-tensioners, and anti-submarining seats. The WHIPS system (Whiplash Protection Seating System) helps prevent whiplash in rear-end collisions.
The 1.9-liter inline four-cylinder engine puts out a remarkable 160 horsepower, thanks to a twin-scroll turbocharger. The 170 lb.-ft. of torque is available over a wide rpm range, 1,800 to 4,800, for quick acceleration. EPA fuel mileage is 21 city/28 highway; I averaged 23.5 mpg over 500 mixed miles.
The sole transmission is an electronic four-speed automatic, which offers sport, economy and winter settings. I couldn't sense much difference between sport and economy, but generally, a sport setting delays upshifts for more feeling of zoom.
Driving the S40 is as you would expect from a Volvo. The engine is barely heard, but the turbo pulls strongly and with no significant lag off the line. The road feel is just enough for awareness, the steering is direct, the controls sturdy and properly located. Enjoyable motoring about sums it up. The brand-new S40 has to contend with the BMW 3 Series, Audi's A4, and the Mercedes C Class, among others. But with its strong reputation, distinctive looks and proven safety and environmental record, it's definitely up to the challenge. By Steve Schaefer © AutoWire.Net - San Francisco

Volvo Home Page
Byline: By Steve Schaefer © AutoWire.Net - San Francisco
Column Name: "Enjoyable Motoring"
Topic: The 2000 Volvo S40 Sedan & Wagons
Word Count: 731
Photo Caption: 2000 Volvo S40
Photo Credits: Volvo PR
Series #: 1999 - 69
Download the Microsoft Word version here: 2000 Volvo S40